US to base stealth fighter jets in Australia in response to South China Sea tensions
F-22 Raptor to join thousands of military personnel already based in the region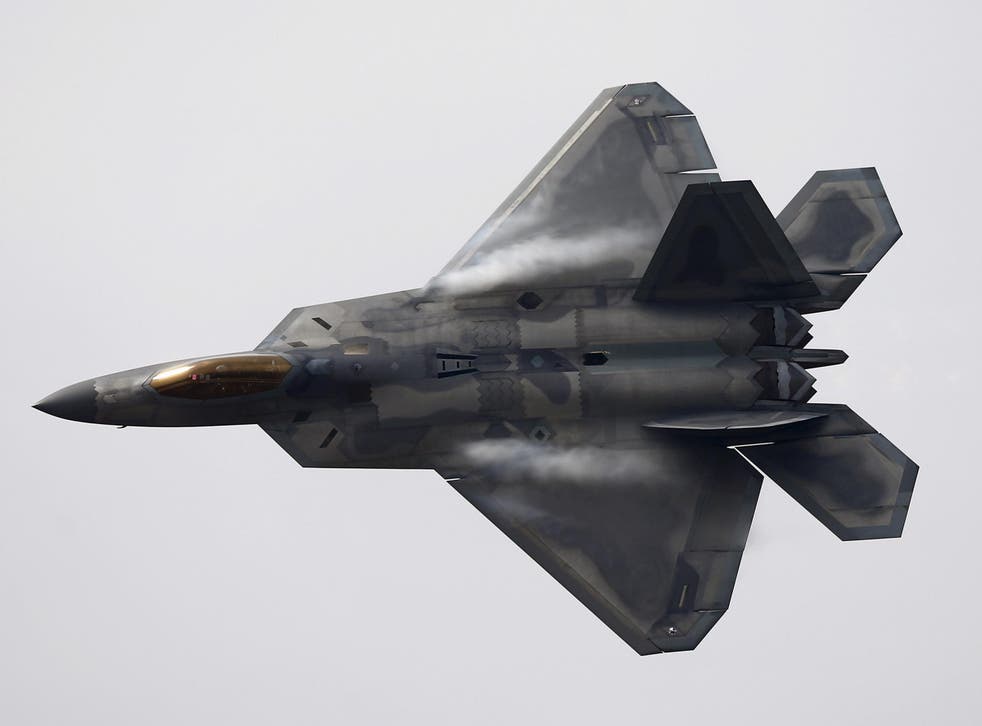 The US will begin flying its world-leading F-22 stealth fighters from bases in Australia, amid mounting tensions in the South China Sea.
America's Pacific commander Admiral Harry Harris revealed during a speech at the Lowy Insititute think tank that he had signed an agreement with the Australians to host not just the Raptors, but enough US military assets to constitute a "credible combat power" - saying the US wanted to maintain "enduring interests" in the region
Euan Graham, the think tank's director of international security, said the move represented "pretty high-end coercive signalling to China", the Sydney Morning Herald reported.
Women go on strike against Donald Trump

Show all 7
Admiral Harris described the threats posed by Isis and by North Korea's nuclear weapons tests - but, speaking days after the revelation that China had flown a nuclear-capable bomber over a disputed section of the South China Sea, he was "loud and clear" on how he viewed the strategic situation in the Pacific.
He said: "Significant challenges are posed by a revanchist Russia and an increasingly assertive China. Both Moscow and Beijing have choices to make. They can choose to disregard the rules-based international order, or they can contribute to it as responsible stakeholders. The US obviously prefers that they choose to respond responsibly.
"No one, including me, wants conflict. I've been loud and clear that I prefer cooperation so that we can collectively address our shared security challenges.
"But I've also been loud and clear that we will not allow the shared domains to be closed down unilaterally, no matter how many bases are built on artificial features in the South China Sea.
"We will cooperate where we can, but we will be ready to confront where we must.
"No one should doubt the long-term friendship between the United States and Australia. This commitment is important as we face the extraordinary challenges in this region."
China's bomber flight followed President-elect Donald Trump's break with decades of US diplomatic tradition when he spoke directly with the president of Taiwan.
Mr Trump has also used Twitter to criticise Beijing's policies, including the build-up of "a massive military complex in the middle of the South China Sea".
President Barack Obama announced in 2011 that the United States would station thousands of US Marines at a base in Darwin, the capital of the Northern Territory, in a move widely viewed as a response to China's increasing bellicosity in the Pacific.
The deployment of F-22s will begin next year.
The F-22 was built by Lockheed Martin with support from Boeing and others, with the first of its kind flying in 1997. The F-22 programme has cost $67 billion (£41 billion) in total.
It can also fly higher and faster than other fighters and is capable of dropping a 1,000lb precision bomb from over 15 miles away from its target.
The plane is hailed for its vectored thrust and range. It is equipped with advanced sensors, providing it with a complex view of a battlefield while allowing it to coordinate with other jets. It can carry six medium range missiles in the centre bay and one short–range missile in each side bay.
Elsewhere in the Pacific, in November Japan pledged to respond to Russia's "significant" decision to install anti-ship missiles on the disputed Kuril islands.
Russia has placed its Bastion and Bal anti-ship systems on the islands, which the Japanese call the Northern Territories.
Register for free to continue reading
Registration is a free and easy way to support our truly independent journalism
By registering, you will also enjoy limited access to Premium articles, exclusive newsletters, commenting, and virtual events with our leading journalists
Already have an account? sign in
Register for free to continue reading
Registration is a free and easy way to support our truly independent journalism
By registering, you will also enjoy limited access to Premium articles, exclusive newsletters, commenting, and virtual events with our leading journalists
Already have an account? sign in
Join our new commenting forum
Join thought-provoking conversations, follow other Independent readers and see their replies