Australian government launches investigation after video emerges of 'torture' of child prisoners
Footage showed teenage boys being assaulted, stripped naked and tear gassed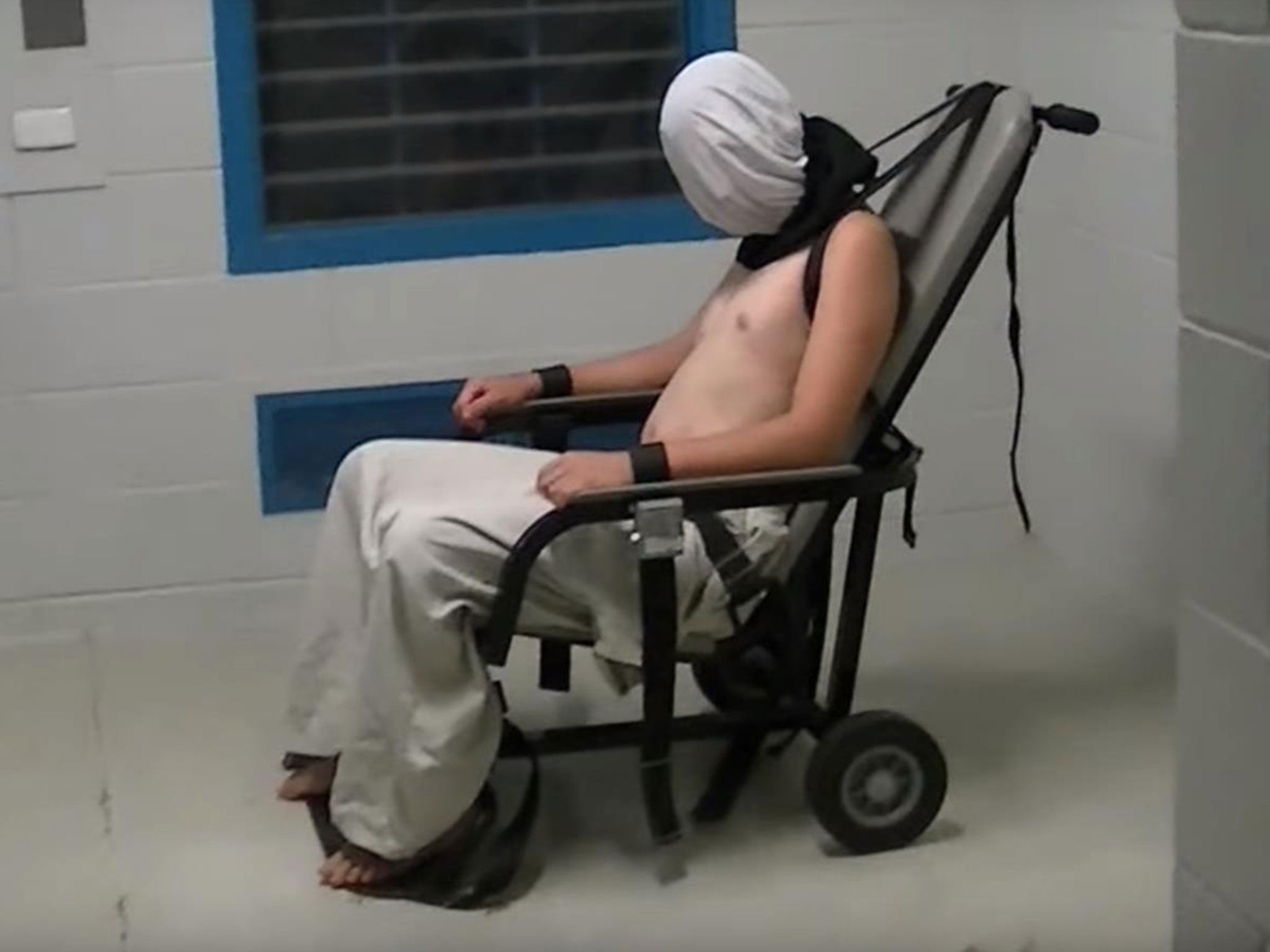 The Australian government has launched an investigation into a youth detention centre where teenagers were filmed being assaulted, tear gassed and forcibly stripped naked by laughing prison guards.
Footage obtained by the Australian Broadcasting Corporation's Four Corners programme showed a 14-year-old boy being hooded and strapped to a chair for almost two hours as part of treatment that could amount to torture according to the UN.
Malcolm Turnbull, the Australian Prime Minister, said he was shocked by the abuses at the Don Dale Youth Detention Centre.
Launching a Royal Commission investigation with the local government in Northern Territory, he said: "Like all Australians, we were shocked and appalled by the images of mistreatment of children at the detention centre.
"Every child in our justice system must be treated with humanity and respect at all times."
Mr Turnbull called for a thorough inquiry to expose what happened and "why it remained concealed for so long", although human rights organisations have been raising concern over conditions at the maximum security youth prison for several years.
The new footage, filmed between 2010 and 2015, contradicted official accounts of previous incidents.
When six children were tear gassed at Don Dale in August 2014, government representatives said guards were forced to restrain them as they staged a riot and attempted to escape.
But CCTV and videos taken by staff showed that only one boy had left his cell and was smashing a light fitting into walls and reinforced windows.
The other five boys remained locked in their cells in the isolation wing when they were sprayed with tear gas at close range, with footage showing guards laughing as they coughed and screamed, with one saying he could not breathe.
One man can be heard calling the 14-year-old who escaped his cell a "f***ing idiot" and threatening to "pulverise the little f***er" and calling for colleagues to "gas them".
In another video, a guard is seen picking up a 13-year-old and hurling him across the room onto his bed.
The same boy is also seen in footage from a different Northern Territory detention facility being stripped naked and held face-down by three guards after he apparently threatened to hurt himself.
In another instance, the teen – then aged 14 - was shackled to a restraint chair with a hood placed over his head and left in solitary confinement.
The majority of the boys involved are believed to be indigenous Australians or Aborigines, who make up 97 per cent of juvenile detainees in the Northern Territory.
Julian Cleary, indigenous rights campaigner at Amnesty International Australia, said the organisation had repeatedly raised concerns and that the abuses shown were "not isolated incidents".
Nigel Scullion, Australia's Indigenous Affairs Minister, called for the officers involved to face criminal charges.
"They knew... that their behaviour was clearly not right, it was evil, but they also knew they had absolutely no chance of that being a problem to anyone," he said. "Such was the culture of cover-up, such was the culture of brutality," he said.
The UN's children's agency said it was "deeply concerned" by what it called inhumane treatment.
A statement by Unicef said the use of prolonged periods of solitary confinement, strip searches and an unjustifiable use of force "may amount to torture by the Government responsible for their care".
A spokesperson said the treatment can lead to anxiety, depression, insomnia, psychosis, extreme paranoia, cognitive delays and psychosis.
"Children who come into contact with the law must be treated as children first and foremost," he added.
As a signatory to the Convention on the Rights of the Child and the International Covenant on the Civil and Political Rights, the Australian government is bound by international laws stating that children should only ever be detained as a last resort and treated with dignity and respect.
Last year, a review of the Don Dale Youth Detention Centre by the Northern Territory Children's Commissioner found an excessive use of solitary confinement and inappropriate use of restraints.
The end of innocence: Inside Britain's child prisons
Show all 6
The state's Chief Minister, Adam Giles, said he had never seen the footage before it aired on Monday, also blaming a cover-up within the corrections system for the government's previous inaction, but critics said the administration was "fully aware of what's been going on".
Mr Turnbull said previous inquiries conducted by the Northern Territory government into the Don Dale Youth Detention Centre "failed to identify the nature and extent of the behaviour".
"It is important that the causes and failures at the Don Dale Youth Detention Centre are identified to provide lessons to other correctional institutions in Australia to ensure they are never repeated."
The Northern Territory's Attorney General, John Elferink, has been stripped of his responsibility for corrections facilities amid protests over the revelations.
The Royal Commission is expected to begin holding hearings in September, with a final report due to be released early next year.
Join our commenting forum
Join thought-provoking conversations, follow other Independent readers and see their replies