Bosnian floods: Floods lead to landmine fears as water covers a third of the country
Fears that the 120,000 unexploded landmines still in the country could be displaced as a result of the floods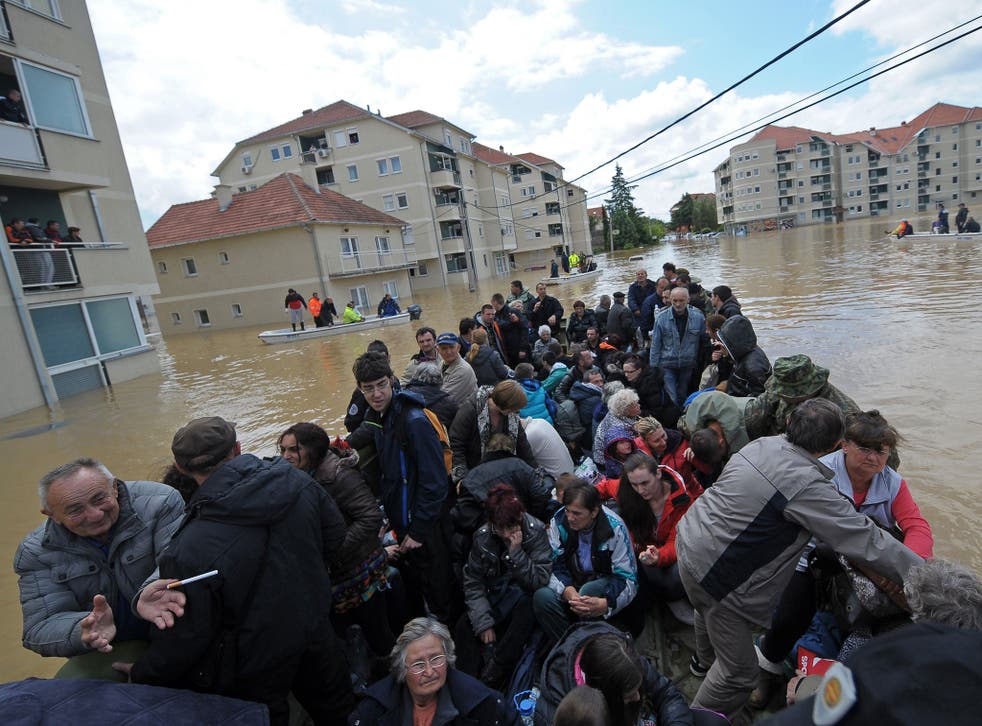 The devastating floods that have seen a third of Bosnia under water, and two dozen people killed, have sparked fresh concerns that the flowing water could have unearthed a number of the 120,000 unexploded landmines that still exist in the country.
It is feared that the floods, which have also wreaked havoc in Croatia and Serbia, are washing away river banks and causing landslides which are in turn unearthing a number of the land mines - the legacy of the Bosnian War of the early nineties.
According to Bosnia's Mine Action Centre, there have been reports of a number of displaced landmines being found.
After the war that ended in 1995, there was a reported 1 million unexploded landmines still scattered across Bosnia's interior.
Despite government efforts to rid the country of the mines they are still a major problem for the country and have killed over 1,800 people in the last ten years. It is believed that as many as 120,000 unexploded landmines could still exist in Bosnia.
An official at Bosnia's Mine Action Center, Sasa Obradovic, said hunting-scouts would be deployed on Monday to begin to weed out the displaced mines.
He said: "Mines have surfaced now in areas where they have never been, we will work with Croatia and Serbia on the problem."
The floods were caused when three months of rainfall fell on Bosnia in the space of a few days.
The latest official number for those to have died currently stands at 44, however this is expected to grow as authorities will only look for bodies when the water subsides.
In pictures: Serbia and Bosnia floods

Show all 30
The banks of the river Sava, which runs through Bosnia and Croatia, burst during the week leading to nearly one third of the country being covered by water and thousands being left homeless.
The floods described by Bosnia's refugee minister as "catastrophic" has mainly affected the north-eastern part of the country an area where nearly a quarter of the population live.
There were worries that with more rainfall expected there could be another surge in flooding; however, it is now not expected to be as bad as first thought.
Experts believe water levels will rise for two more days and then begin to recede.
Bosnia's neighbouring countries, Serbia and Croatia, have also been badly hit by the floods in the region.
In Serbia more than 200,000 people have had to leave their homes and some of the country's railways and telecommunication posts have been badly affected.
It is feared that the water still threatens the Nicholas Tesla power plant, Serbia's biggest power plant situated south-west of Belgrade
With the plant supplying electricity to the whole of the country, Serbian authorities have been working to ensure the plant is not flooded.
In Croatia two people have gone missing and hundreds have had to flee their homes.
On Saturday, Serbian president said "What happened to us happens not once in 100 years, but once in 1,000 years," Serbian prime minister Aleksandar Vucic
He did remain hopeful that they had seen the worst of the floods, saying: "I believe it should be over by Wednesday."
Register for free to continue reading
Registration is a free and easy way to support our truly independent journalism
By registering, you will also enjoy limited access to Premium articles, exclusive newsletters, commenting, and virtual events with our leading journalists
Already have an account? sign in
Register for free to continue reading
Registration is a free and easy way to support our truly independent journalism
By registering, you will also enjoy limited access to Premium articles, exclusive newsletters, commenting, and virtual events with our leading journalists
Already have an account? sign in
Join our new commenting forum
Join thought-provoking conversations, follow other Independent readers and see their replies