China photoshop fail #2: Legless official hovers over tiny pensioner
Local government forced to apologise after being ridiculed on Weibo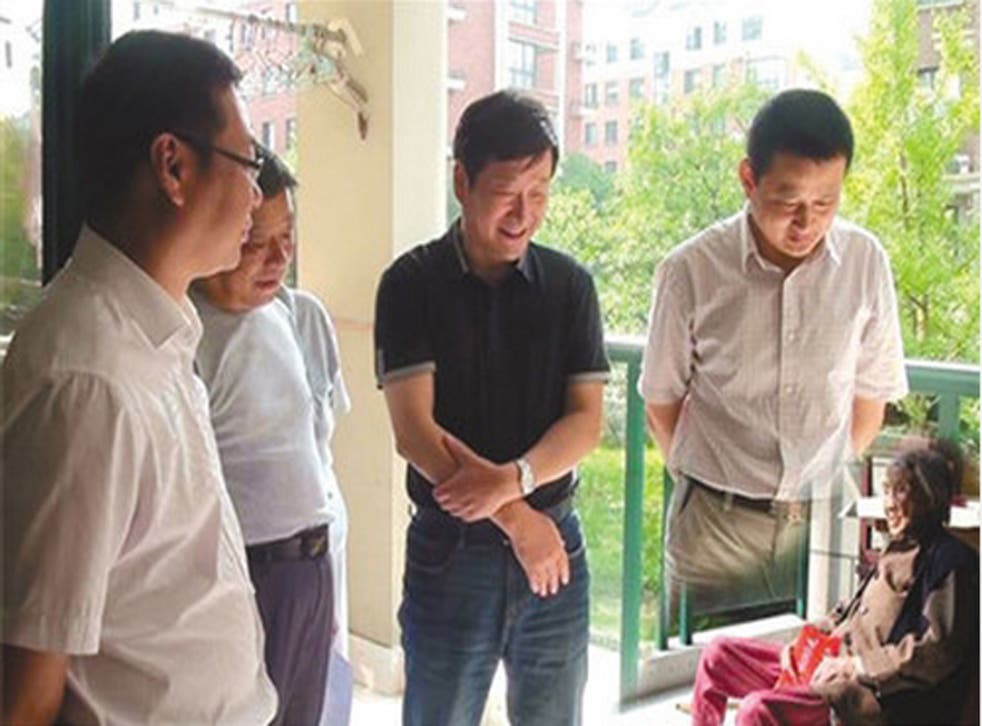 Look a little closer and there are a few problems with this picture of Chinese officials visiting an elderly woman.
The local government in Anhui province has been left red-faced by another embarrassing attempt at photoshop, featuring a legless vice-mayor hovering ominously over a shrunken pensioner.
It was meant to show Wang Hun's concern for the elderly during Double Ninth Festival, an event that honours ancestors, but this picture released by the Ningguo government, became the subject of ridicule on social media.
Officials said an employee had been forced to doctor the picture because although they had visited the centenarians, elderly Cheng Yanchun was sitting in a very small space against the light, making it very difficult to take the shot.
In a statement translated by the Guardian, the government said: "Cheng was sitting on a chair on the balcony, under the sun. The balcony space was very small and the camera lens could not cover the whole scene … When the employee of the municipal civil affairs department uploaded the photos … he simply merged two shots."
They added that the employee was now going to be censured for his actions. However it hasn't stopped Weibo, Chinese microblogging site, from hungrily gobbling up this government gaffe.
Hailed as an example of government dishonesty, one Weibo user said the way the employee had shrunk the woman instead of the officials revealed how officials thought of the "little people."
Even Communist newspaper People's Daily joined in the derision, calling the picture "strange" and linking it with another photoshop disaster published on a local government website in 2011, which drew ridicule.
That picture showed Chinese officials floating above a road, after the photographer had decided to stitch two photos together, because they original pictures of lawmakers looking at roads 'had not been impressive enough'
The floating Chinese officials even became a meme, photoshopped onto a various scenes including moon landing and the Christ Redeemer statue in Rio de Janeiro.
A Huili official said at the time: "A government employee posted the edited picture out of error… The county government understands the wide attention, and hope to apologise for and clarify the matter."
North Korea has also come under fire recently for using photoshopped pictures of Kim Jong-un at a children's hospital. This was not an isolated incident, and in March Atlantic magazine published images on their website that showed a faked hovercraft landing at a time of tension in the region over North Korea's nuclear tests.
Join our new commenting forum
Join thought-provoking conversations, follow other Independent readers and see their replies