Covid vaccinations: Which countries are leading the way?
How are key nations faring in the bid to inoculate against Covid-19?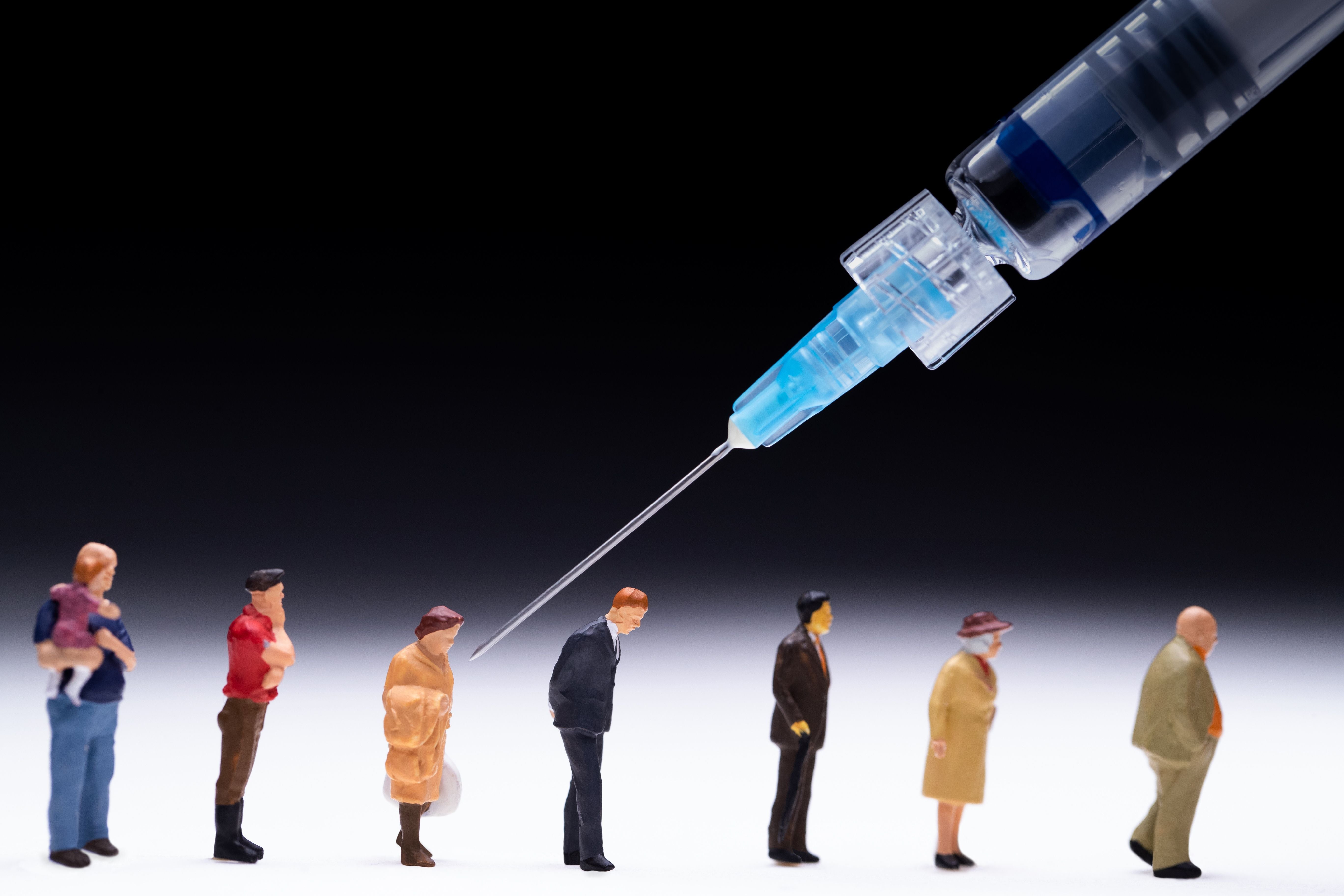 Leer en Español
With 2020 defined by the emergence of the coronavirus pandemic and the rush to contain the disease, 2021 looks likely to be remembered by the race to vaccinate against it.
The arrival of the new year sees dozens of countries scramble to grant regulatory approval to one or more of the jabs created by Pfizer, Moderna, AstraZeneca and Sinopharm, among others.
After months of punishing restrictions and damage to nations' public health and economies, herd immunity via inoculation is now widely viewed as the most likely route back to something resembling normality.
However, as with the individual pandemic responses of individual nations, plans for the distribution of these vaccines already vary.
Here we take a snapshot look at which countries appear to be leading the way in the early stages of the rollout, which nations have struggled, and those that are taking a notably different approach.
Vaccines approved: Pfizer/BioNTech (11 December), Moderna (18 December)
Doses administered: 4.56 million
Percentage of population jabbed: 1.42%
Doses ordered: 1.01 billion, of 6 jabs
Percentage of population covered by orders: 169%
The United States has been at the forefront of global efforts to develop a vaccine, having ploughed billions of dollars into research funding under its Operation Warp Speed programme. 
While the US Food and Drug Administration was slower than the UK and Bahrain in granting regulatory approval for the Pfizer/BioNTech jab, the nation's vaccination drive began on 14 December, with healthcare workers becoming the first to receive the vaccine after emergency approval was granted. Moderna's jab received emergency approval shortly afterwards.
By 4 January, some 15.4 million vaccine doses had been distributed to states – 4.56 million of which had already been administered, according to the US Centres for Disease Control. 
The US has opted to give recipients two doses, taken several weeks apart, as tested in clinical trials. 
Health workers, care home staff are deemed top priority by the CDC, followed by essential workers, the elderly and those with co-morbidities, but each state ultimately decides who to inoculate first, and a number of top federal politicians, such as vice president Mike Pence and House Speaker Nancy Pelosi, were among the first in line in December.
As hospitals in the US are overwhelmed with more than 130,000 coronavirus patients, some questions have been raised over whether the rollout is happening quickly enough – with the Trump administration falling well short of its goal to vaccinate 20 million people by the end of 2020.
The FDA has rejected a move in the UK to administer the two vaccine doses required up to 12 weeks apart, saying that while such questions are "reasonable" to consider, doing so is premature and not supported by science. Its guidance calls for 21 days between Pfizer shots and a wait of 28 days with Moderna's jab.
Vaccines approved: Pfizer/BioNTech, Moderna (3 January)
Doses administered: 1.37 million
Percentage of population jabbed: 15%
Doses ordered: 16 million, of 2 jabs*
Percentage of population covered by orders: At least 88%
Israel has stormed ahead of the rest of the world in terms of vaccination.
Viewing success as a potent political salve in the face of a tough pandemic, corruption trial and looming election, embattled prime minister Benjamin Netanyahu has personally overseen the vaccination effort – even becoming the first Israeli to receive the Pfizer jab on 19 December, live on-air.
He has sought to take credit for the relatively high number of jabs procured, touting personal phone conversations with Pfizer chief Albert Bourla, who he said was "very proud" of his Jewish heritage. Politicians have refused to be drawn on local media reports suggesting the country may have paid over the odds for its vaccine doses, but given the buoyant success of the rollout few would appear to argue against the wisdom such a move.
The country's efficient and heavily digitised health system has adapted well to the rollout – with citizens already having been required by law to register with one of the nation's four health maintenance organisations. Health minister Yuli Edelstein has expressed his hope that most of Israel's high-risk population will have received the second of two doses by late January, with health workers and over-60s deemed the highest priority.
And once the second jab has been received, people have been promised six months of freedom from future isolation via a "green passport" app. Soaring demand for appointments at Israel's 24/7 vaccination centres has led the website to crash, while a culture of using every last available drop of thawed vaccine has emerged, sometimes reportedly to the younger family members of priority recipients.
However, this vaccination drive has so far not extended to the occupied West Bank and Gaza strip. The Palestinian Authority is not believed to have sought out doses from pharmaceutical companies, but has applied for financial help from the international, WHO-led vaccine-sharing system, Covax. It is unclear whether Israel could be legally obliged to vaccinate Palestinians but many have questioned the efficacy of merely inoculating its own citizens.
Vaccines approved: Pfizer/BioNTech (4 December), Sinopharm (13 December)
Doses administered: 61,000
Percentage of population jabbed: 4.15%
Doses ordered: Likely >1 million*
Percentage of population covered by orders: Around 33%
Bahrain has inoculated more of its population than any country bar Israel, largely thanks to its early regulatory approval of the Pfizer/BioNTech vaccine. 
The Gulf nation had also approved China's Sinopharm vaccine for emergency use for health workers in early November, approving online registration for all residents on 13 December.
However, its vaccination drive began in earnest with the announcement that King Hamad bin Isa Al Khalifa had been inoculated three days later, usurping Israel's Mr Netanyahu as the first world leader to receive a Covid vaccine dose.
Doses are now being provided to residents for free via Bahrain's high-quality public and private health systems, and the country has won praise for including its large population of foreign workers in the rollout, which observers hope will set a precedent across the region.
Despite the country's relatively small population, the local Akhbar Al Khaleej newspaper has reported that its vaccination drive will likely take at least 300 days, with the 27 vaccination centres reportedly set up able to inoculate a maximum of 10,000 people per day.
Vaccines approved: Pfizer/BioNTech (2 December), AstraZeneca (30 December)
Doses administered: 1.3 million
Percentage of population jabbed: 1.9%
Doses secured: 357 million, of 7 vaccines
Percentage of population covered by orders: 295%
The United Kingdom has been a key player in the global race to develop a suitable candidate, investing heavily to shore up both national and international supplies.
For one, the government has spent tens of millions of taxpayers' pounds on the development of the Oxford University vaccine, owned by AstraZeneca. In April, the government established its Vaccines Taskforce, which created the world's first citizen registry of over 360,000 volunteers able to rapidly join vaccine trials, and is developing a new vaccines manufacturing centre.
Ministers boasted in May that the UK was the "biggest contributor to the international coalition to find a vaccine", and it has pledged £548m to the WHO-led vaccine-sharing system, Covax. This system grants rich investors early access to vaccines, and could allow the UK to buy enough doses for 20 per cent of its population, but also helps some 92 lower income countries to buy vaccines.
While the UK was the first country to strike a deal with Pfizer, its Medicines and Healthcare products Regulatory Agency was also the first regulator to approve its vaccine.
Prime minister Boris Johnson pledged on 5 January that all those in the top four priority groups – care home residents and staff, health workers, the over-70s and the clinically vulnerable – should receive their first jab by mid-February, amounting to some 13 million people. This is despite the fact that just a tenth of that number had received a dose since the rollout began on 8 December.
While the vaccines minister Nadhim Zahawi has faced pressure to involve the UK's 11,000 community pharmacies in the drive, having focused early on recruiting GPs and retired volunteers, the response has also been slowed by the number of doses available.
Although regulatory approval of the Oxford vaccine will boost supplies having been granted in late December, the MHRA has decided to allow doses to be administered up to 12 weeks apart in order to vaccinate more people. The UK has also said it will allow people to be given shots of different vaccines on rare occasions, despite acknowledging there "is no evidence on the interchangeability of the Covid-19 vaccines".
Both Pfizer and the World Health Organisation have warned against delaying the second dose.
Vaccines approved: Pfizer/BioNTech (20 December)
Doses administered: 2,000
Percentage of population jabbed: 0.00%
Doses secured: 237 million
Percentage of population covered by orders: 183%
After the EU regulator approved Pfizer's vaccine for use across the bloc on 20 December, France's health authority granted authorisation three days later. 
However the early rollout in the week that followed was branded a "fiasco" and a "scandal".
Vaccine scepticism in France is particularly high, with an Ipsos Global Advisor poll published last week finding just 40 per cent of French people are prepared to take a coronavirus vaccine. 
As such, fearing to be seen to be forcing the vaccine on people, Emmanuel Macron's government devised a complex consent policy, which significantly slowed the process in addition to alleged mismanagement and festive staffing shortages.
As a result, just 2,000 people had been vaccinated by 5 January – compared with more than 300,000 in Germany in the same timeframe – prompting officials to scramble to expedite the process amid furious public outcry.
France is not the only EU country to report issues, however, with EU officials this week forced to defend what many perceive to be its slow distribution of doses across the 450 million-strong bloc. The EU has secured 2 billion doses in total, but lamented problems with "production capacity, an issue that everybody is facing" – as member states complained of delays and orders a fraction the size of those promised.
Even in Germany, which has administered significantly more doses than any other EU nation, health minister Jens Spahn on Wednesday was forced to address criticism that the rollout had been too slow, citing a global shortage of doses. Shortly afterwards, the EU approved Moderna's jab.
Vaccines granted early approval: Sinovac (28 August – for vulnerable), CanSino (29 June – for military), Sinopharm (28 August)
Vaccines granted full approval: Sinopharm (31 December)
Doses administered: 4.5 million
Percentage of population jabbed: 0.3%
Doses secured: 300 million
Percentage of population currently covered by orders: 16%
China, along with Russia, drew consternation from the global scientific community after deciding to begin vaccinating its population using inoculations which had not yet undergone large-scale clinical trials.
Early approval was granted to three Chinese-made vaccines in the summer – Sinovac, CanSino and Sinopharm, available to the clinically vulnerable, the military, and the general population, respectively.
Despite the state's secrecy about the results of ongoing clinical trials, there has been huge uptake for the emergency-use vaccines, with hundreds of thousands of citizens having lined up to receive the jabs.
While it was not until 31 December that Sinopharm's jab was granted full regulatory approval, authorities had already stated an aim to vaccinate 50 million people ahead of the Lunar New Year in mid-February – reportedly prioritising would-be travellers in addition to doctors, hotel employees, border force employees, food storage workers and transport operators.
Although the task ahead of vaccinating China's huge population is a mammoth one, reports suggest its hospitals and emergency vaccination centres are well-prepared for the challenge.  
Supply appears set to pose little issue either. While Beijing has publicly ordered some 300 million doses from AstraZeneca and Fosun, it has also pledged to produce 610 million doses of its homegrown jabs by the end of 2021 and expects to produce at least one billion doses the following year.
Vaccines awaiting regulatory approval: Sinopharm, Pfizer, AstraZeneca, Moderna
Doses administered: 0
Doses ordered: 225 million, of 4 jabs
Percentage of population covered by orders: 50%
Indonesia has emerged as something of an outlier in terms of vaccination strategy, opting to prioritise different sections of its vast population in the hope of freeing up its citizens and economy as quickly as possible.
While most nations have prioritised health workers, the elderly and the clinically vulnerable in a bid to soften the immediate risk to their populaces, the vastly populous archipelago nation has decided to focus on vaccinating its healthy workforce.
"Indonesia doing it different to the US and Europe is of value, because it will tell us (whether) you'll see a more dramatic effect in Indonesia than Europe or US because of the strategy they're doing, but I don't think anybody knows the answer," professor of infectious diseases at Australian National University, Peter Collignon, told Reuters.
While the nation has procured some 100 million doses of the Oxford/Astrazeneca vaccine, according to Bloomberg, distribution is not expected to start until the second quarter of 2021. 
Instead, the early mass vaccination effort is expected to centre around China's Sinovac jab, stage three trials of which are currently underway in Indonesia, Brazil and Turkey, among other countries, following tests in a tight-lipped China.
While the country hopes that vaccinating 100 million workers will revive its economy, Indonesian health officials also told Reuters that its strategy is based on the fact that it does not have enough data showing Sinovac jab's efficacy among elderly people, with the phase three trials currently underway in the country involving people aged 18-59.
Although the government in early December greenlit the use of vaccines developed by Sinopharm, Pfizer, AstraZeneca, Moderna, Indonesia's Food and Drug Monitoring Agency (BPOM) is yet to grant any of the jabs regulatory approval.
Join our commenting forum
Join thought-provoking conversations, follow other Independent readers and see their replies