Donald Trump touches down in Saudi Arabia on his first foreign trip as US president
White House hoping the trip will shift focus away from the domestic controversies affecting the Trump administration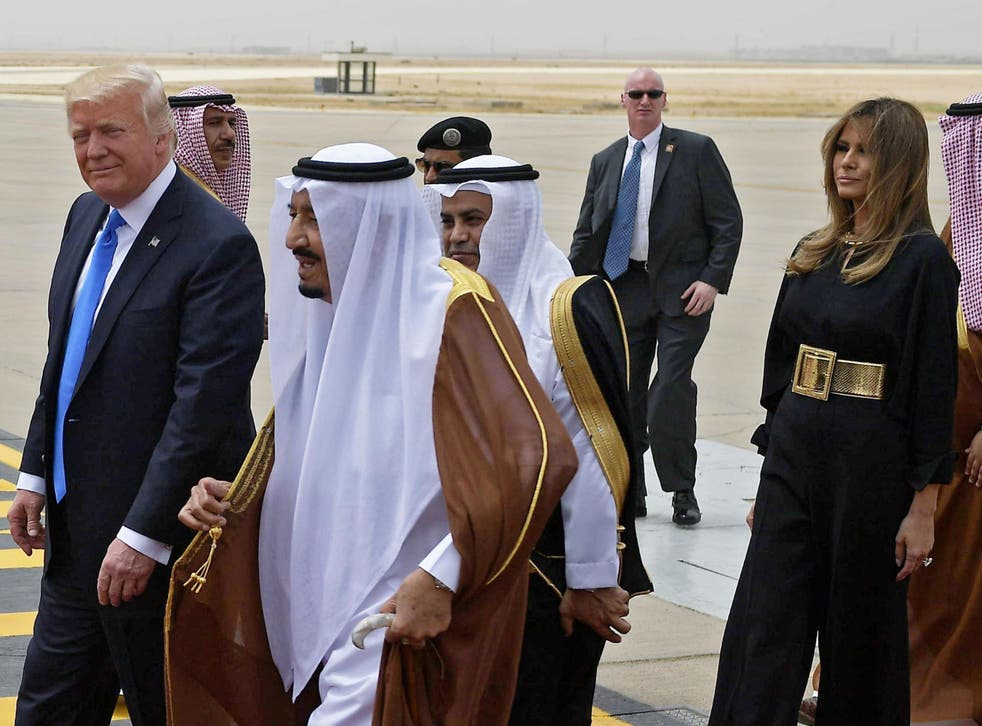 Donald Trump has touched down in Saudi Arabia on the first stop on his first international trip since taking office in January.
Saudi and Arab news channels showed footage of Trump's plane arriving in the Saudi capital Riyadh and the US President being welcomed by Saudi king Salman bin Abdulaziz al-Saud. The two leaders exchanged pleasantries and Trump said it was "a great honour" to be there.
The elaborate welcoming ceremony also included a flyover by military jets.
Mr Trump's wife Melania was dressed demurely in a black pantsuit, but did not wear a headscarf. In declining to adhere to strict Saudi dress codes where women are expected to cover their heads, Ms Trump followed the leads set by recent high-powered visitors like Theresa May, German Chancellor Angela Merkel, and Michelle Obama, who all avoided wearing headscarfs.
Top regional ally Saudi Arabia has said the trip will conclude political and commercial agreements and will help bolster the joint fight against Islamist militants.
The White House is said to be hopeful the trip will shift focus away from domestic controversies and on to the president's foreign policy agenda.
Mr Trump's first overseas trip as president comes as he faces mounting controversy at home following the firing of FBI Director James Comey.
Robert Mueller, himself a former FBI director, has now been appointed as special counsel to oversee the investigation into possible ties between Russia and the Trump presidential election campaign. The appointment of the 'utterly incorruptible' Mr Mueller following the sacking of Mr Comey was described by one commentator as taking Mr Trump "from the frying pan to the fire."
Trump himself has, inevitably, already tweeted about his trip, in what appears to be an attempt to use it to focus attention on the America First agenda that won him grassroots support on the campaign trail.
Trump's national security adviser H.R. McMaster has now stressed: "President Trump understands that America First does not mean America alone. Prioritizing American interests means strengthening alliances and partnerships that help us extend our influence and improve the security of the American people."
In a potentially controversial sweetener for Saudi Arabia, US officials said the Trump administration plans to announce $110 billion (£84 billion) in advanced military equipment sales and training to the kingdom during the president's trip. The massive arms deal is expected to include tanks, combat ships, missile defense systems, radar and communications and cybersecurity technology.
Saudi Arabia has already been enthusiastic about Trump's presidency after seeing his predecessor Barack Obama as too soft on its arch regional foe Iran and cool towards Washington's bilateral relationship with Riyadh, a mainstay of the Middle East's security balance.
Ahead of Mr Trump's arrival, billborads featuring his image and that of the Saudi king lined the highways of Riyadh. Red, white and blue lights and at times an image of the US President's face were beamed onto the front of the Ritz-Carlton Hotel where Mr Trump will be staying.
Mr Trump is the first US president to have made Saudi Arabia, or any majority Muslim country, their first overseas stop. The decision has been seen by some commentators as aimed in part at helping smooth over ill-feeling generated by his anti-Muslim campaign rhetoric and his attempts in office to enforce what critics have dubbed a Muslim travel ban.
It is thought, however, that the speech Mr Trump is due to deliver about his hopes for a peaceful vision of Islam and the need to confront radical ideology has been drafted by Stephen Miller, a senior adviser who played a key role in drawing up the travel ban.
Trump will make stops next week in Israel, Belgium and Italy. The trip has been billed as a chance to visit places sacred to three of the world's major religions while including meetings with Arab, Israeli and European leaders.
After the initial welcoming ceremony in Riyadh, Mr Trump and the king paused briefly for coffee in the airport terminal before the president headed to his hotel.
After a short stop at his hotel, Mr Trump was driven to a reception at the Saudi Royal Court, his presidential limousine flanked by more than a dozen horses.
Trumpets played and soldiers stood at attention as the president walked into the al-Yamamah Palace, with a grinning Mr Trump congratulating the king on a "very impressive" spectacle.
The king placed the Collar of Abdulaziz Al Saud, the nation's highest civilian honour, around Mr Trump Trump's neck. The medal, given to Mr Trump for his efforts to strengthen ties in the region, has also been bestowed on Theresa May, Vladimir Putin, and Barack Obama.
The king and Mr Trump were overheard discussing natural resources and arms, and the king bemoaned the destruction caused by Syria's civil war.
Mr Trump was accompanied by Melania, daughter Ivanka and his son-in-law and senior adviser Jared Kushner.
The king and Mr Trump were expected to have a bilateral meeting after lunch.
Join our new commenting forum
Join thought-provoking conversations, follow other Independent readers and see their replies