Dutch church holds marathon five-week service to save family from deportation
Church says it is forced to choose 'between respect for the government and protecting the rights of a child'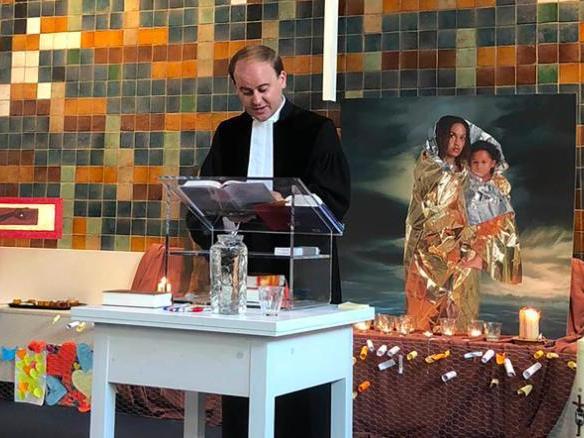 A church has been holding a marathon service for more than 800 hours in a bid to prevent the deportation of an Armenian family from the Netherlands.
Pastors and volunteers from across the country have been giving back-to-back sermons at Bethel Church in The Hague, putting their faith in a law that prevents the police from entering churches mid-service.
The Tamrazyan family, including three children – Hayarpi, Warduhi and Seyran – have lived in the Netherlands since 2010.
They were reportedly forced to flee their home when father, Sasun received death threats because of his politcal activism.
Their asylum status was recently overturned after a five-year procedure and they failed with an appeal under a Dutch ruling called Kinderpardon (Children's Pardon), which protects the rights of children who have lived there with asylum for five years or more.
After the Tamrazyans were notified of their deportation in September, the church decided that holding an ongoing service was the only option available. The plan was known to just a handful of people in order to keep the family safe.
The church's pastor Axel Wicke told CNN that he "copied and pasted the liturgies of the last 10 years into one huge document and sang and prayed through that until other pastors were found".
Support free-thinking journalism and attend Independent events
After the preaching began on 26 October, more than 500 pastors and volunteers of various denominations have flocked to the church in an act described as "faith, love and hope put into practice" by chairman of the Dutch General Council of Protestant Ministers, Theo Hettema.
"The aim is to create time and space for dialogue with the government about a dilemma that no church should be placed: choosing between respect for the government and protecting the rights of a child," he said in a statement.
Hayarpi Tamrazyan, 21, has regularly tweeted her gratitude and praised both the church and volunteers for their support.
"Incredibly happy and grateful to all volunteers," she wrote in one post.
While the family seem to be well-protected for the moment, their long-term fate in Holland now lies in the hands of the government.
Martina Goeman, a legal adviser at Defence for Children in the Netherlands, estimates that there are around 400 children in a similar situation.
Ms Goeman said that due to the current State Secretary Mark Harbers' "restrictive view", more than 90% of applications for Children's Pardon are rejected.
In a debate over the fate of two Armenian children seeking Children's Pardon last month, Mr Harbers said it was "precisely the intention" that not many children qualified.
"Repeated scientific research shows that after five years children can no longer be expelled without damage to their development. I've seen it with my own eyes," said Ms Goeman.
She claimed to have also seen some cases of post-traumatic stress disorder (PTSD) in children who have suffered long periods of uncertainty over their asylum in Holland.
World news in pictures
Show all 50
"Lawyers at the moment do not even request for a children's pardon anymore because it's such a waste of time and resources for the family," she said.
However, in the case of the Tamrazyan family, "the government could solve this within a day", if the State Secretary were to use his discretionary powers to grant a residence permit or the government were to change the rules regarding Children's Pardon.
Describing the efforts at Bethel Church as "quite powerful", she said recent support from the church and more than 100 municipalities was putting pressure on Holland's government "to solve this problem".
Mr Hettema said the service at Bethel Church will continue for as long as it serves the fate of this family and the some 400 children in similar circumstances.
Join our commenting forum
Join thought-provoking conversations, follow other Independent readers and see their replies