A new model army tears its clothes off for 'amazing' Putin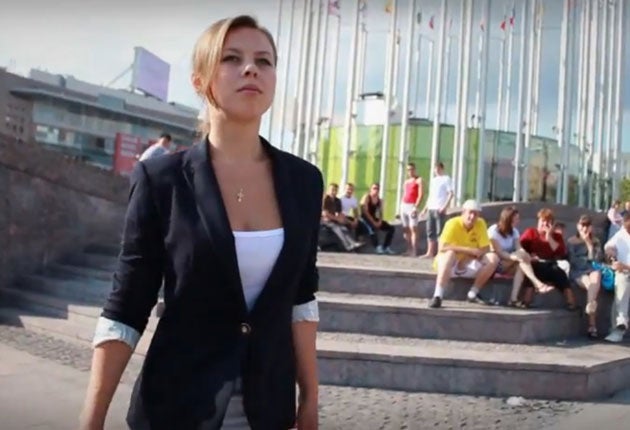 Young women across Russia have been called on to show their support for Vladimir Putin in an unusual way: by ripping off their clothes. The unexpected campaign has been launched by a group calling itself the Putin Army, which posted a slick video online at the weekend featuring a trio of young women announcing a competition.
"I'm just crazy about a man who changed our country," says a voiceover, as we see "Diana" walking through Moscow, while the camera frequently hovers over her sizeable bust. "He's a great politician, and an amazing man. He's Vladimir Putin," she says, adding that despite the millions who admire him, there are some who "pour dirt on him, maybe because they are scared of him, or because they themselves are weak".
Later in the video, Diana meets two nubile friends sunbathing by the riverbank, and they daub "I'll tear [clothes off] for Putin" onto skimpy T-shirts in red paint. The video ends as they rip the T-shirts off. They ask other "young, smart and beautiful" girls to "tear off something for Putin" and post a video of it online. The best entrant will win an iPad. It is unclear who is behind the Putin Army, but the video is professionally produced, and bears the hallmarks of one of the pro-Kremlin youth organisations such as Nashi.
The Putin Army's homepage on a Russian social-networking site is dominated by a photograph of Mr Putin in a bright-red lounge suit and wearing a pair of aviator sunglasses.
Presidential elections are due next year, and many expect Mr Putin to return to the job he did for eight years until 2008. He stepped aside because of the two-term constitutional limit, but he is still seen as more powerful than President Dmitry Medvedev.
Last year, students from the journalism faculty at a Moscow University posed for a raunchy calendar. Earlier this year, there was also a "Putin party" at a top Moscow nightclub, where strippers sang to Mr Putin's rendition of "Blueberry Hill". Kirill Schitov, a young parliamentarian from Mr Putin's United Russia party, wrote on his blog yesterday that the pro-Putin women were all very attractive. "Why do we never see successful, pretty girls in the opposition?" he asked.
Join our commenting forum
Join thought-provoking conversations, follow other Independent readers and see their replies