A tale of two refugee camps on Lesbos as thousands await fate of being sent back to Turkey
'They aren't taking me back. I will escape. What would you do?'
Andrew Connelly
Lesbos
Friday 08 April 2016 17:28 Comments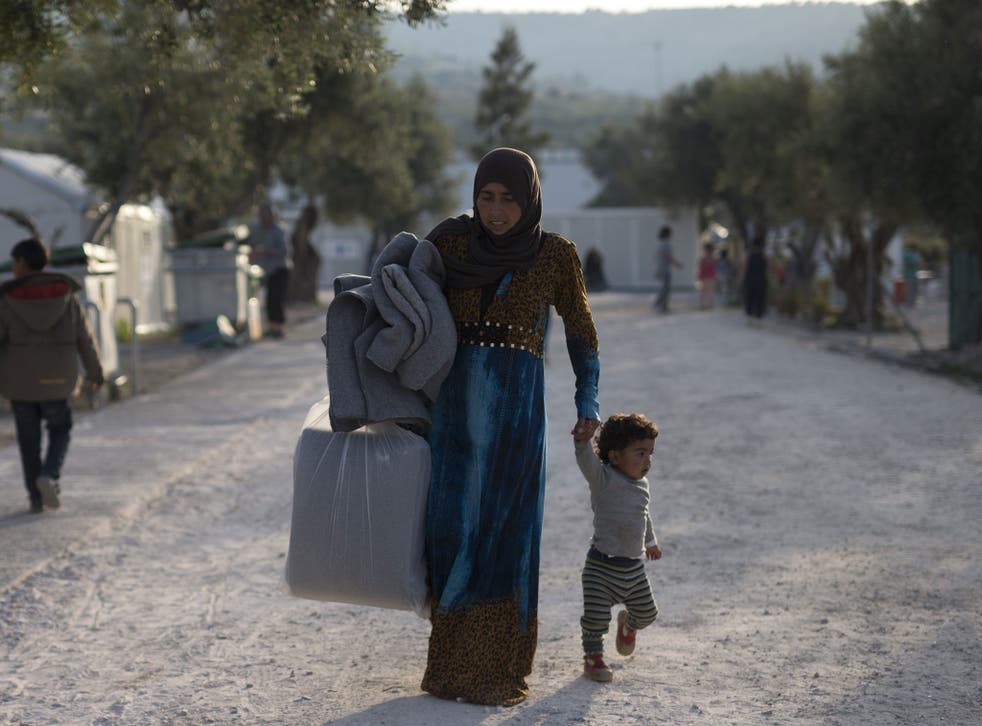 For volunteers and activists on the island of Lesbos, some of whom have been rescuing migrants and refugees from the Aegean Sea for months, seeing them now deported heightened their anger.
"Sorry, friends! EU shame on you," bellowed several activists to a line of 45 despondent Pakistani men who were led, flanked by police, on to a boat operated by EU border agency Frontex and shipped back to Turkey.
Protesters screamed, whistled and rattled the gates of the port. The four that dived into the sea and attempted to block the vessels' passage were swiftly arrested by the coastguard. Simultaneously, a bus drove past carrying tens of refugees that arrived by inflatable boat early Friday morning, many gazed out of the window at what could well be their fate.
Elsewhere on the island, Lesbos is a tale of two refugee camps.
On Kara Tepe, perched on the coast two miles from the port of Mytilene, families sleep in clean white cabins, countless NGO workers mill around serving tea, food and medication, and both residents and visitors are free to come and go. Syrian student Farid, 22, is using his time to work as volunteer translator:
"This is better than most camps in Greece." Farid remarked. "Some people that went to Athens have come back here because it is too crowded on the mainland."
According to the Greek government, over 50,000 refugees remain marooned across the country after the Western Balkan route to northern Europe was sealed shut in early March.
The other refugee accommodation lies only a few miles away but the differences are stark. At the entrance to Moria, a locked detention ringed with razor wire and run by the Greek police, tens of Pakistanis enter their fifth day of a hunger strike protesting deportation.
At the weekend a young Afghan man attempted to kill himself by overdosing on pills and remains in a serious condition in hospital.
Most of the 3,000 detained in Moria have submitted asylum claims in Greece but a lack of asylum officers and interpreters is causing significant delays. But as Turkey effectively been deemed a safe country to seek asylum, the wait may merely postpone the inevitable. Syrian student Khadr is unfazed:
"They aren't taking me back to Turkey. I will escape. What would you do?"
Register for free to continue reading
Registration is a free and easy way to support our truly independent journalism
By registering, you will also enjoy limited access to Premium articles, exclusive newsletters, commenting, and virtual events with our leading journalists
Already have an account? sign in
Join our new commenting forum
Join thought-provoking conversations, follow other Independent readers and see their replies