German intelligence services to spy on extremist wing of far-right AfD party
Flügel faction now trying to unite neo-Nazi and extremist elements, intelligence chief warns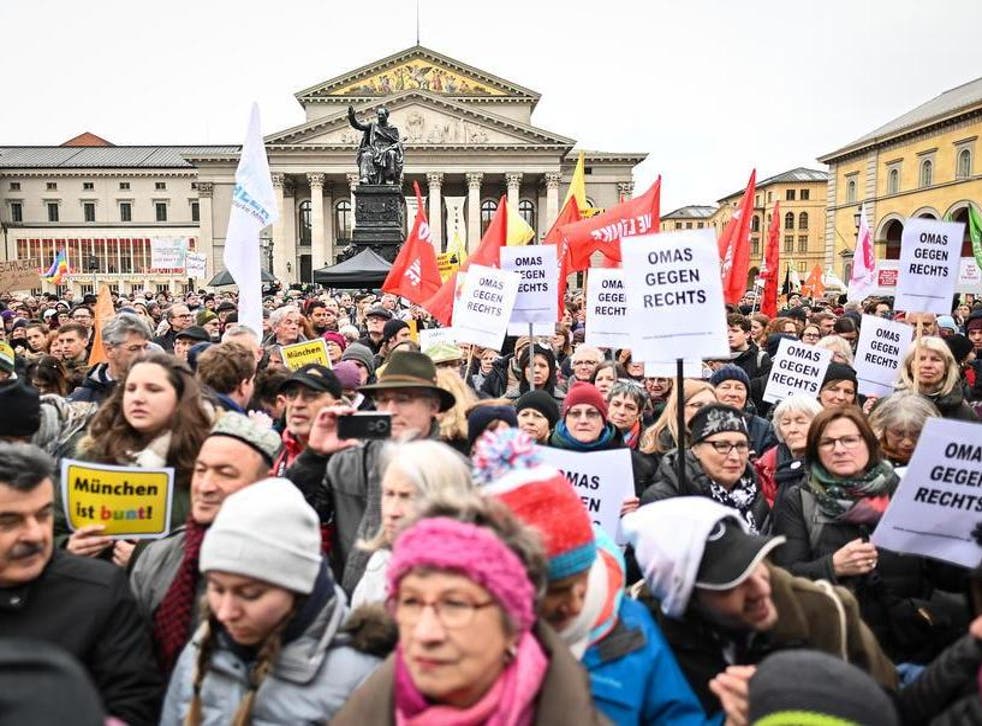 A radical faction of the populist right-wing Alternative for Germany (AfD) party has been placed under surveillance by Germany's security services.
The country's domestic intelligence agency, the BfV, announced at a press conference it was now actively scrutinising the Flügel faction of the AfD because it had "extremist" tendencies.
Flügel, which means "wing", is a group within the AfD which is particularly strong in eastern Germany and has become highly controversial in recent months.
Last month its leader, an MP in the state of Thuringia called Björn Höcke, caused widespread consternation when he agreed a deal with the local branch of the liberal centrist Free Democrat Party (FDP) to make their leader the prime minister of Thuringia.
This broke a long unspoken agreement by Germany's mainstream parties not to enter into coalitions or agreements with far-right movements.
World news in pictures

Show all 50
The AfD came under further criticism over its inflammatory anti-immigrant language after a far-right shooter killed nine people in a suburb of Frankfurt last month.
Joerg Meuthen, the co-leader of the AfD, dismissed the deadly shooting as the "delusional act of a madman" but others across the political spectrum accused the AfD of whipping up racist extremism and hatred of immigrants within Germany.
The head of the BfV, Thomas Haldenwang, told reporters in Berlin Flügel had been officially designated a surveillance target, allowing the security services to recruit informers and collect data on members. Flügel has about 7,000 members, or one in five of the whole AfD, he added.
"This is a warning to all enemies of democracy," he said, citing Germany's grim Nazi past as a warning. "We stand together and act."
Far-right extremists had been responsible for more than 200 deaths in Germany since reunification in 1990, Mr Haldenwang said.
Flügel was now organising with other far-right groups online and growing in influence within the AfD, another BfV official said. It had an ultra-nationalistic "völkisch" ideology which demonised foreigners and glorified the German nation.
The Nazi party also drew on ideas of the pure German Volk to denigrate Jews and other minorities. Although the AfD insists it is not a neo-Nazi party, the head of Flügel Mr Höcke wrote in a recent pamphlet the Holocaust Memorial in Berlin was a "monument of shame".
The AfD, which is the largest opposition party in Germany's parliament with 91 seats, is openly anti-Islam and has risen to prominence in recent years over its hard-line opposition to immigration.
It has also increasingly condemned the mainstream German political establishment for being too apologetic about the country's past.
Despite the surveillance, AfD parliamentary activities would remain sacrosanct, the BfV said.
One of the AfD's key leaders Andreas Kalbitz attacked the BfV's decision as politically-motivated.
"This is no surprise because the political decision was made long ago even though it is groundless and motivated purely by political considerations," he said.
"We will exhaust all judicial means available to fix this mistake."
Additional reporting by Reuters and AP.
Register for free to continue reading
Registration is a free and easy way to support our truly independent journalism
By registering, you will also enjoy limited access to Premium articles, exclusive newsletters, commenting, and virtual events with our leading journalists
Already have an account? sign in
Register for free to continue reading
Registration is a free and easy way to support our truly independent journalism
By registering, you will also enjoy limited access to Premium articles, exclusive newsletters, commenting, and virtual events with our leading journalists
Already have an account? sign in