After devastating verdict, Pussy Riot face a grim future
If their appeal is not successful they could be sent to a jail thousands of miles from home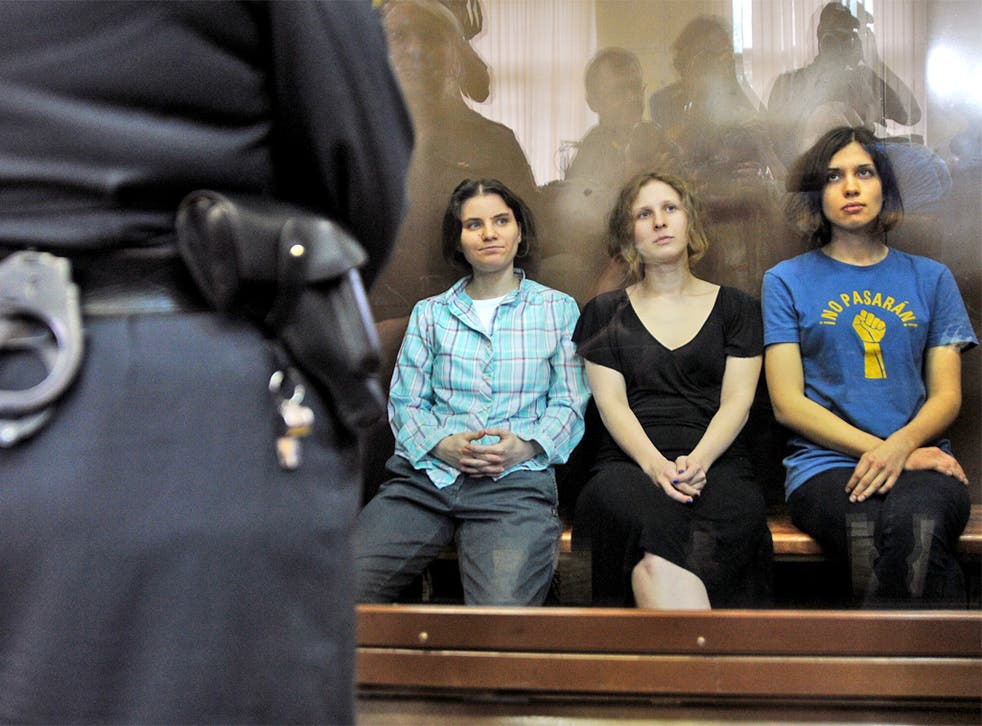 As lawyers for the jailed members of the punk band Pussy Riot prepare their appeals, the three women are gearing up to face the grim reality of two years in a Russian prison, where they will be able to meet their families and young children just once every six months, and receive phone calls only quarterly.
Nadezhda Tolokonnikova, 23, Maria Alekhina, 24, and Yekaterina Samutsevich, 30, were sentenced to two years in prison last week by a Moscow court for performing a "punk prayer" in a Moscow cathedral in February. The women say it was a political protest over the Russian Orthodox Church's support for President Vladimir Putin, but the court ruled that it constituted "hooliganism motivated by religious hatred" in a verdict that has caused outrage in Russia and across the world.
Lawyer Nikolai Polozov said he expected the court to hear the women's appeal in September, and if it was unsuccessful, they would be moved from pre-trial detention to a prison camp shortly afterwards. "The other inmates will mainly be there on theft and drugs-related offences," he said. "As there are almost no women's prisons of the highest security category, there will also be murderers and those accused of other serious crimes." The women can be dispatched to any prison in Russia, meaning they could end up thousands of miles away from Moscow. Two of the women have young children, but Mr Polozov said this would not be taken into account, and they would be allowed to see them only twice a year, .
Conditions in Russian jails are notoriously poor, with infectious diseases and drug use widespread. Last week, 19 prisoners at a jail in the far eastern city of Yakutsk attempted a mass suicide by slashing their veins with disposable razors, and many rights organisations have slammed prison conditions in the country. A US diplomatic cable released by WikiLeaks gave a grim account of the prison network. The cable, signed off by the then-US Ambassador to Russia in 2008, said: "The nature of the system, which has not substantively varied as it has evolved from tsarist prisons to the gulag to today's system, nurtures the spread of disease, abuse, and corruption."
A letter written by Ms Alekhina surfaced this week and detailed the events immediately after the verdict was handed down. She said police in the courthouse dealt with the women aggressively. "I was surprised, as they didn't usually treat us so rudely, so there must have been an order to do so," Ms Alekhina wrote.
The women were loaded into a police bus filled with riot police, and accompanied by police cars and two more buses of riot police, and the convoy travelled through Moscow using the specially assigned "VIP lanes" that allow important cars to avoid traffic.
"Terrorists and people who have committed violent crimes don't get treated in this way, but throwing this many resources at three girls shows only one thing – fear," she wrote. "I want to hope that everything ends well, but what is happening suggests that the opposite will be the case."
The hunt is also on for other members of Pussy Riot. A police source said earlier this week that the "necessary search operations" were under way.
Lawyers say this may be a scare tactic aimed at stopping further performances by Pussy Riot, rather than an actual hunt for the remaining women, given the large amount of negative publicity that the initial trial garnered for the authorities.
Of the five women who took part in the "punk prayer", two are still at large and are believed to be in Moscow. There are several other women who took part in earlier performances and helped to record a new single, released on the day of the verdict last week.
Join our new commenting forum
Join thought-provoking conversations, follow other Independent readers and see their replies