Alan Kurdi's aunt condemns world leaders for going 'back to business' after three-year-old boy's tragic death
In an interview with The Independent Tima Kurdi tells of her family's continuing grief
Tuesday 06 September 2016 14:41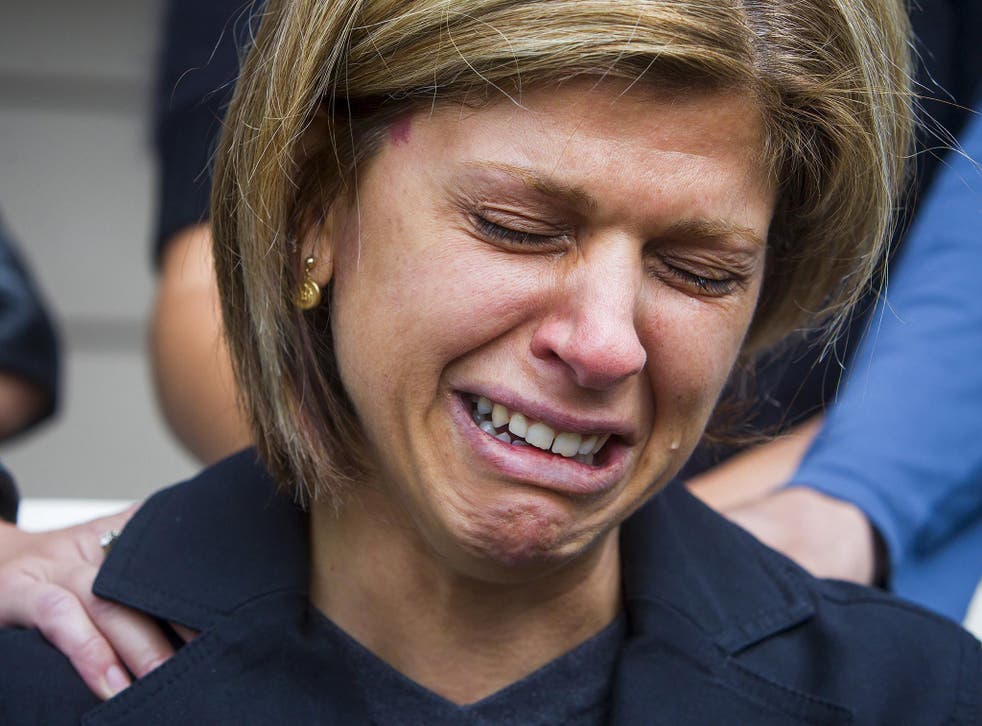 "When I saw that picture… I recognised that red T-shirt and the shorts. I bought those clothes," Tima Kurdi says. "Even though he was face down, I knew it was him."
The body of three-year-old Syrian Alan Kurdi washed up on a Turkish beach a year ago. His aunt, Tima, had been waiting anxiously in Vancouver for confirmation from her brother Abdullah that his family had made it across the Aegean Sea to Greece safely. "We're leaving", he'd said in a text message. "It's just a half hour ride, you can see Kos across the water." Then, two days went by without contact.
Ms Kurdi remembers standing in the kitchen when the now-famous picture of Alan's body in the surf appeared on her phone. She forwarded it to a sister-in-law in Turkey. "Is this Alan? Are we sure?"
Her sister-in-law didn't respond right away. When Ms Kurdi called, desperate for news, she got the answer she dreaded; her sister in-law was crying too hard to be able to speak. "She was sobbing," Ms Kurdi recalls. "'It's Alan', she said. 'It's him'."
Alan, his five-year-old brother Galib, and mother Rehana drowned in the early hours of 2 September 2015 when a dinghy – designed for eight passengers but carrying 16 – capsized after leaving Bodrum in Turkey. Other survivors of the tragedy said that they were given life jackets, but they didn't work properly.
Photos of the toddler's lifeless body shocked the world, and led to promises from world leaders to do more to help those fleeing war and persecution. A year on, though, both Ms Kurdi and Alan's father Abdullah have condemned the international community for failing to take in more refugees, and for not bringing the war in Syria to an end.
Speaking on the phone from Abdullah's new home in Irbil, in Iraqi Kurdistan, Ms Kurdi said the anniversary of her family members' deaths has been "very difficult".
"I came here to be with him for the anniversary but I don't think anyone could understand what we are feeling. We are still grieving. Abdullah talks about his family constantly, we sit at the breakfast table and he looks at me and says, 'I remember when Galib said this', or 'when Alan did that'. He cries a lot. He keeps asking, 'Why am I alive?'
"I keep telling him that when you lose someone, time goes on, and eventually it heals. But I don't know if that's true for him. He has heart trouble, he's in and out of hospital. It's very hard to see him like this."
The Kurdis are far from the only family to have suffered. Their tragedy is one of thousands in the five-year-long conflict in Syria, which the UN estimates has claimed more than 400,000 lives and made more than four million people refugees. The rise of Isis and other militant groups, fuelled by instability in Syria, has also led to an upswing in violence across the border in Iraq.
Aylan Kurdi Anniversary: EU states failing in their obligations to refugees
Following Alan's death, former Prime Minister David Cameron said the UK would admit 4,000 refugees a year until 2020. Several human rights groups have concluded it is very unlikely the target will be met, as did an August meeting of the Home Affairs Select Committee.
In the year that has passed since her nephews and sister-in-law died, Ms Kurdi has been an active and urgent voice for Syrians escaping bloodshed, working with aid groups, the UN Refugee Agency (UNHCR) and politicians in Canada and Brussels to better direct policy and funding for those in need.
"I have a voice, and I have to use it," Ms Kurdi says. "It's too late for my family but not for the others. We need a bigger table, not higher fences. If people are hungry, we must feed them… we all need each other one day."
Ms Kurdi says she understands what many Syrians are going through now, because she has experienced it herself: while the Kurdi family are originally from Kobani, in the Kurdish region of northern Syria, she and her brothers and sisters grew up in Damascus, and Ms Kurdi left her home country for Canada in 1992.
On her last vist to see family members in Turkey in 2014, Ms Kurdi said she was shocked by the conditions they were living in. Syrians in neighbouring Turkey, Jordan and Lebanon are not legally allowed to work, and often live in slum-like poverty while their savings dwindle and their children don't get access to proper schooling. "I was in touch every day by phone, but that does not convey what it's really like. I had to do something," she says.
Ms Kurdi arranged to privately sponsor her brothers Abdullah and Mohammed and their families to come to Canada. Abdullah says his application was rejected, while Canada's Department of Citizenship and Immigration maintains that it was never received; the family, having left Kobani for Turkey in 2014 when Isis descended on the town, tried to return, but were forced to leave again after a renewed Isis offensive in June 2015. Desperate, Abdullah tried more than once to arrange for his family to cross the Aegean Sea to Greece before winter conditions set in.
The other Alan Kurdis: Refugee children who survived the journey

Show all 8
There is likely to be another surge in refugee numbers before October as people hurry to make a move before the winter. And 2016 is already the deadliest year on record in the Mediterranean: while the number of people arriving in Greece has dropped from 67,000 to 3,430 since the EU-Turkey deal to return refugees, effectively closing off the migration route to Germany, the number of people crossing from North Africa to Italy remains constant, and journeys are becoming more dangerous thanks to overcrowding and unscrupulous smugglers.
One in every 42 people has died crossing the central Mediterranean this year, compared to one in every 52 in 2015, UNHCR says.
It's a journey that Ms Kurdi now urges people not to make. "I sent [Abdullah and his family] the money so they could pay the smugglers," she says. "Not a day goes by I don't regret that. I am not the same person any more.
"I spent the last 20 years sending money back to my family to keep them well, and safe and alive. For this to happen."
Ms Kurdi sees Alan, Galib and Rehana's deaths as a "message from God".
"It was a wake-up call. For four years my people cried out for help and no one did anything – until that picture. The sad part is, after a few months, it was back to business. Shame on us. Shame on all of us."
Register for free to continue reading
Registration is a free and easy way to support our truly independent journalism
By registering, you will also enjoy limited access to Premium articles, exclusive newsletters, commenting, and virtual events with our leading journalists
Already have an account? sign in
Register for free to continue reading
Registration is a free and easy way to support our truly independent journalism
By registering, you will also enjoy limited access to Premium articles, exclusive newsletters, commenting, and virtual events with our leading journalists
Already have an account? sign in