Alexis Tsipras receives angry reception at Lesbos refugee camp
Tsipras arrived as a ferry strike continues to trap a growing number of asylum seekers on the island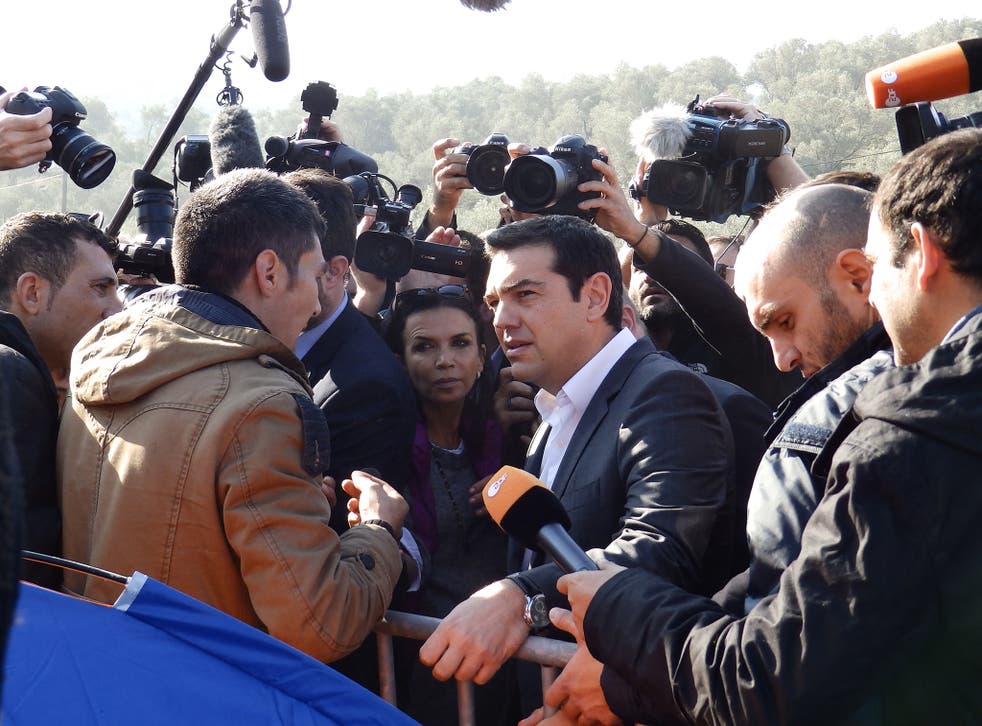 Alexis Tsipras received an angry reception at a refugee camp in Lesbos today as thousands of refugees were forced to sleep in the open as numbers on the island reach crisis point.
The Greek Prime Minister's tour with the president of the European Parliament, Martin Schulz, came as a continuing ferry strike trapped rapidly growing numbers of asylum seekers on the island.
Meanwhile, overloaded dinghys continue to be sent across the Aegean from smugglers in Turkey - a journey that cost three children their lives in just one day this week.
Mr Tsipras was met at the gates of the Moria camp by around a hundred protesters, wearing life jackets and brandishing placards calling on the European Union to stop deaths by allowing asylum seekers safe and legal passage to Europe.
Two British students were among the demonstrators after deciding to use the start of their gap year to volunteer on Lesbos.
Annie Risner, 18, said she had seen the camp being cleaned and the shrubbery being trimmed ahead of the Greek Prime Minister's visit.
"People in Greece know what's happening and people in Turkey know what's happening and still every day boats are coming across and people are dying," she added.
"It doesn't make any sense."
Friend Ruby Brookman Prins, 19, said conditions were so desperate at Moira that some refugees had asked them how they could return home.
"They don't want to be here, they just want to leave," she added: "They say this as bad as Syria, but without the bombs...they don't expect this in Europe."
Aid workers say conditions at Moria, which is for non-Syrians, have dramatically improved over the last month with the arrival of more agencies and the construction of cabins to house refugees.
But as the ferry strike creates a backlog for those trying to leave, the camp is overflowing, seeing hundreds of families with babies and young children sleeping in flimsy tents or without shelter on rocky ground.
The situation was even more dire last week, when asylum seekers queued in a field in a two-mile long line in pouring rain that turned steep paths in Moira into torrents of mud and faeces.
In part of his tour, Mr Tsipras and Mr Schulz visited a building site where new accomodation is being constructed.
They were surrounded by a pack of media and minders as police and the army guarded a nearby gate and bemused refugees were held behind metal crowd barriers.
One man, believed to be an Afghan refugee, reached out to the Greek Prime Minister over the fence to shake his hand and as the cameras followed, questioned him about the state of the camp and the plight of families there.
Refugees settle in Germany

Show all 12
"We are here three days. We are hungry. I have two children, my children are sick," the man shouted. "We will do our best," Mr Tsipras replied, patting his arm before being ushered away.
Nearby, mothers and young children gathered at a centre run by Save the Children where the youngest refugees are given toys to play with as their parents relax.
Other families were walking around desperately searching for doctors with limp children in their arms, picking over rubbish and gullies running with raw sewerage.
"We need a doctor," one woman from Afghanistan told a charity worker. "My baby is sick, if she stays outside for one more night she will die."
Elsewhere in the camp, hundreds of people queued for registration papers and unaccompanied teenagers were siphoned off to a former detention centre surrounded by barbed wire.
Parts of Lesbos have been designated "hotspots" where European nations who have pledged to take migrants from within Europe can transfer them from but several nations, including the UK, have opted out.
As the crisis continued, protesters were staging a sit in at a civic building in Mytilene holding a banner accusing Europe of murder over the deaths of hundreds of asylum seekers in the Aegean Sea.
Across the town's harbour, families were laying down tents or sleeping on the bare concrete at the ferry port where they would normally be transferred to Athens and start their long journey to western Europe.
Register for free to continue reading
Registration is a free and easy way to support our truly independent journalism
By registering, you will also enjoy limited access to Premium articles, exclusive newsletters, commenting, and virtual events with our leading journalists
Already have an account? sign in
Register for free to continue reading
Registration is a free and easy way to support our truly independent journalism
By registering, you will also enjoy limited access to Premium articles, exclusive newsletters, commenting, and virtual events with our leading journalists
Already have an account? sign in
Join our new commenting forum
Join thought-provoking conversations, follow other Independent readers and see their replies