Alexandra Mezher: Family pay tribute to 'angel' stabbed to death at shelter for teenage refugees in Sweden
A 15-year-old boy has been arrested on suspicion of murder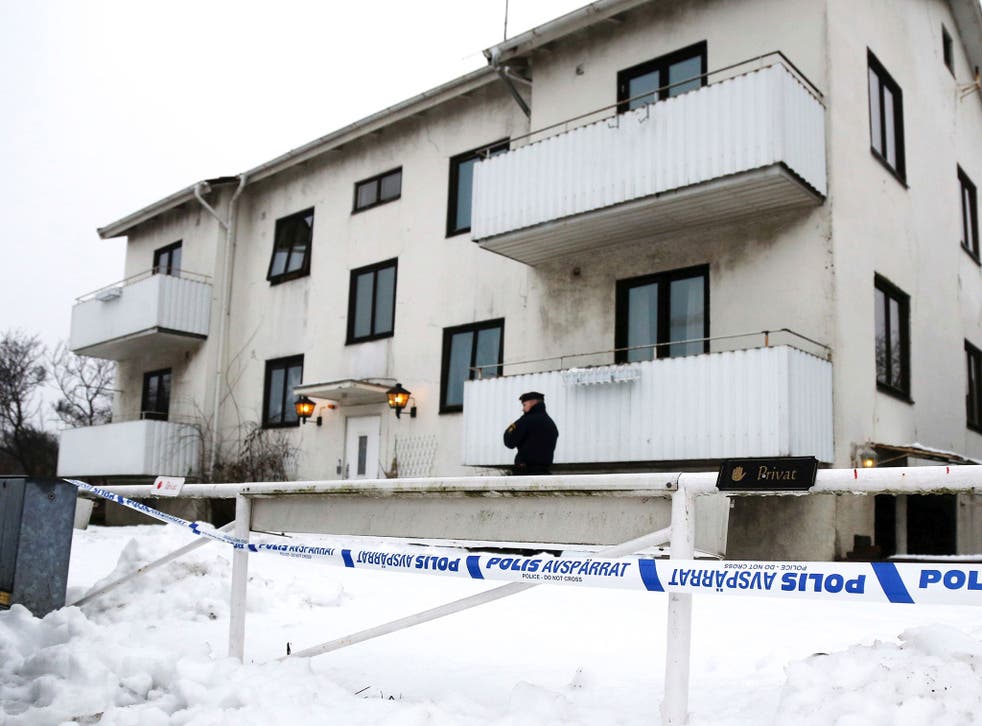 The family of a woman who was stabbed to death at a refugee shelter in Sweden have described her as an "angel".
Alexandra Mezher, 22, was attacked at around 8am on Monday morning and died of her injuries in hospital.
She had reportedly been working alone on a night shift at the accommodation for unaccompanied migrant children in Mölndal, near Gothenburg.
"She was my air, she was my everything, why her?" her mother, Chiméne Mezher told the Göteborgs-Posten newspaper.
"She was not just my daughter, she was my angel. She was a just and fair human being. There were so many who loved her. She was my daughter, my friend, my companion."
When relative were asked who they blamed for the tragedy, one of Ms Mezher's cousins said the blame lay at the feet of those they accuse of failing to control migration to Sweden and putting refugees in allegedly overcrowded accommodation.
"It is Swedish politicians' fault she is dead," the unnamed cousin told Expressen.
"It is so terrible. She was a person who wanted to do good, who wanted to be good – and then she got murdered while doing her job."
Lejla Filipovic, 22, one of Ms Mezher's closest friends, told the Telegraph she started working at the accommodation several months ago.
"She loved working with the kids, she wanted to do something good," Ms Filipovic added.
"I know that some of the kids aren't in a good place right now, because they came without their parents, so sometimes I was worried, but I knew that she had good co-workers."
Members of Ms Mezher's family were flying in from Lebanon and Israel today ready to attend her funeral.
It was unclear whether she had been deliberately targeted during what police initially described as an altercation involving several teenagers at the house.
The 15-year-old suspect was restrained by two other asylum seekers and has been arrested on suspicion of murder.
Thomas Fuxborg, a spokesperson for Swedish police, described the aftermath as "messy" with "a lot of blood" on the floor.
"The perpetrator had been overpowered by other residents, people were depressed and upset," he told the TT news agency.
The shelter houses around a dozen asylum seekers aged between 14 and 19, who are among the thousands of unaccompanied minors who have arrived in Europe without their families in the past year.
Staffan Alexandersson, a social worker for the group running the shelter, said a crisis team had been sent in to support staff and residents, who have been moved elsewhere while the criminal investigation continued.
Refugee crisis - in pictures

Show all 27
Sweden's Prime Minister, Stefan Lofven, has expressed his sadness at the "terrible crime" and claimed there was concern for the future.
"I believe that there are quite many people in Sweden who are very concerned that there may be more cases of this kind, when Sweden receives so many children and youths arriving alone," he told Radio Sweden.
It came as Sweden's police commissioner, Dan Eliasson, requested 4,100 additional officers and support staff to help fight terrorism, carry out deportations and police migrant accommodation.
Around 163,000 asylum applications were made last year in Sweden, which is one of the main destinations for refugees and migrants entering the EU.
Border checks came into force earlier this month after Sweden was granted a temporary exception from the Schengen agreement, as efforts continued to slow the number of arrivals.
Register for free to continue reading
Registration is a free and easy way to support our truly independent journalism
By registering, you will also enjoy limited access to Premium articles, exclusive newsletters, commenting, and virtual events with our leading journalists
Already have an account? sign in
Register for free to continue reading
Registration is a free and easy way to support our truly independent journalism
By registering, you will also enjoy limited access to Premium articles, exclusive newsletters, commenting, and virtual events with our leading journalists
Already have an account? sign in