Alternative for Germany: The anti-immigration party even scarier than Donald Trump
Alternative for Germany's leader Frauke Petry has called on German police to shoot refugees entering the country 'if necessary'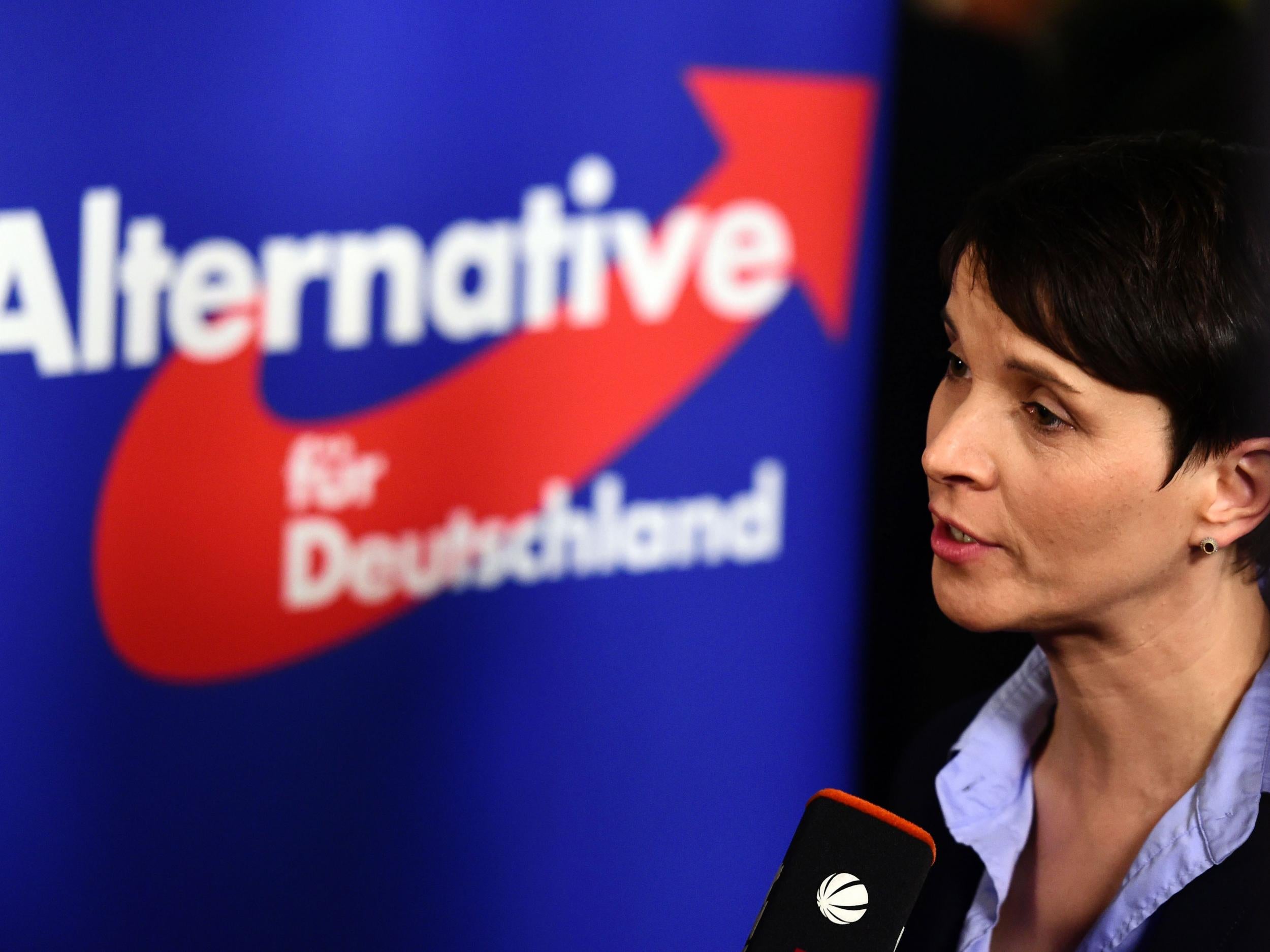 Through calls to ban Muslims from the US and build walls across the Mexican border, Republican presidential candidate Donald Trump has become the poster boy for an anti-immigration rhetoric sweeping through Western politics.
And now, a far-right German party gaining popularity amid Europe's refugee crisis, is also announcing some equally, if not more, extreme policies.
Alternative for Germany (AfD), formed three years ago by a group of economists, has struck a chord with Germans who are dissatisfied with conventional politics, particularly Chancellor Angela Merkel's open-door policy for refugees.
Originally created in opposition to German-backed bailouts for poorer Eurozone members, AfD has developed an anti-immigration stance over the past year, bolstered by its current leader Frauke Petry.
Initially considered a right-wing fringe group, the party has made huge gains in popularity since the refugee crisis hit the EU and on Sunday the group powered into three state legislatures.
In Saxony-Anhalt the party won 24 per cent of the vote to become the second-biggest party in the state parliament.
The rise of AfD in Germany mirrors growing support for other populist politicians such as France's Front National leader Marine Le Pen and Mr Trump; and with one German newspaper comparing statements made by Mr Trump and Ms Petry, it appears AfD are using similar headline-grabbing tactics to those of the billionaire tycoon.
'German police should shoot at migrants'
While the Republican frontrunner has suggested the US build walls across borders to keep out migrants, Ms Petry has suggested even more extreme measures should be taken to halt the entrance of refugees into Germany.
In January, Ms Petry sparked huge backlash from left-wing parties and German police after saying authorities should, "if necessary", shoot at migrants who attempt to enter the country illegally from Austria.
She told Mannheimer Morgen newspaper: "I don't want this either. But the use of armed force is there as a last resort."
The comments brought widespread condemnation, and led to an attempt by the mayor of Ausburg in Bavaria to stop her speaking in the city's town hall, claiming her comments were unconstitutional.
The AfD politician Dubravko Mandic was also criticised for posting a video on Facebook showing soldiers shooting at civilians behind a fence, Spielgel Online reports.
Refugees settle in Germany
Show all 12
'Germans should have more children'
As the national spokeswoman for Germany's Eurosceptics, Ms Petry's ideas have often advocated "traditional" Christian values, which it claims are threatened by mass immigration, the International Business Times reports.
"More children for German families" is one of the party's most well-known ideologies and Ms Petry has previously suggested German women should have more children in order to avoid the need for immigration, the Bloomberg Times reports.
The suggestions have come under fire from rival parties, with Sigmar Gabriel, the Vice Chancellor of Germany, dubbing "Petry's call for all women to have at least three children," one of the politician's "bizarre demands".
AfD politician Heinrich Fiechtner has previously spoken of an "attack on the German people" in reference to the refugee crisis.
Angela Merkel is the 'worst Chancellor in history'
Following the party's staggering results on Sunday, Andre Ponnenburg, AfD leader in the eastern state of Saxony-Anhalt, launched a scathing attack against Ms Merkel, describing her as the "worst Chancellor in German history".
The comment has sparked intense backlash, with many highlighting Mr Ponnenburg's suggestion Ms Merkel is worse than former Chancellor and Dictator Adolf Hitler, who during his time in power constructed a genocide which killed around six million Jews.
In pictures: Anti-Pegida protesters
Show all 10
The 'Pegida phenomenon must be seen in a differentiated manner'
Ms Petry's policies were given a further boost with the arrival of the xenophobic "Patriotic Europeans Against Islamisation of the West" (Pegida) movement, which attracted thousands to its rallies in the east German city of Dresden last year.
Co-founder and the initial leader of AfD, Bernd Lucke, urged the party to distance itself from Pegida because of fears that any links with the movement would alienate middle-class AfD members.
But Ms Petry, who became AfD's leader after Mr Lucke was ousted from the party, rejected the call and met Pegida supporters, saying she opposed a ban on contacts with the group.
She has since insisted the "Pegida phenomenon must be seen in a differentiated manner".
Join our commenting forum
Join thought-provoking conversations, follow other Independent readers and see their replies