Anders Breivik says Hitler's Mein Kampf is only reason he is surviving prison
Mass killer claims he is being tortured in prison by being kept in solitude
Emma Henderson
Wednesday 16 March 2016 17:28 Comments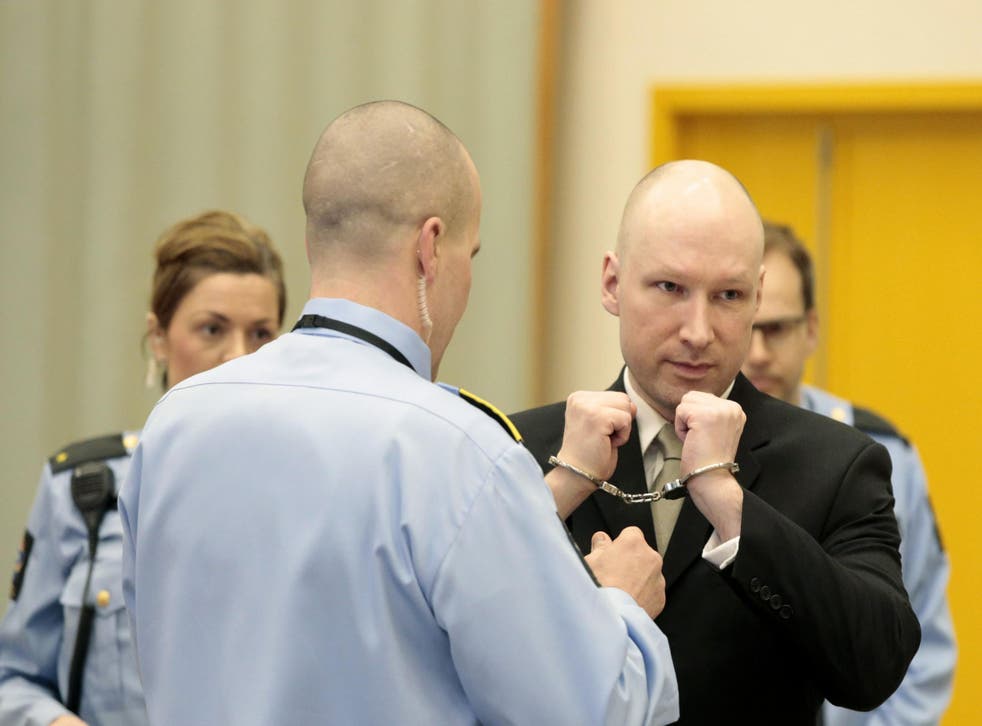 The man who murdered 77 people in a bomb and gun attack in Norway claims to be "surviving prison" and isolation because of his Nazi principles.
Anders Breivik, who was imprisoned in 2011 after conducting the country's deadliest attack since the Second World War, claims prison staff are attempting to drive him to death by keeping him in solitary confinement.
The 37-year-old claims he is only able to survive the "torture" due to the things he has learned from reading Adolf Hitler's book, Mein Kampf.
"These principles are the only reasons I am alive today," he told the court hearing.
"It would have been more humane to shoot me than to treat me like an animal."
The killer is suing the Norwegian government for his treatment while in Skien prison, southwest of Oslo, where he has spent time in isolation. He says this has violated the European Convention on Human Rights.
The Government has rejected Breivik's claims and said he has been treated humanely and with dignity, despite the severity of his crimes.
Skien Prison: Where Anders Breivik is incarcerated

Show all 5
The isolation is making him apathetic and depressed, giving him headaches and difficulty sleeping, he said.
In Breivik's 1,500 page manifesto, 2083: A European Declaration of Independence, he described prisons as the ideal place to recruit followers, which lawyers have said is a legitimate reason for him to be kept in solitude.
Other complaints included having to use plastic cutlery and eating TV dinners, some which are served twice in the same day.
Anders Breivik returns to court with a Nazi salute
He also has his incoming and outgoing post censored and has not been allowed to receive 600 letters sent to him, which authorities say is to prevent him inciting any extreme-right winged violence outside the prison.
After writing two books, The Breivik Diaries and The Nordic State, Breivik claims he is the only inmate not allowed to publish his work.
Lawyers voiced fears Breivik could spread his ideology if he had access to a small circle of friends, as he has requested.
Except for prison staff and health professionals, the only person to visit him since he was jailed was his mother, who has since died.
After entering the court, Breivik conducted a Nazi salute on Tuesday. Critics fear he is using his court appearance to further his extremist ideology, as it is the first time he has been seen in public since his imprisonment in 2012.
The proceedings were aired on Norwegian television, but Breikvik's testimony was not broadcast out of respect of the victims.
The killer was sentenced to 21 years in prison, the maximum sentence possible under Norwegian law. It can be lengthened if he is still considered a threat to society at the end of his sentence.
The trial is being held in a contemporary court room in the gymnasium of the prison for security reasons. He did not repeat the salute when he appeared in court on Wednesday. The trial is expected to last until Friday.
Register for free to continue reading
Registration is a free and easy way to support our truly independent journalism
By registering, you will also enjoy limited access to Premium articles, exclusive newsletters, commenting, and virtual events with our leading journalists
Already have an account? sign in
Join our new commenting forum
Join thought-provoking conversations, follow other Independent readers and see their replies