Anders Breivik: Norway justice ministry to appeal mass killer's human rights prison verdict
'I have asked the Office of the Attorney General to appeal the verdict,' justice minister says
Matt Payton
Tuesday 26 April 2016 13:40 Comments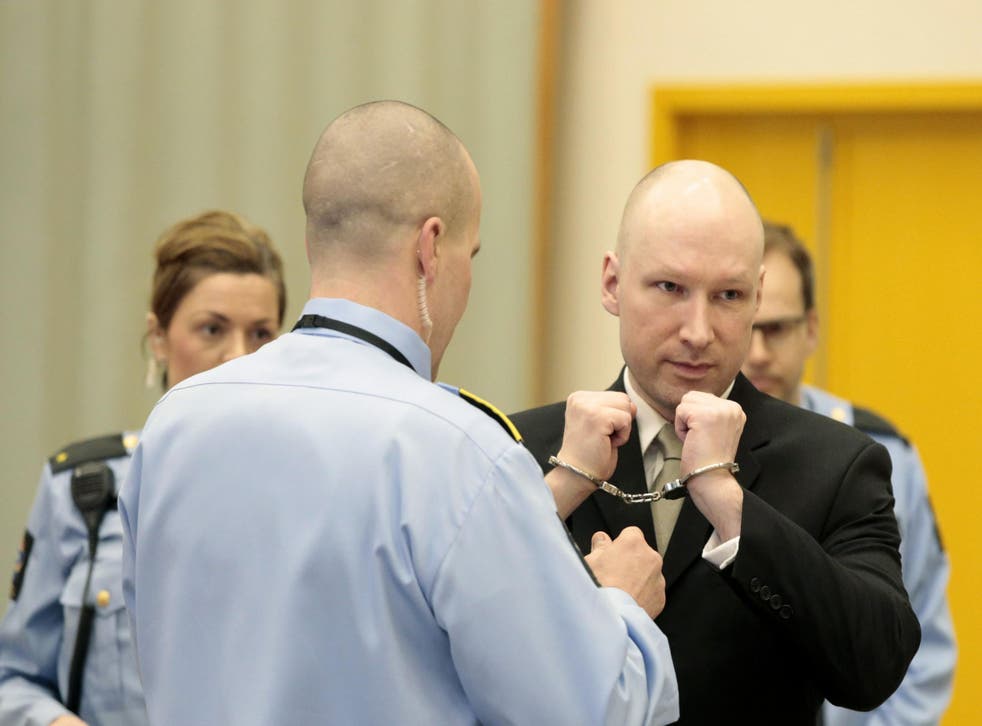 Norway will appeal the verdict in the case brought by mass killer Anders Breivik over his prison conditions, the country's justice ministry has announced.
Justice minister Anders Anundsen said in a statement: "I have asked the Office of the Attorney General to appeal the verdict," .
"The conditions under which Breivik is detained does not constitute, in the state's view, 'inhuman or degrading treatment' under Article 3 of the European Convention on Human Rights."
Norway violated Breivik's human rights by keeping him in a "completely locked world" after being sentenced for killing 77 people in twin attacks in 2011, the Oslo district court ruled on April 20.
Brievik has claimed he was being "tortured" by being kept in solitude - only "surviving prison" through following the Nazi principles outlined in Adolf Hitler's Mein Kampf.
He had told the district court: "These principles are the only reasons I am alive today.
"It would have been more humane to shoot me than to treat me like an animal."
The court ruling could now allow visits from woman known as "Victoria" - a female admirer who claims to be his girlfriend.
According to the Times, the pair have exchanged hundreds of letters and she is believed to be the person he speaks to when he is allowed to make calls.
Skien Prison: Where Anders Breivik is incarcerated

Show all 5
Until now, Breivik has been kept as the only inmate in the high-security wing of Skien Prison in three connecting rooms where he had access to a computer (with no internet access), a PlayStation, a bathroom and cooking facilities.
Bjorn Ihler, a survivor of the attacks at Utoya, tweeted yesterday: "What Breivik did was inhumane, which is why it's crucial to treat him humanely. He doesn't set the premises for how we treat others.
"Our best weapon in fighting extremism is humanity. The ruling in the Breivik case shows that we acknowledge the humanity of extremists too."
Register for free to continue reading
Registration is a free and easy way to support our truly independent journalism
By registering, you will also enjoy limited access to Premium articles, exclusive newsletters, commenting, and virtual events with our leading journalists
Already have an account? sign in
Join our new commenting forum
Join thought-provoking conversations, follow other Independent readers and see their replies