Andreas Lubitz was being treated by 'several' psychiatrists prior to Germanwings Alps crash
Search of Andreas Lubitz's home reveals evidence of both physical and mental conditions
Tony Paterson
,
Jamie Merrill
Sunday 29 March 2015 12:20 Comments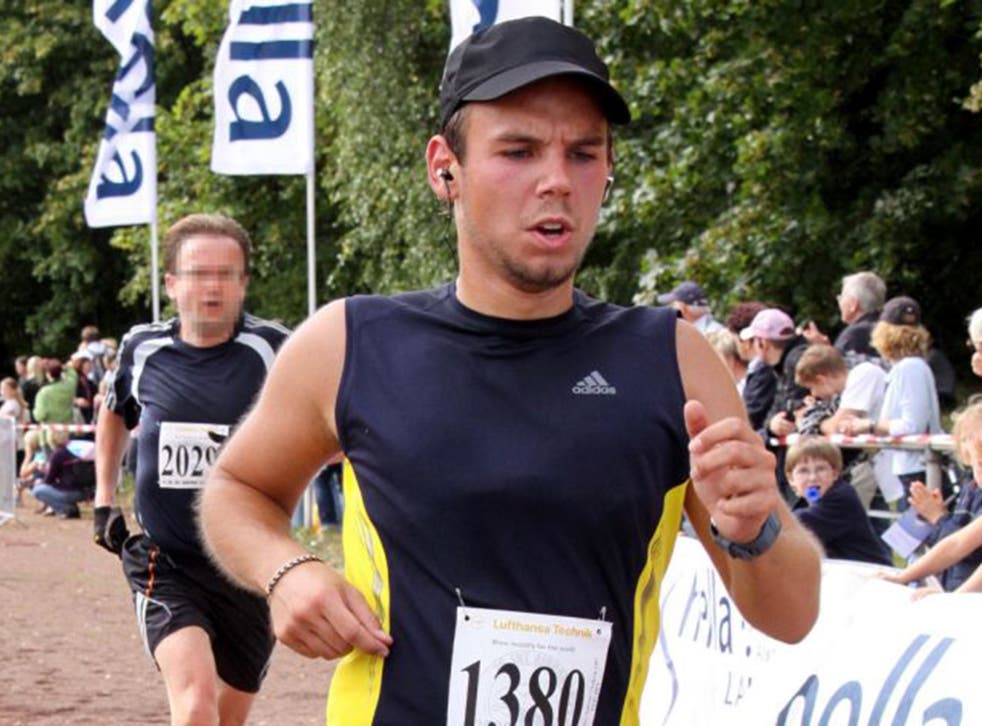 The co-pilot who deliberately caused Germany's worst post-war air disaster was suffering from a "serious psychosomatic illness" and had sought treatment for vision problems that could have ended his flying career, officials close to the inquiry and police investigating the Germanwings plane crash revealed yesterday.
The findings come from evidence found at the home of Andreas Lubitz, the co-pilot who smashed the Germanwings Airbus 320 into the French Alps on Tuesday, killing himself and the other 149 passengers and crew aboard. The 27-year-old was being treated by "several neurologists and psychiatrists", one of the leaders of the Düsseldorf task force investigating the incident told Die Welt am Sonntag yesterday.
"There is clear evidence of a serious psychosomatic illness," the investigator added. "He [Lubitz] was suffering from a severe subjective stress syndrome and was heavily depressed." Police said they also found large amounts of medication needed to treat depression in the pilot's Düsseldorf flat
Unnamed officials said to have knowledge of the investigation told The New York Times that Lubitz had also sought treatment for vision problems that could have jeopardised his chances of continuing to work as a pilot. It is not clear how severe the German pilot's eye problems were or how they might have been related to his psychological condition, the newspaper said. One official said his condition could have been psychosomatic.
The victims of the disaster were honoured yesterday at a special service in the alpine town of Dignes-les-Bains, about 30km from the crash site. Candles representing the 150 people killed were lit at the cathedral Notre-Dame-du-Bourg.
In pictures: Germanwings Airbus A320 plane crash

Show all 66
In nearby Seynes-les-Alpes, the father of one of the British victims called for airlines to be "more transparent". Philip Bramley, whose son Paul, 28, was one of three Britons on board, said that the motives behind the crash were "irrelevant". He said: "What is relevant is that it should never happen again. My son and everyone on that plane should not be forgotten, ever."
State prosecutors on Friday said that they had found torn doctors' sick notes in Lubitz's flat indicating that he had concealed his illness from his employers. One of the notes showed that he should have been off sick on the day of the crash.
An ex-girlfriend of the co-pilot told Germany's mass-circulation Bild newspaper on Saturday: "He did it because he knew that, because of his health problems, his big dream of a Lufthansa job and becoming a captain and pilot of long distance planes was as good as impossible."
She added: " He once said 'One day I will do something that will change the whole system and everyone will know my name and remember it.'"
The disclosures about Lubitz's mental state and Germanwings' failure to stop him flying have prompted demands for parts of the Hippocratic oath to be revoked so that doctors can inform airlines if pilots are seen as posing a threat to passengers.
Doctors at Düsseldorf's university clinic, where Lubitz was receiving psychiatric treatment, have refused to reveal what their patient was suffering from, citing the legal obligation to respect patient confidentiality.
Germanwings maintains that Lubitz's health was regularly checked by company flight doctors and there was no indication that he was mentally ill. "He was 100 per cent fit to fly," insisted Lufthansa chairman Carsten Spohr last week.
However, Rahael Diepgen, a trained pilot and psychologist at Bochum university said most airline medical checks for pilots were easy to get around. "No pilot is honest with a flight doctor," he told Der Spiegel yesterday. "That's because there is always a danger of being declared unfit to fly. The job hangs on a silk thread, especially if alcohol or depression are involved."
Phil Giles, a former investigator with the UK's Air Accident Investigation Branch, said Germanwings would have serious questions to answer over the mental state and medical history of their pilot. "I'm sure lawyers are already approaching families of the victims and may seek compensation by trying to prove that the airline failed to check out this pilot effectively," he said. "It seems to me that if he [Lubitz] had a major eyesight problem this should have been spotted by the airline."
While information about Lubitz's mental health and vision have leaked to the media, it is too early to make a definitive judgement, Mr Giles added. The verdict of the French air accident investigators at Bureau d'Enquêtes et d'Analyses will be watched closely by lawyers. Senior police investigator General Jean-Pierre Michel told reporters that a "scenario well known to the media" was the focus of the probe but "other hypotheses, including the mechanical hypotheses" had not been ruled out.
Register for free to continue reading
Registration is a free and easy way to support our truly independent journalism
By registering, you will also enjoy limited access to Premium articles, exclusive newsletters, commenting, and virtual events with our leading journalists
Already have an account? sign in
Join our new commenting forum
Join thought-provoking conversations, follow other Independent readers and see their replies