Angela Merkel isolated as potential allies demand end to austerity
The German leader's party finds itself without options after romping home in the polls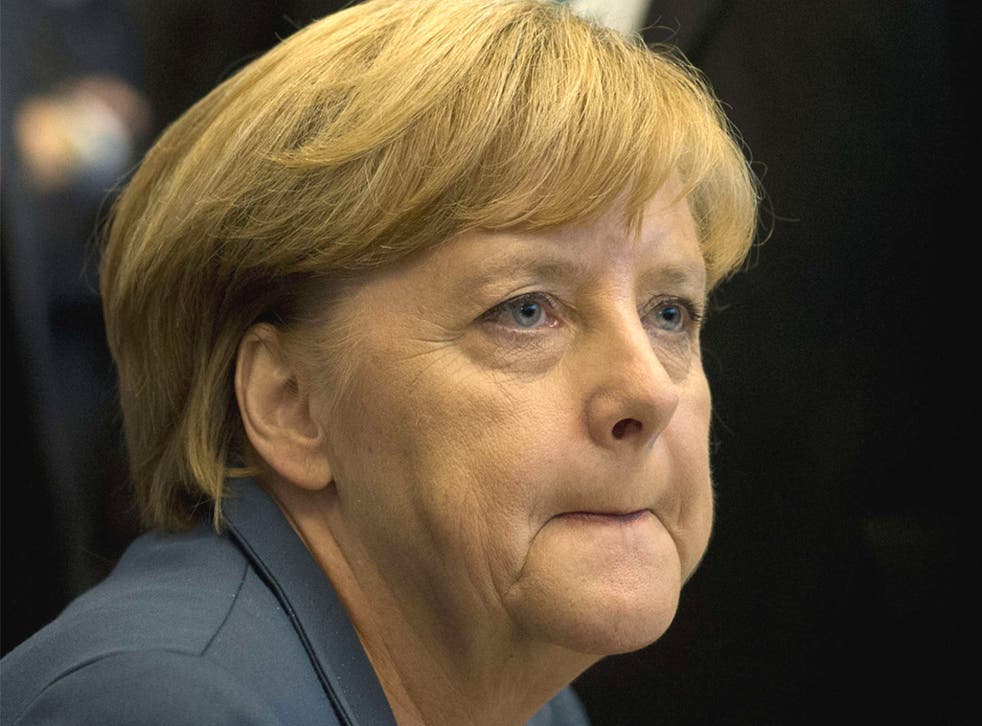 Germany's Social Democrats threw down the gauntlet to Chancellor Angela Merkel today and insisted she would have to end her controversial European austerity policies if they were to form a grand coalition with her conservatives in the wake of Sunday's general election.
The demand came from Martin Schulz, the influential Social Democrat (SPD) president of the European Parliament, as Ms Merkel faced the difficult task of finding a willing coalition partner for her victorious Christian Democrats (CDU), which fell just short of gaining an absolute majority in Sunday's vote.
Interviewed for a special post-election edition of Der Spiegel, Mr Schulz was asked about Ms Merkel's austerity regime in financially stricken southern Europe: "Merkel will not be able to continue with these policies," he told the magazine bluntly.
Mr Schulz insisted that in a coalition with his party, Ms Merkel would have to "do something" about mass youth unemployment in the region. "Merkel must follow up her words of social concern with action," he said. For her part Ms Merkel declared at a press conference on Monday: "Our policy on Europe will not change."
Despite their differences, the Social Democrats, who won 25.7 per cent of the vote in Sunday's election, still seemed the most likely future partners in government for Ms Merkel's conservatives who romped home with 41.5 per cent in the poll. "The SPD is simply the larger party and that is why they are our first choice," said Volker Kauder, the conservative party whip today.
However the inevitable dominance of the Christian Democrats in any future coalition remains a major disincentive to the SPD which would be dwarfed in such an alliance.
The party is deeply divided. The SPD in North Rhine Westphalia – Germany's most populous state – said it strongly opposed the idea of the party entering a grand coalition.
Sigmar Gabriel, the SPD party chairman who was Ms Merkel's environment minister in her previous grand coalition formed in 2005, has declared that he will not announce any decision until after a key party meeting on Friday. But with his party likely to raise the stakes and set more tough conditions for coalition participation, the negotiations could take weeks.
Commentators suggested that with her big election win which ousted her former liberal Free Democrat coalition partners, Ms Merkel might have effectively "won herself to death". They said that she might be unable to find a coalition partner and be forced to call fresh elections.
Ms Merkel still has the option of forming a coalition with the environmentalist Green party. The idea was still being backed by some conservatives today, but it was sharply dismissed by Ms Merkel's powerful ally, the conservative Bavarian prime minister Horst Seehofer who led the party to a similarly resounding victory in state election 10 days ago.
Mr Seehofer said he strongly objected to the Greens because of allegations earlier this year that leading figures in the party had promoted a paedophile movement within its ranks during the party's formative years. "That crosses a red line for me," he said.
After their disastrous election performance in which they won only 8 per cent of the vote, the Greens are in political disarray.
Several senior figures in the party announced their resignation from the leadership, and their popular former foreign minister Joschka Fischer broke his pre-election silence and lambasted the party for its vote-losing campaign which had called for tax increases and vegetarian canteen meals. He said the Green leadership had "grown older but remained immature".
Join our new commenting forum
Join thought-provoking conversations, follow other Independent readers and see their replies