Surveillance revelations: Angela Merkel proposes European network to beat NSA and GCHQ spying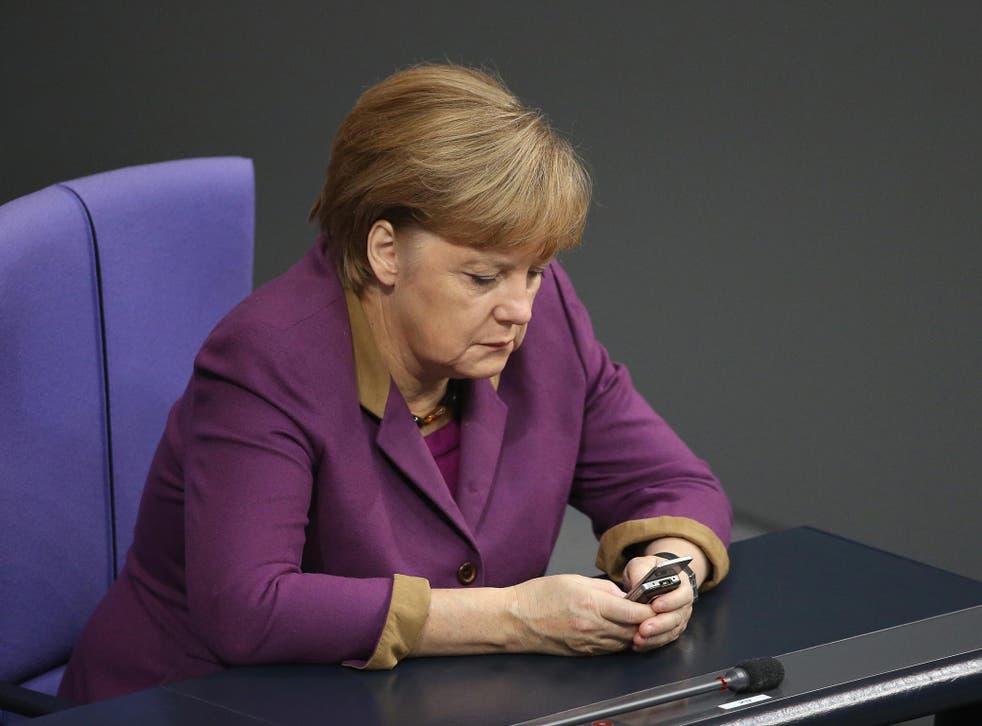 Chancellor Angela Merkel of Germany has announced plans to set up a European communications network as part of a broad counter-espionage offensive designed to curb mass surveillance conducted by the US National Security Agency and its British counterpart, GCHQ.
The move is her government's first tangible response to public and political indignation over NSA and GCHQ spying in Europe, which was exposed last October with revelations that the US had bugged Ms Merkel's mobile phone and that MI6 operated a listening post from the British Embassy in Berlin.
Announcing the project in her weekly podcast, Ms Merkel said she envisaged setting up a European communications network which would offer protection from NSA surveillance by side-stepping the current arrangement whereby emails and other internet data automatically pass through the United States.
The NSA's German phone and internet surveillance operation is reported to be one of the biggest in the EU. In co-operation with GCHQ it has direct access to undersea cables carrying transatlantic communications between Europe and the US.
Ms Merkel said she planned to discuss the project with the French President, François Hollande, when she meets him in Paris on Wednesday. "Above all we'll talk about European providers that offer security to our citizens, so that one shouldn't have to send emails and other information across the Atlantic," she said. "Rather one could build up a communications network inside Europe."
French government officials responded by saying Paris intended to "take up" the German initiative.
Ms Merkel's proposals appear to be part of a wider German counter-espionage offensive, reported to be under way in several of Germany's intelligence agencies, against NSA and GCHQ surveillance.
Der Spiegel magazine said on Sunday that it had obtained information about plans by Germany's main domestic intelligence agency, the Federal Office for the Protection of the Constitution, for a "massive" increase in counter-espionage measures.
The magazine said there were plans to subject both the American and British Embassies in Berlin to surveillance. It said the measures would include obtaining exact details about intelligence agents who were accredited as diplomats, and information about the technology being used within the embassies.
Last year information provided by the whistleblower Edward Snowden revealed that US intelligence agents were able to bug Ms Merkel's mobile phone from a listening post on the US Embassy roof. Investigations by The Independent subsequently revealed that GCHQ ran a similar listening post from the roof of the British Embassy in Berlin.
Intelligence experts say it is difficult if not impossible to control spying activities conducted from foreign embassies, not least because their diplomatic status means they are protected from the domestic legislation of the host country.
Der Spiegel said Germany's military intelligence service, (MAD) was also considering stepping up surveillance of US and British spying activities. It said such a move would mark a significant break with previous counter-espionage practice which had focused on countries such as China, North Korea and Russia.
Germany's counter-espionage drive comes after months of repeated and abortive attempts by its officials to reach a friendly "no spy" agreement with the US. Phillip Missfelder, a spokesman for Ms Merkel's government, admitted recently that revelations about NSA spying had brought relations with Washington to their worst level since the US-led invasion of Iraq in 2003.
Der Spiegel claimed that on a single day last year, January 7, the NSA tapped into some 60 million German phone calls. The magazine said that Canada, Australia, Britain and New Zealand were exempt from NSA surveillance but Germany was regarded as a country open to "spy attacks".
Join our new commenting forum
Join thought-provoking conversations, follow other Independent readers and see their replies