Angela Merkel calls for cooperation with Russia in fight against Isis amid tensions over alleged election interference
German Chancellor says terrorism is 'one area where we have the same interests'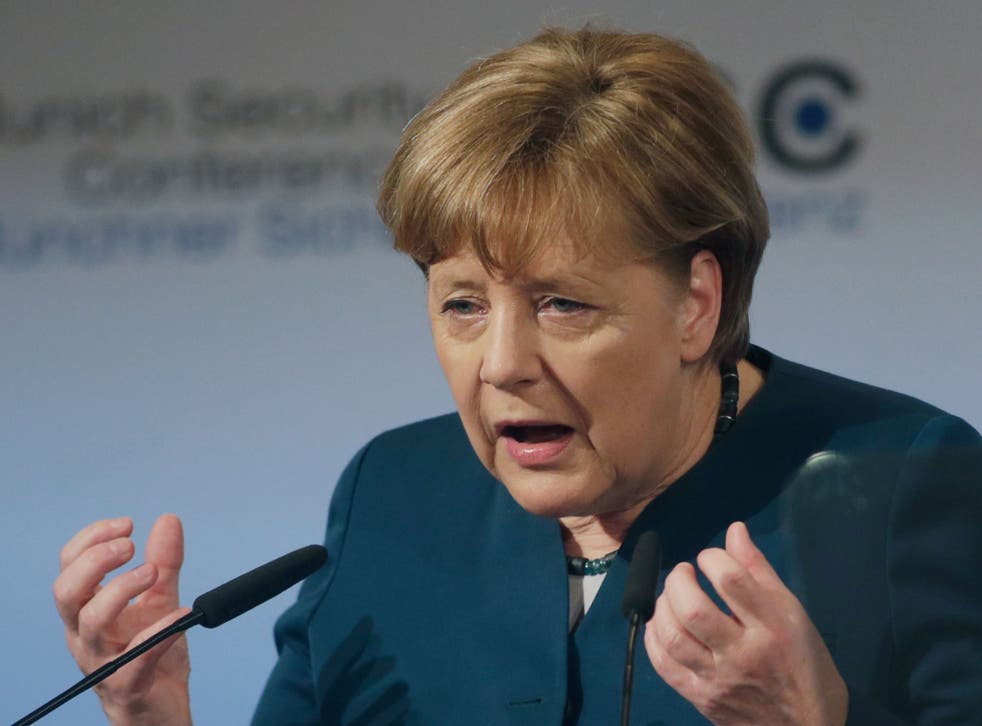 Angela Merkel has called on Europe and its allies to cooperate with Russia in the fight against Isis in spite of tensions over Syria, Ukraine, alleged cyber attacks and the propagation of "fake news".
"The joint fight against Islamic terrorism is one area where we have the same interests and we can work together," the German Chancellor told the annual Munich Security Conference.
The US Vice President was among world leaders in the audience for the speech, which came amid continued disputes over Russia's alleged interference in elections in the US and Germany.
Mike Pence claims there was no contact between Russia and Trump campaign
Ms Merkel was among the many critics of Donald Trump's attempt to ban immigration from seven predominantly Muslim countries, saying Islam itself was not a source of terrorism and targeted countries must be included in the fight against extremism.
The US-led international coalition and Russia are backing opposite sides in the Syrian civil war – even though both target Isis – while also imposing waves of sanctions and counter sanctions over the Kremlin's involvement in Ukraine.
Russia has been accused of violating international law in both countries, annexing Crimea in 2014 and conducting indiscriminate bombing raids amounting to war crimes in support of Syria's autocratic President Bashar al-Assad.
Tensions have risen further over allegations that the Kremlin backed cyber attacks attempting to influence the US and German elections, as well as controversy over "fake news" spread by state-funded outlets including Russia Today and Sputnik.
"We know that Russia communicates very openly that it views hybrid warfare as a form of defence," Ms Merkel said when questioned on the issue.
In pictures: Russian air strikes in Syria

Show all 19
"If I could wish for one thing, it would certainly be very good to get this topic, for example, on the agenda in the framework of Nato-Russia talks."
The Russian government has denied involvement in hacking attempts and accused Nato and Western media in turn of conducting a "propaganda war" against it.
While repeatedly professing his admiration for Vladimir Putin and desire to improve relations with Russia, Mr Trump called Nato "obsolete" during his election campaign and questioned US funding for the alliance.
But on Saturday, his deputy Mike Pence told the Munich Security Conference the US would be "unwavering" in its commitment to the transatlantic military alliance.
"Your struggles are our struggles," the Vice President said. "Your success is our success. And ultimately, we walk into the future together."
Ms Merkel had pledged to do "everything possible" to hit Nato spending targets, with uneven contributions repeatedly targeted by Mr Trump, and appealed to the US to bolster international organisations like the EU and UN.
The Trump administration's approach to international affairs and the President's support for Brexit has sparked fears that he may have little interest in working in multilateral forums.
Join our new commenting forum
Join thought-provoking conversations, follow other Independent readers and see their replies