Angela Merkel's greatest triumph in German election still needs coalition backing
Chancellor must find a party to form new coalition or risk another election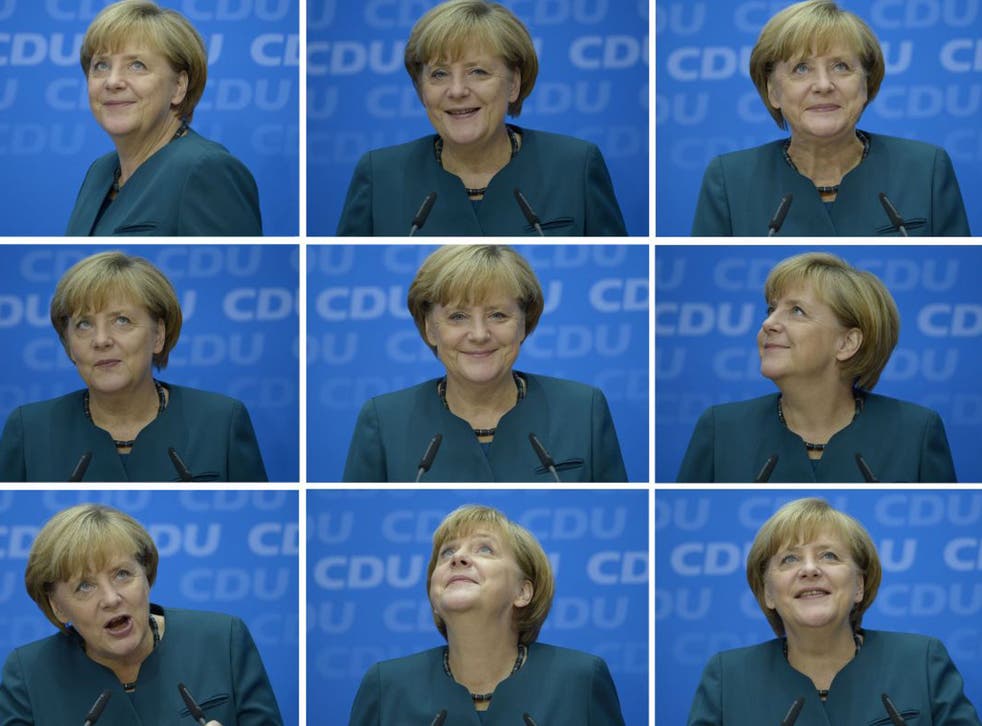 Chancellor Angela Merkel was faced with the intractable task of finding a willing coalition partner for her triumphant Christian Democrats (CDU) on Monday after winning a historic victory in Sunday's German general election, but falling just short of gaining an absolute majority.
With a campaign that exploited her huge popularity to the extent of virtually ignoring policy issues, Germany's first woman leader steered her conservatives to a landslide win on Sunday, securing 41.5 per cent of the vote in what was the best performance by her party in nearly 20 years. "She alone secured the triumph for her party," said German magazine Der Spiegel yesterday
Ms Merkel undoubtedly owed her victory to her perceived success in mastering the eurozone crisis and to Germany's flourishing economy and low unemployment. But her ability to combine modesty with a near presidential leadership style was also a key factor. Having won a third term in office, Ms Merkel is now in a position to overtake the late Margaret Thatcher as Europe's longest-serving female head of government.
However her landslide victory was also a product of the disastrous performance of Ms Merkel's coalition partners of the past four years, the liberal Free Democratic Party (FDP). The pro–business party was ousted from parliament for the first time in its history on Sunday after failing to secure the necessary 5 per cent of the vote to win seats.
It emerged on Monday that thousands of traditional liberal voters switched to Ms Merkel's conservatives after the Chancellor issued a last-minute appeal for extra support. The liberals' humiliation at national level followed a crushing defeat for the party in Bavarian state elections a week ago.
The FDP came to power in 2009 with a pledge to lower taxes but the party failed to live up to its promise. Instead the party won a reputation for bickering with its conservative partners. Yesterday Philip Rösler, the party leader, resigned.
However the gap left in the Bundestag by the liberals' sudden demise left Ms Merkel's CDU just short of a parliamentary majority, despite their huge gains. The party yesterday faced the arduous business of finding a coalition partner – a process which could take weeks and possibly end in failure, prompting fresh elections.
Ms Merkel anticipated her party's dilemma only hours after polls closed. Asked about possible coalition partners on German television she said: "We may find ourselves in a position where nobody wants to join us."
That spectre loomed large on Monday. Angela Merkel chose to wear a necklace comprising alternate black and green coloured stones on Sunday in a gesture that was interpreted as a coded message that she wanted to form a government with the Greens.
Despite enthusiasm for the idea expressed by some CDU MPs on Monday, the Greens, who suffered substantial losses in the election themselves, appeared not to relish the prospect of becoming a very junior partner in government with their traditional enemies.
"Despite my huge powers of imagination, I cannot envisage how we could come to a joint agreement with Ms Merkel and the Christian Democrats," said Renate Künast, the Green Party parliamentary leader.
Sharing government with the conservatives was also given an initial cold shoulder by the opposition Social Democrats (SPD), who slightly increased their share of the vote to 25.7 per cent – a result which still left them far behind Ms Merkel's party. Peer Steinbrück, the Social Democrats' leader, refused to be drawn on the issue.
The Social Democrats and the Greens risk seeing their identities blotted out by an overbearing conservative presence in a coalition. The Social Democrats experienced the phenomenon in their first coalition government with Ms Merkel in 2005. "We did all the work but got no credit for it," said SPD party chairman Sigmar Gabriel on Monday.
Yet despite the SPD's reluctance to share power, opinion polls have confirmed that a grand coalition of conservatives and Social Democrats is the alliance favoured by most Germans.
Enduring stalwarts
Jean-Claude Juncker (Luxembourg): 20 January 1995 to present (18 years)
After being elected in 1995, Jean-Claude Juncker is currently Europe's longest-serving head of government. He is the 23rd Prime Minister of Luxembourg but will face a general election next month.
Helmut Kohl (Germany): 1 October 1982 to 27 October 1998 (16 years)
Helmut Kohl, a Christian Democrat, was elected Chancellor of West Germany in 1982. Following the end of the Cold War, he became Chancellor of the reunified Germany, and remained so until 1998.
François Mitterrand (France): 21 May 1981 to 17 May 1995 (14 years)
President Mitterrand was the leader of the left-wing Socialist Party and was elected President in 1981. He subsequently became the longest-serving French President, serving almost 14 years.
Felipe Gonzalez (Spain): 2 December 1982 to 5 May 1996 (13 years)
Gonzalez became the Secretary-General of the Spanish Socialist Workers' Party in 1974. He became Prime Minister in 1982.
Margaret Thatcher (United Kingdom): 4 May 1979 to 28 November 1990 (11 years)
Margaret Thatcher became Britain's first female Prime Minister after being elected in 1979. As the leader of the Conservative Party, Thatcher won three general elections and subsequently resigned in 1990 following a challenge to her leadership.
Join our new commenting forum
Join thought-provoking conversations, follow other Independent readers and see their replies