Angela Merkel will soon have to 'deal with' Jean-Claude Juncker, sources say
'The pressure for him to resign will only become greater'
Will Worley
Monday 04 July 2016 10:19 Comments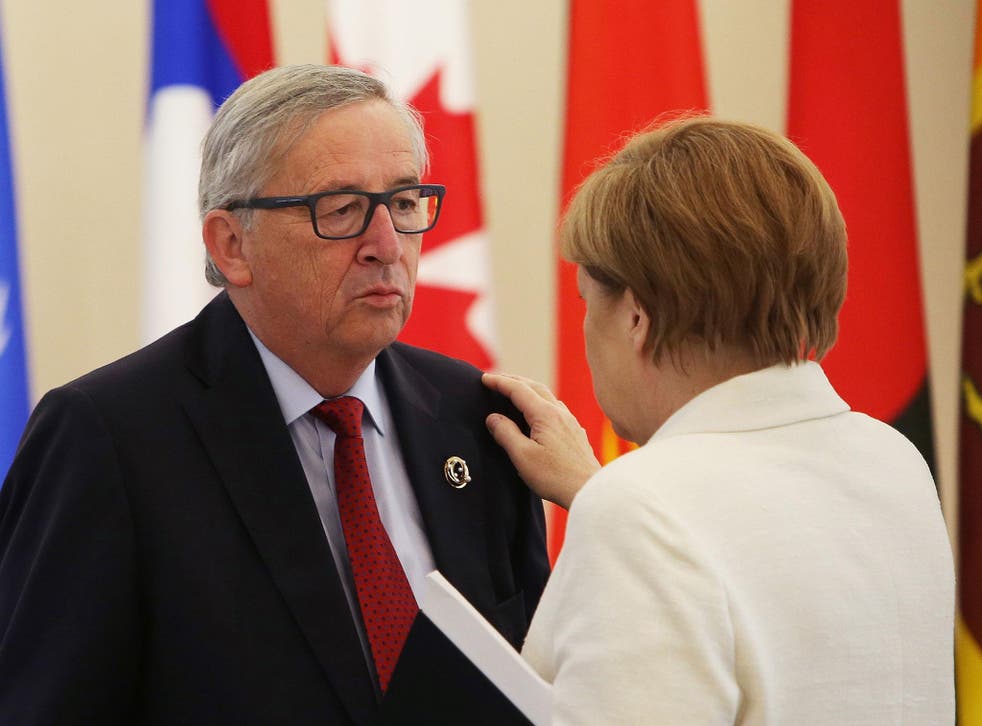 Jean-Claude Juncker is becoming a problem Angela Merkel will soon have to "deal" with, according to sources within the German government.
The President of the European Commission has faced criticism from a number of directions over his conduct following the outcome of Britain's referendum on EU membership.
A German minister told the Sunday Times that Chancellor Merkel had come to regard Mr Juncker as "part of the problem" with the EU.
The source said: "Juncker has time and again acted against the common interest, and his reaction to the British referendum has been very damaging."
Mr Juncker's rhetoric about Northern Ireland and Scottish independence - and especially his meeting with SNP leader Nicola Sturgeon in Brussels - were seen as "unnecessarily provocative," the newspaper reported.
"This is not a time for institutional bickering," the source added, "but the pressure for him to resign will only become greater and chancellor Merkel will eventually have to deal with this next year."
Jean-Claude Juncker asks Farage "Why are you here?"
The European Commission President has been a key driver of increased European federalism and some regard his efforts as part of the reason for the reaction against the EU.
While Ms Merkel is the most powerful European politician to apparently level criticism at Mr Juncker, she is not the only one.
Shortly after the referendum result in June, the Czech foreign minister Lubomir Zaoralek called on Mr Juncker to resign.
Brexit protest: Thousands march in London

Show all 12
"Right now I can't see the European Commission chairman as the right man for the job," Mr Zaoralek told Czech television.
"I don't want to call on anyone [to resign], but... someone in the EU maybe should contemplate quitting, because [Brexit] is a responsibility someone should have assumed."
He also said the EU Commission president did not do enough to prevent the loss of Britain from the EU.
Mr Zaoralek added: "I would imagine the Commission is led by an honourable, trustworthy man who, in a situation when we are facing the loss of a leg or arm, might go to the country and tell the Britons: 'We want you to stay'."
Officials from Poland, Hungary and Estonia have also criticised Mr Juncker.
Register for free to continue reading
Registration is a free and easy way to support our truly independent journalism
By registering, you will also enjoy limited access to Premium articles, exclusive newsletters, commenting, and virtual events with our leading journalists
Already have an account? sign in
Register for free to continue reading
Registration is a free and easy way to support our truly independent journalism
By registering, you will also enjoy limited access to Premium articles, exclusive newsletters, commenting, and virtual events with our leading journalists
Already have an account? sign in
Join our new commenting forum
Join thought-provoking conversations, follow other Independent readers and see their replies