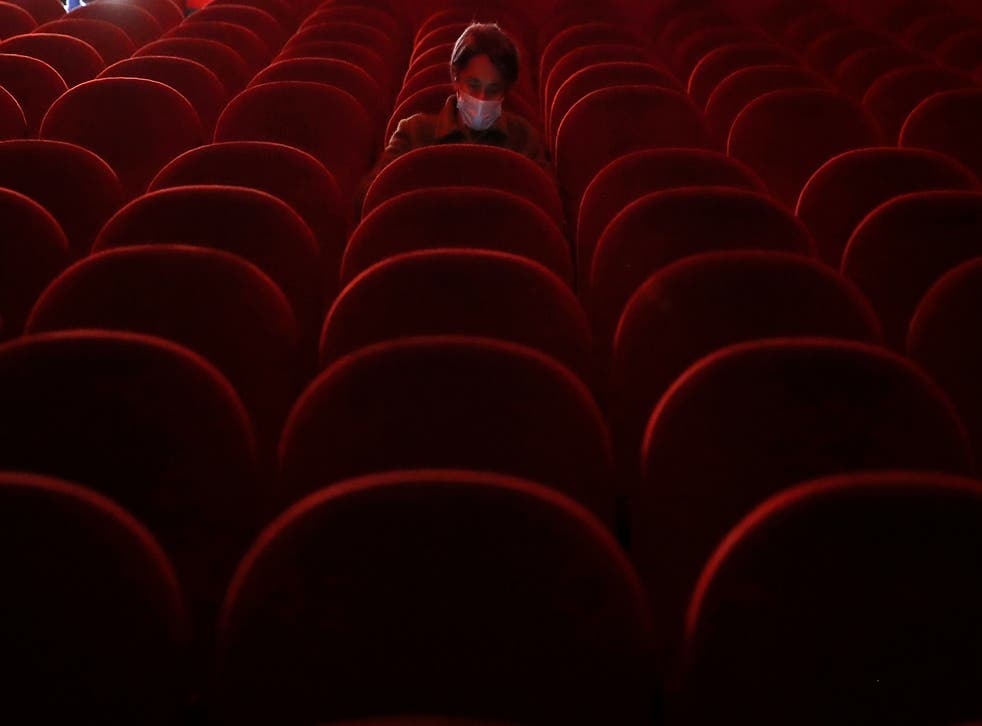 Here are the AP's latest coverage plans, top stories and promotable content. All times EDT. For up-to-the minute information on AP's coverage, visit Coverage Plan at https://newsroom.ap.org.
_____________
TOP STORIES
_____________
VIRUS OUTBREAK-INDIA — India has set another record for daily coronavirus infections for a fifth day in a row, at more than 350,000. Doctors like Dr. Gautam Singh are on the front lines, trying to keep their patients alive. Like many others, he's taken to social media to try to get the supplies he needs, like critical oxygen, to help his patients. By Sheikh Saaliq. SENT: 1,150 words, photos.
VIRUS OUTBREAK-BIDEN — The U.S. will begin sharing its entire stock of COVID vaccines from AstraZeneca once they clear federal safety reviews, with as many as 60 million doses expected to be available for export in the coming months, the White House says. By Zeke Miller. SENT: 460 words. UPCOMING: Developing, 830 words by 5 p.m., photos.
SUPREME COURT-GUNS — The Supreme Court agrees to hear an appeal to expand gun rights in the United States in a New York case over the right to carry a firearm in public for self-defense. It's the court's first foray into gun rights since Justice Amy Coney Barrett came on board in October, making a 6-3 conservative majority. By Mark Sherman. SENT: 595 words. UPCOMING: 800 words by 5 p.m., photos.
2020 CENSUS — The 2020 census figures that determine the number of each state's congressional seats and Electoral College votes are expected to show shifts in the nation's political center of gravity to the Republican-led South and West. The data release marks the official beginning of the once-a-decade redistricting battles. By Mike Schneider and Nicholas Riccardi. UPCOMING: 1070 words by 3 p.m., photos.
JUSTICE-DEPARTMENT-BREONNA-TAYLOR — The Justice Department is opening a sweeping probe into policing in Louisville, Kentucky after the March 2020 death of Breonna Taylor, who was shot to death by police during a raid at her home. It's the second such sweeping probe into a law enforcement agency announced by the Biden administration in a week. By Michael Balsamo. SENT: 550 words, photos.
VIRUS OUTBREAK — One year ago, no treatments had proved safe and effective for COVID-19, but that's not the case today. Drugs that supply virus-blocking antibodies are keeping newly infected people out of the hospital. Other medicines are helping the sickest patients survive. Vaccines are starting to curb the pandemic. But doctors say more and better treatments are needed such as a pill or other easy-to-use treatment that can keep people with early symptoms from becoming seriously ill. By Chief Medical Writer Marilynn Marchione. SENT: 1,100 words, photos.
_______________________________
WHAT WE'RE TALKING ABOUT
_______________________________
PEOPLE-KANYE-WEST — Kanye West sneakers fetch record $1.8M at private sale. SENT: 240 words, photos.
UKRAINE-CHERYNOBL — Ukraine opens new nuclear waste site at Chernobyl. SENT: 440 words, photos.
BRITISH-POLITICS — UK leader Boris Johnson denies saying 1000s of bodies better than lockdown. SENT: 500 words, photos.
APPLE-IPHONE-PRIVACY-CLAMPDOWN — Apple's iPhone privacy clampdown arrives after 7-month delay. SENT: 950 words.
VIRUS-OUTBREAK-INDIA FUNERALS-PHOTO GALLERY — Mass funeral pyres reflect India's COVID crisis. SENT: 270 words, photos.
__________________________________
MORE ON THE VIRUS OUTBREAK
_________________________________
VIRUS-OUTBREAK-GAZA-SURGE — More than a year into the coronavirus pandemic, some of the worst fears are coming true in the crowded Gaza Strip: A sudden surge in infections and deaths is threatening to overwhelm hospitals weakened by years of conflict and border closures. Gaza's main treatment center for COVID-19 patients warns that oxygen supplies are dwindling fast. In another hospital, coronavirus patients are packed three to a room. By Fares Akram. SENT: 1,020 words, photos.
VIRUS-OUTBREAK-EU-ASTRAZENECA — The European Commission says it has launched legal action against vaccine maker AstraZeneca for failing to respect the terms of its contract with the EU. A Commission spokesman said the reason for the legal action was that "some terms of the contract have not been respected" and that "the company has not been in a position to come up with a reliable strategy to ensure a timely delivery of doses." SENT: 570 words, photo.
VIRUS-OUTBREAK-EUROPE-AMERICAN-TOURISTS — Officials say the European Union is finalizing plans to allow tourists from the United States to travel to the 27-nation bloc this summer. More than a year after the EU restricted travel to the region to a bare minimum in a bid to contain the pandemic, the European Commission said it would make a recommendation to member states to allow American travelers back. SENT: 590 words, photos.
VIRUS-OUTBREAK-SEASONAL-WORKERS — Hotels, restaurants and other businesses in tourist destinations are warning that hiring challenges during the coronavirus pandemic could force them to pare back operating hours or curtail services just as they're eyeing a bounce-back summer. SENT: 1,110 words, photos, video. This is the Tuesday Spotlight
VIRUS-OUTBREAK-ITALY-RECOVERY-PLAN — Italian Premier Mario Draghi is presenting a 222.1 billion euro ($268.6 billion) coronavirus recovery plan to Parliament, aiming to not only bounce back from the pandemic but enact "epochal" reforms to address structural problems that long predated COVID-19. SENT: 750 words, photos. With: VIRUS OUTBREAK-ITALY — Italy opens again amid hopes for real economic relaunch. SENT: 980 words, photos.
VIRUS-OUTBREAK-PHILIPPINES — Confirmed coronavirus infections in the Philippines surged past 1 million in the country's latest grim milestone, as officials assess whether to extend a monthlong lockdown in the Manila region amid a deadly spike or relax it to fight an economic recession, joblessness and hunger. SENT: 430 words, photos.
VIRUS-OUTBREAK-SPAIN — Officials in northern Spain's Pamplona have called off the famed San Fermín bull-running festival for the second year in a row because of the coronavirus pandemic. SENT: 210 words.
________________________
WASHINGTON/POLITICS
________________________
BIDEN-100 DAYS-FAMILY — President Joe Biden's grandkids say anyone who wants to take a crack at their "Pop" has to go through them first. Biden's big Irish American family has been a prominent part of the scene during the opening months of his presidency, with his children, grandchildren and other relatives helping to provide the kind of grounding that has served Biden during a lifetime of public service. By Darlene Superville. SENT: 1100 words, photos, graphic.
BIDEN-100 DAYS-CONGRESS-SECURITY — President Joe Biden's first address to Congress is an invite-only affair, no guests allowed. The restrictions for Wednesday's event are due to COVID-19 safety protocols, but will have the added security benefit of a limited number of people inside the Capitol for the president's first major indoor event since he took office just weeks after the Jan. 6 insurrection. The fence is still up around the U.S. Capitol, and the National Guard is still there. By Colleen Long. UPCOMING: 700 words by 2 p.m., photos.
BIDEN-FOOD PROGRAM — The Biden administration is expanding a program to feed as many as 34 million schoolchildren during the summer months, using funds from the coronavirus relief package approved in March. By Josh Boak. SENT: 480 words, photo.
SUPREME COURT-GUANTANAMO — The Supreme Court will decide whether a Palestinian man captured in the wake of 9/11 and detained at the prison on the U.S. base at Guantanamo Bay can get access to information the government classifies as state secrets. SENT: 244 words, photo.
HARRIS-GUATEMALA — Vice President Kamala Harris steps up her diplomatic efforts to address the root causes of migration at the U.S. southern border by meeting virtually with Guatemalan President Alejandro Giammattei. She's planning a similar meeting with the Mexican president next month and a trip to the Northern Triangle region in June. By Alexandra Jaffe. UPCOMING: 600 words by 5:30 p.m.
SENATE-OHIO-RYAN — Democratic U.S. Rep. Tim Ryan, a 10-term representative from Ohio's blue-collar Mahoning Valley, officially launched his bid for a coveted open Senate seat in Ohio. Ryan, 47, becomes the Democratic frontrunner as the party goes after Republican Rob Portman's seat in what stands to be one of 2022′s most closely watched Senate contests.
ELECTION 2022-GEORGIA — Former Republican U.S. Rep. Doug Collins, a favorite of former President Donald Trump, says he doesn't plan to run for governor or U.S. Senate in Georgia in 2022. Collins' announcement makes it less likely there will be a top-drawer primary challenger to Republican Gov. Brian Kemp. SENT: 550 words, photo.
REPUBLICANS-RACIAL POLITICS-ANALYSIS — If the nation is in the midst of a historic reckoning on racism, most leaders of the Republican Party are not participating. And despite fierce criticism from civil rights leaders and growing concern from business leaders who are traditional allies, many Republicans see no problem. By National Political Writer Steve Peoples. SENT: 1,240 words, photos.
—————-
NATIONAL
—————-
GEORGE-FLOYD-IMMIGRANT-ACTIVISTS — The racial injustice protests in Minneapolis have revealed a generational divide in the city's burgeoning Black immigrant communities. Young people from Somali, Ethiopian and Liberian families have thrust themselves into the demonstrations, but older generations are more likely to stay focused on their livelihoods instead of speaking out. SENT: 1,000 words, photos.
TORNADO OUTBREAK-10 YEARS LATER — Waves of tornadoes pummeled the Eastern U.S. over four days in the spring of 2011, killing more than 320 people in six states, including about 250 who died in Alabama on April 27 of that year. A decade has passed, but time has been unable to erase the pain or replace the losses inflicted by the terrifying storms. By Jay Reeves. SENT: 970 words, photos, video.
_________________
INTERNATIONAL
_________________
HARRIS-UNITED-NATIONS — Vice President Kamala Harris told United Nations members that now is the time for global leaders to begin putting the serious work into how they will respond to the next global pandemic. The virtual address, Harris' second to a U.N. body since her inauguration, comes as the United States makes progress on vaccinating the public and much of the world struggles to acquire vaccines. SENT: 340 words, photo.
RUSSIA-NAVALNY — Russian authorities ordered the offices of imprisoned opposition leader Alexei Navalny to halt their activities pending what would be a landmark court ruling on whether they should be outlawed as an extremist group. SENT: 1,000 words, photos.
IRAN-ZARIF-LEAKED RECORDING — A recording of Iran's foreign minister offering a blunt appraisal of diplomacy and the limits of power within the Islamic Republic has been leaked, providing a rare look inside the country's theocracy. SENT: 700 words, photos.
IRAN-DUAL NATIONALS — An Iranian-British woman long held in Tehran has been sentenced to another year in prison, her lawyer said, drawing immediate criticism from Britain in the high profile case that has prompted international condemnation of Iran. SENT: 600 words.
—————————
ENTERTAINMENT
—————————-
OSCARS-MOMENTS — The final moments of the Oscars may have been the most abrupt ending since that cut-to-black final shot of "The Sopranos." By National Writer Jocelyn Noveck. SENT: 1,350 words, photos.
OSCARS-BEST ACTOR — Anthony Hopkins has honored the late Chadwick Boseman after winning the best actor Oscar, hailing his fellow performer as a man "taken from us far too early." The 83-year-old Hopkins took the award for his performance in "The Father," becoming the oldest actor or actress to win an Oscar. Boseman had been expected to win the award. SENT: 480 words, photos.
——————
BUSINESS
——————
APPLE-US INVESTMENTS — Apple is expanding spending in the U.S. and announced plans to build its first East Coast campus, in North Carolina. The iPhone maker is boosting U.S. spending to $430 billion over the next five years and doubling its hiring plans by 20,000 jobs. SENT: 200 words, photo.
PHILANTHROPY-OSCAR-TELECAST-FOUNDATIONS — Two foundations that serve the needy achieved the kind of spotlight at the Academy Awards telecast that any nonprofit yearns for: A shout-out from a famous celebrity to the 10 million or more people estimated to be watching from home. SENT: 1,000 words, photos.
—————
SPORTS
—————
TOKYO-UPDATED RULES — Tokyo Olympic organizers and the IOC are to unveil new plans this week to explain how 15,400 Olympic and Paralympic athletes can compete in Japan when the games open in three months in the midst of a pandemic. SENT: 560 words, photos.
KENTUCKY DERBY-DUBAI-QUEST -- Dubai-based Godolphin Racing tries yet again to win the Kentucky Derby, this time with undefeated and likely favorite Essential Quality. The Middle East outfit is 0-for-11 in America's most famous horse race, its first attempt coming in 1999. By Racing Writer Beth Harris. SENT: 850 words, photos.
__________________
HOW TO REACH US
___________________
At the Nerve Center, Mike Stewart can be reached at 800-845-8450 (ext. 1600). For photos, Courtney Dittmar (ext. 1900). For graphics and interactives, ext. 7636. Expanded AP content can be obtained from http://newsroom.ap.org. For access to AP Newsroom and other technical issues, contact apcustomersupport(at)ap.org or call 877-836-9477.
Register for free to continue reading
Registration is a free and easy way to support our truly independent journalism
By registering, you will also enjoy limited access to Premium articles, exclusive newsletters, commenting, and virtual events with our leading journalists
Already have an account? sign in
Register for free to continue reading
Registration is a free and easy way to support our truly independent journalism
By registering, you will also enjoy limited access to Premium articles, exclusive newsletters, commenting, and virtual events with our leading journalists
Already have an account? sign in