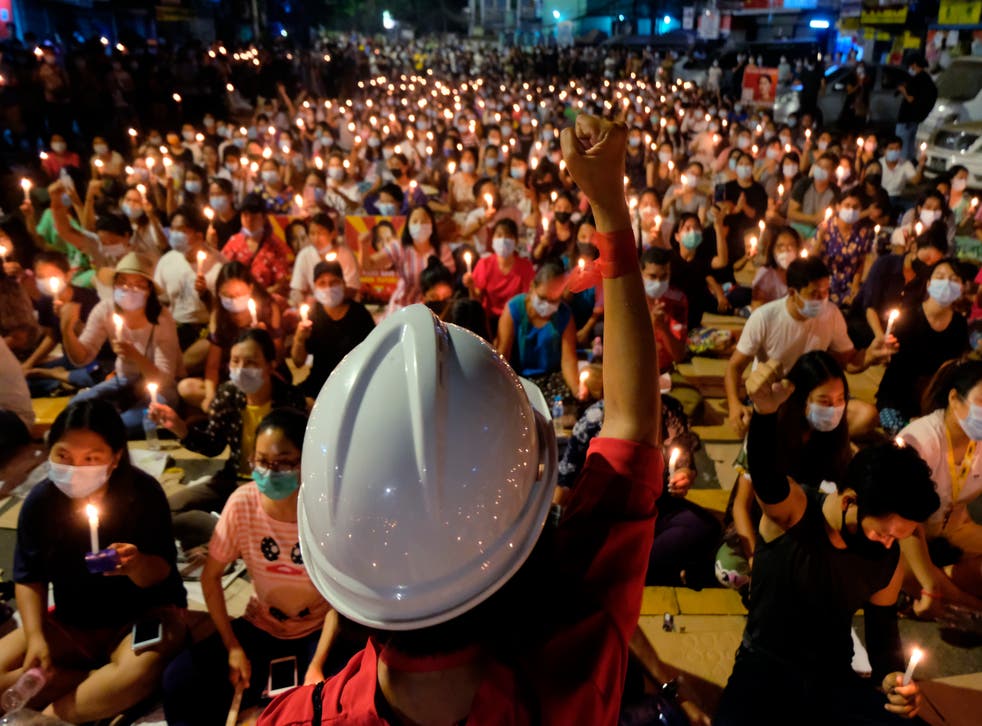 Here are the AP's latest coverage plans, top stories and promotable content. All times EDT. For up-to-the minute information on AP's coverage, visit Coverage Plan at https://newsroom.ap.org.
The story slugged VIRUS OUTBREAK-GUARDS VACCINES on the 5:45 a.m. digest will not move this cycle.
————————————-
SUNSHINE WEEK
————————————
SUNSHINE-WEEK-GOVERNORS-EXEMPT — Some of the nation's governors routinely block access to public records to keep the public in the dark about key decisions involving the coronavirus pandemic. Records about stay-at-home orders, business restrictions and possible influence peddling by special interests are not available in every state. Governors' offices in Arkansas, California, Massachusetts, Michigan, New Jersey and South Dakota have thwarted records requests by The Associated Press and other news organizations, citing broad exemptions from state sunshine laws. By Stephen Groves. SENT: 1,000 words, photos.
SUNSHINE-WEEK-OPEN-MEETINGS — The coronavirus pandemic is redefining the way the American public interacts with its government. It wasn't long ago when a public meeting of a city council or state legislature meant that constituents could attend in-person and voice concerns. Now more public bodies are livestreaming their meetings. But an Associated Press survey of state legislatures also found that most no longer allow the public inside their chambers. Some still do not allow people to testify remotely at committee hearings. Some city councils that convene remotely have also done away with verbal input from the public, allowing only written comments. By David A. Lieb. SENT: 1,100 words, photos.
SUNSHINE-WEEK-RECORDS-DELAYED — A year after the first coronavirus shutdowns, public records have become harder to get in many U.S. states and cities. Governors, legislatures and local officials have suspended or ignored laws that set deadlines to respond to records requests. Many officials have cited obstacles for staff members who work from home or who are overwhelmed with crisis management. Some requests that used to take days or weeks now take months. New data shows that government agencies saw a sixfold increase last year in the time spent on records requests. By David A. Lieb. SENT: 1,220 words, photos.
_____________
TOP STORIES
_____________
BIDEN-INFRASTRUCTURE — House Speaker Nancy Pelosi pledges swift work by Congress on a job and infrastructure package that will be "fiscally sound," but isn't sure whether the next major item on President Joe Biden's agenda will attract GOP backing. Republicans disagree with Biden's focus on the environment and the possibility of financing any program with debt after the government borrowed heavily to address the economic fallout from the coronavirus pandemic. By Hope Yen. SENT: 620 words, photos.
WINNING THE WORKING CLASS — When President Franklin D. Roosevelt delivered the New Deal, he cemented the Democratic Party's alliance with working-class voters. But that bond has steadily frayed over recent decades, and today, working-class voters cast Democrats as the party of cultural elites who talk down to them and reject their values. Now that President Joe Biden and Democrats have muscled through $1.9 trillion in coronavirus aid that heavily benefits lower- and middle-income Americans, they're hoping they can win back a larger share of working-class voters. By Will Weissert. SENT: 1,210 words photos.
MED--VIRUS OUTBREAK-ONE YEAR-LONG-HAULERS — On the pandemic's first anniversary, some COVID-19 survivors are still struggling with puzzling symptoms. Now, scientists are racing to solve what they consider a true medical mystery. Long-term COVID-19 affects an uncertain number of survivors in a baffling variety of ways. The government is spending $1 billion in an unprecedented effort to find answers. By Lindsey Tanner. SENT: 1,150 words, photos. This is the Monday Spotlight
UNITED STATES-ASIA -- Threats from China and North Korea will loom large over the Biden administration's first Cabinet-level trip abroad, part of a larger effort to bolster U.S. influence and calm concerns about America's role in Asia. By Diplomatic Writer Matthew Lee. SENT: 820 words, photos.
CUOMO-SEXUAL HARASSMENT-HOCHUL — As a chorus of top Democrats demanded New York Gov. Andrew Cuomo's resignation over sexual harassment allegations last week, the woman who would succeed him if he stepped down, Lt. Gov. Kathy Hochul, did what she's done for most of her time in office: Kept a discreet profile. By Carolyn Thompson. SENT: 940 words, photos.
______________________________
WHAT WE'RE TALKING ABOUT
_______________________________
CHICAGO-SHOOTING — Gunfire erupted at a party on Chicago's South Side, killing two people and wounding 13 others, authorities said. SENT: 220 words, photos.
MEXICO-LAST PENAL COLONY — Cruise ships may soon be visiting Mexico's former Isla Marias penal colony, after the last island penal colony in the Americas was closed and turned into an environmental education center in 2019. SENT: 480 words, photo.
_________________________________
MORE ON THE VIRUS OUTBREAK
_________________________________
VIRUS OUTBREAK — When the coronavirus pandemic shut down schools, educators had to figure out how to get kids online. Fast. With federal relief money and assistance from state governments and philanthropists, they have helped millions of students get online for distance learning. Still, a year into the pandemic, millions of others remain without internet because of financial hurdles and logistical difficulties in getting students what they need. SENT: 960 words, photo.
VIRUS-OUTBREAK-FAUCI — Dr. Anthony Fauci said Sunday he wishes former President Donald Trump would use his popularity among Republicans to persuade his followers to get the COVID-19 vaccine. SENT: 470 words, photo.
VIRUS OUTBREAK-CHILE — After being among the world's hardest-hit nations with COVID-19, Chile is now near the top among countries at vaccinating its population against the virus. SENT: 880 words, photos.
VIRUS OUTBREAK-BRAZIL-MASCOT — Rumors and conspiracy theories swirled this past week regarding the whereabouts of Zé Gotinha, the mascot for the nation's national vaccination program. The clamor surrounding the costumed Zé Gotinha began when former President Luiz Inácio Lula da Silva drew attention to his recent absence in a speech criticizing President Jair Bolsonaro's handling of the pandemic. SENT: 550 words, photos.
VIRUS-OUTBREAK-LOS-ANGELES — Los Angeles County is reopening businesses to an extent not seen since last spring when a coronavirus surge led to closures of cinemas, gyms, museums and indoor dining. The nation's largest county has been the epicenter of California's deadly winter surge of cases that led to more than 10,500 deaths over two months. SENT: 1,080 words.
VIRUS-OUTBREAK-IRELAND-ASTRAZENECA-VACCINE — Irish health officials recommended the temporary suspension of the AstraZeneca vaccine after reports of serious blood clotting after inoculations in Norway. Dr. Ronan Glynn, Ireland's deputy chief medical officer, that while there was no conclusive link between the vaccine and the cases, Irish health officials are recommending the suspension of the vaccine's rollout as a precaution. SENT: 180 words, photo.
VIRUS-OUTBREAK-TANZANIA-PRESIDENT — Tanzanian police have arrested a man for circulating posts saying that President John Magufuli is in ill health. Magufuli has not been seen in public for two weeks, sparking unconfirmed reports from opposition leaders that he is unwell and incapacitated. SENT: 430 words.
VIRUS OUTBREAK-AFRICA-BIG WEDDINGS — Many people across Africa are rethinking big, bountiful weddings amid the economic ravages of COVID-19. The pandemic is forcing change in communities where family can mean a whole clan and weddings are seen as key in cementing relations between communities. SENT: 920 words, photos.
VIRUS OUTBREAK-ONE YEAR-WHAT WAS LOST — The COVID-19 outbreak that upended the world sure altered a lot of sports. The major leagues managed to make a season out of the pandemic. Lower-profile sports didn't have the same privilege. As competitions across the country were paused or canceled, athletes with life trajectories altered found ways to make the best of the stunning situation. SENT: 2,300 words, photos.
GREECE-ARTS-IN-LOCKDOWN-PHOTO-GALLERY — Greek bicentennial show goes on despite pandemic. SENT: 380 words, photos.
_________________
INTERNATIONAL
_________________
MYANMAR — At least four people were shot dead during protests in Myanmar on Sunday, as security forces continued their violent crackdown against dissent following last month's military coup. SENT: 680 words, photos. With INDIA-MYANMAR — More than 100 people fleeing Myanmar enter Indian village. SENT: 270 words.
BRITAIN-WOMAN SLAIN — London's Metropolitan Police force was under heavy pressure to explain the way officers treated some protesters during a vigil for a woman whom one of the force's own officers is accused of murdering. Hundreds defied coronavirus restrictions to gather and protest violence against women, but the event ended with clashes between police and those attending and many questioned whether the police force was too heavy-handed. The head of the force defends her officers' actions and says she doesn't intend to resign. SENT: 710 words, photos.
TURKEY-US — Turkish President Recep Tayyip Erdogan has toned down his anti-Western and anti-US rhetoric in an apparent effort to reset the rocky relationship with his NATO allies, but so far he's been met by silence from U.S. President Joe Biden. SENT: 970 words, photos.
GERMANY-ELECTIONS — Chancellor Angela Merkel's center-right party was headed for clear defeats in two German state elections at the hands of popular governors from parties further to the left, exit polls indicated — six months before a national vote that will determine who succeeds the country's longtime leader. SENT: 690 words, photos.
HONDURAS-ELECTIONS — Honduras President Juan Orlando Hernández's name keeps popping up in the New York trial of an alleged drug trafficker. And one of the candidates running to replace him in Sunday's primary elections has been convicted in the same court of laundering money for the same cartel. The court actions show just how deep are the challenges facing Honduras, a country that U.S. prosecutors have repeatedly portrayed as a narco-state where drug traffickers buy protection from politicians. SENT: 710 words, photos.
ISRAEL-SAUDI ARABIA — Israeli Prime Minister Benjamin Netanyahu said he was deterred from flying to the United Arab Emirates through Saudi Arabian airspace last week because of the threat of missile fire from Iranian proxies in Yemen. SENT: 340 words, photo. With KOSOVO-ISRAEL — Kosovo's Foreign Ministry says it has opened its embassy in Jerusalem. SENT: 340 words.
EUROPE-MIGRANTS-FRONTEX — The European Union's border and coast guard agency Frontex, the pride of the 27-nation bloc's vast effort to keep watch over its frontiers and anyone who might try to enter without authorization, is itself under surveillance — and under fire. SENT: 870 words, photos.
NETHERLANDS-ELECTION — Dutch police used a water cannon and officers on horseback galloped across a park in The Hague to break up a protest against the government and its tough coronavirus lockdown on the eve of three days of voting in the general election. SENT: 540 words, photos.
IRAN-DUAL-NATIONALS — A trial to present new charges against a British-Iranian woman detained for five years in Iran has convened, her supporters say, casting uncertainty over her future following her release from prison. SENT: 760 words.
YEMEN — Forces of Yemen's internationally recognized government managed to retake swaths of territory from the Houthi rebels in the past days, officials and tribal leaders from both sides say. SENT: 400 words.
KUWAIT — Kuwait's constitutional court ordered the country's most outspoken opposition lawmaker expelled from parliament, inflaming tensions between the government and legislature and revealing the limits of political freedom in the Gulf state. SENT: 310 words.
___________
NATIONAL
___________
JAPANESE-INTERNEE-FINAL-BURIAL — When Giichi Matsumura arrived at his final resting place in late December, the people who knew him best already were there. Matsumura's remains had been buried since 1945 in the mountains near the Japanese internment camp Manzanar, in California. A hiker found his bones in 2019 and Matsumura's granddaughter worked to bring them home and bury them with the rest of the family. SENT: 2,850 words, photos. An abridged version of 1,200 words is available.
BRIBERY-INVESTIGATION-OHIO — Shortly before utility lawyer and lobbyist Sam Randazzo was appointed Ohio's top regulator over electric and power generating companies, he received $4.3 million from top executives at one of the companies whose fortunes would soon be in his hands. In the months that followed, utilities giant FirstEnergy Corp. won a string of legislative and regulatory victories worth well over $1 billion. Investigators are now probing whether any of those deals were tainted by the payment. SENT: 820 words, photos.
FEMALE-FIREFIGHTERS-LAWSUITS — The highest ranking female firefighter in Asheville, North Carolina, says she was repeatedly discriminated against because of her sex and fought to keep her job while battling breast cancer. The first female chief of a municipal fire department in the state says she briefly pondered suicide after years of sexual harassment. Joy Ponder and Susanna Schmitt Williams are among numerous female fighters in the United States who have filed lawsuits against their employers alleging they were subjected to demeaning behavior that helped end their careers. SENT: 880 words, photos.
IMMIGRATION-VISAS-FOR-VICTIMS — Immigrant advocates say a U.S. program that guarantees visas for crime victims who help police is broken. It leaves applicants waiting years for a decision, sometimes without permission to work or protection from deportation. They're hoping for help from President Joe Biden, who's backing changes to the U visa program in major immigration legislation poised for House debate this week. SENT: 1,000 words, photos.
GOVERNOR-ASIAN AMERICAN DISCRIMINATION — Maryland Gov. Larry Hogan says his family has felt the effects of discrimination over the past year amid a wave of racism against Asian Americans during the coronavirus pandemic. SENT: 370 words.
————————————-
ENTERTAINMENT
————————————
MUSIC-GRAMMYS — It could be a night for the history books for Taylor Swift and Beyoncé at Sunday's Grammy Awards — for both good and bad reasons. Swift could become the first woman to win the show's top prize, album of the year, three times. With 24 wins and nine nominations this year, Beyoncé could surpass Alison Krauss' 27 wins and become the most decorated woman at the Grammys. Yet history could also repeat itself and Beyoncé could be shut out of winning a top award — a common occurrence for R&B and rap artists throughout Grammy history. By Mesfin Fekadu. SENT: 980 words, photos. UPCOMING: Show starts at 8 p.m. With GRAMMY AWARDS-THE LATEST; GRAMMY AWARDS-LIST; GRAMMY-AWARDS-FASHION.
————————
SPORTS
————————
BKC--NCAA TOURNAMENT — A look at who's in, who's out and what to watch for during the 2021 NCAA Tournament, which returns a year after it was canceled because of the coronavirus pandemic. UPCOMING: 800 words, photos. Bracket reveal show begins at 6 p.m.
___________________
HOW TO REACH US
___________________
At the Nerve Center, Dave Clark can be reached at 800-845-8450 (ext. 1600). For photos, (ext. 1900). For graphics and interactives, ext. 7636. Expanded AP content can be obtained from http://newsroom.ap.org. For access to AP Newsroom and other technical issues, contact apcustomersupport(at)ap.org or call 877-836-9477.