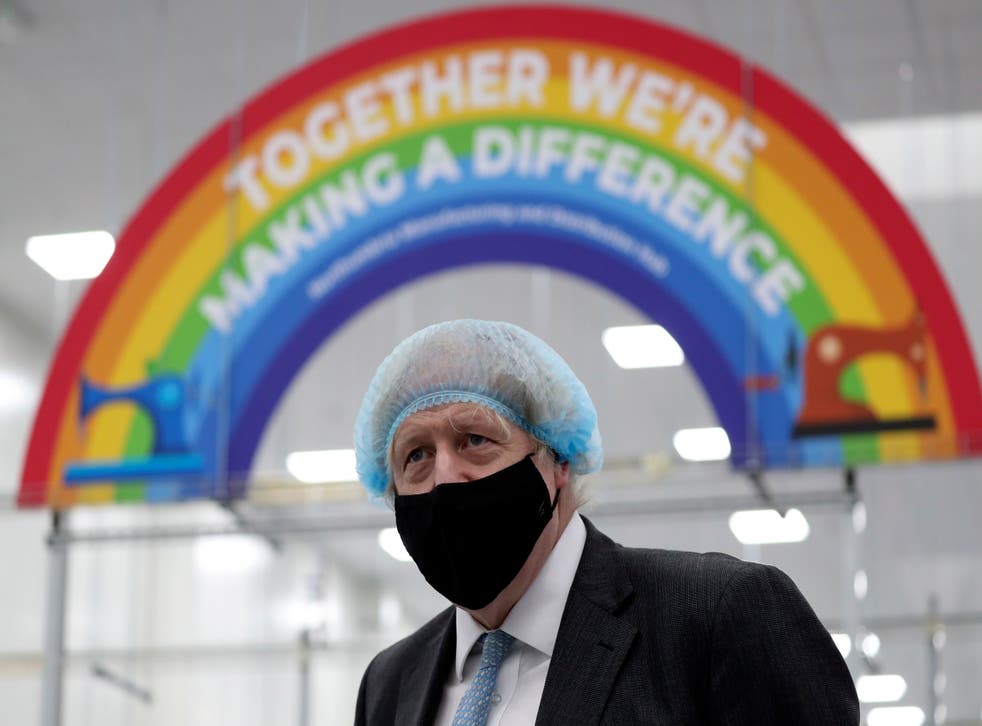 Here are the AP's latest coverage plans, top stories and promotable content. All Times EST. For up-to-the minute information on AP's coverage, visit Coverage Plan at https://newsroom.ap.org.
_____________
DEVELOPING
______________
EX-NISSAN-BOSS-ESCAP -ARRESTS — The U.S. Supreme Court has cleared the way for the extradition of an American father and son wanted by Japan in the escape of former Nissan Motor Co. boss Carlos Ghosn. SENT: 430 words, photos. UPCOMING: Developing.
_____________
TOP STORIES ______________
TRUMP-IMPEACHMENT — Senators are poised to vote on whether Donald Trump will be held accountable for inciting the horrific attack at the Capitol as his speedy impeachment trial lays bare the violence and danger to their own lives from the Jan. 6 riot. Trump's acquittal appears increasingly likely after Republican leader Mitch McConnell tells colleagues that he will find the former president not guilty. By Lisa Mascaro, Eric Tucker and Mary Clare Jalonick. SENT: 1,000 words, photos. UPCOMING: 1,100 words by 5 p.m. Timing of vote uncertain. With: TRUMP-IMPEACHMENT-HIGHLIGHTS — Highlights from a chaotic day in the Senate. UPCOMING: 800 words, photos by 5 p.m.
TRUMP-IMPEACHMENT-REPUBLICANS — Donald Trump's impeachment trial is being closely watched to see how many Republicans, if any, will vote to convict the former president of inciting an insurrection. By Alan Fram. UPCOMING: 600 words, photos by 6 p.m.
TRUMP-IMPEACHMENT-MCCONNELL — Senate Republican leader Mitch McConnell will vote to acquit Donald Trump in the former president's impeachment trial. That's according to a source familiar with McConnell's thinking who was not authorized to publicly discuss the decision and spoke on condition of anonymity. By Alan Fram. SENT: 1,000 words, photos.
Find complete coverage of the impeachment in the AP Newsroom hub.
VIRUS OUTBREAK — The Biden administration's plan to open 100 vaccination sites by the end of the month was initially embraced by governors and health officials, who considered it a much needed lifeline to get more Americans inoculated against the coronavirus. But reality has quickly set in: Some are hesitating to take the offer, at least for now, saying they don't need more places to administer doses. They just need more doses. SENT: 1,000 words, photos.
SCHOOL SHOOTING-PARKLAND SENIORS — The Marjory Stoneman Douglas Class of 2021 has endured a high school experience bookended by tragedies. It's an experience that will likely never be rivaled. The Parkland school shooting happened just months into their freshman year, in 2018. The experience bonded and inextricably linked them as they hid from a gunman and 17 people were killed. Now they're seniors. Their high school time is ending with another life-altering event. This time, it's the pandemic. SENT: 900 words, photos. This is the Sunday Spotlight
JAPAN-EARTHQUAKE — A strong earthquake hit off the coast of northeastern Japan, shaking Fukushima, Miyagi and other areas, but there was no threat of a tsunami, officials said. Tokyo Electric Power Co. said there were no irregularities at the Fukushima Dai-ichi nuclear plant, which experienced meltdowns following a massive quake and tsunami 10 years ago. By Yuri Kageyama SENT: 320 words, photos.
VIRUS OUTBREAK-VALENTINES — On this Valentine's Day, Americans are searching for ways to celebrate love amid so much sickness and isolation as the coronavirus pandemic stretches past its year anniversary. Some are clinging to hope, seen in the most vulnerable and frontline workers getting vaccinated, in restaurants in the hardest hit places like New York City beginning to reopen, in case numbers starting to wane. But the death toll is still climbing toward a half-million dead in the United States and many remain shuttered in their homes. By Claire Galoforo. UPCOMING: 600 words by 4 p.m., photos.
______________________________
WHAT WE'RE TALKING ABOUT ______________________________
VIRUS OUTBREAK-BRAZIL-PET PARADE — Human festivities scrapped, Rio's Carnival goes to the dogs. SENT: 300 words, photos.
BIRMINGHAM-JAIL-MLK — AUCTION — Birmingham jail logs with MLK signatures up for sale. SENT: 650 words, photos.
MYANMAR-SOCCER-FANS — Myanmar's Premier League fans join team opposing army's coup. SENT: 500 words, photos.
NETHERLANDS-SKATING FEVER — Dozens of skaters have taken to the frozen surface of Amsterdam's historic Prinsengracht canal as the deep freeze gripping Europe briefly made it possible to skate on a small section of the canal for the first time since 2018. SENT: 350 words, photos.
GERMANY-KILLINGS — 5 found dead after stabbings, fire at house in Germany. SENT: 100 words, photo.
_______________________________
MORE ON THE VIRUS OUTBREAK _______________________________
VIRUS OUTBREAK-MARDI GRAS — New Orleans' annual pre-Lenten Mardi Gras celebration is muted this year because of the coronavirus pandemic. The mayor has ordered that bars be closed during the Mardi Gras weekend that starts Friday and runs through Tuesday. The lavish parades are canceled and limits on gatherings further dampen the the fun. SENT: 800 words, photos.
VIRUS-OUTBREAK-NURSING-HOMES-CUOMO — New York Gov. Andrew Cuomo wrote a book on managing the COVID-19 crisis. Now he faces intensifying accusations that he covered up the true death toll of the pandemic on nursing home residents, attacks that challenge his reputation for straight-shooting competency and could cloud his political future. SENT: 1,100 words, photos.
VIRUS-OUTBREAK-MEAT PROCESSING — Hundreds of meatpacking workers have been vaccinated against the coronavirus but the union that represents many of them says several hundred thousand more have not, despite the risks they continue to face at work. SENT: 930 words, photos.
VIRUS-OUTBREAK-BRAZIL-VACCINE— Brazilian state governors are pursuing their own vaccine supply plans, with some expressing concern that President Jair Bolsonaro's government won't deliver the shots required to prevent interrupting immunization efforts during the pandemic. SENT: 790 words, photos.
VIRUS OUTBREAK-FRANCE — New virus variants are spreading fast in multiple regions of France, causing local authorities to order tougher mask rules and a curfew crackdown around the English Channel coast, and prompting growing calls for a new lockdown in the east. SENT: 340 words, photo.
VIRUS-OUTBREAK-VACCINE-HUSSLE — Many Europeans are desperate for a coronavirus vaccine. But not just any vaccine. As AstraZeneca vaccines are rolling out to European Union nations this month, joining the Pfizer and Moderna shots already available, some people are balking at being offered a vaccine that they perceive as second-best. Poland has begun vaccinating teachers with the AstraZeneca vaccine, but some had misgivings about its efficacy. By Vanessa Gera and Nicole Winfield. SENT: 1,120 words, photos.
Find more coverage on the Virus Outbreak on the featured topic page in AP Newsroom.
_______________________
WASHINGTON/POLITICS ————————————--
TRUMP-IMPEACHMENT-HERRERA BEUTLER — Washington State Republican Congresswoman Jaime Herrera Beutler was at the center of a debate in the Senate over whether the former president dismissed lawmakers' pleas for help when his supporters stormed the U.S. Capitol on Jan. 6. Her statement late Friday asserting that Trump rebuffed a request from House Minority Leader Kevin McCarthy upended Trump's Senate trial and sparked a fight about calling Herrera Beutler as a witness. That outcome was avoided by a last-minute bargain between Democratic prosecutors and Trump's lawyers. SENT: 670 words, photos.
————————————
INTERNATIONAL
———————————
MYANMAR — Mass street demonstrations in Myanmar entered their second week with neither protesters nor the military government they seek to unseat showing any signs of backing off from confrontations. SENT: 620 words, photos.
ITALY-POLITICS — Mario Draghi, the man credited with largely saving the euro currency, formally took the helm as Italy's premier, after crafting a government that balances economic experts and other technocrats with career politicians from across the spectrum to guide the pandemic-devastated nation toward recovery. SENT: 540 words, photos.
IRAN-BORDER-EXPLOSION — A fuel tanker exploded at the Islam Qaleh crossing in Afghanistan's western Herat province on the Iranian border, Iranian state TV reported. It wasn't immediately clear what caused the blast and there were no immediate reports of casualties. SENT: 460 words.
THAILAND-PROTESTS — Followers of Thailand's recently revived student-led pro-democracy movement clashed with police as they held a protest seeking the release of four comrades jailed pending trial for defaming the monarchy, an offense known as lese majeste. SENT: 400 words, photos.
—————————-
NATIONAL _____________
GEORGE FLOYD-MINNEAPOLIS-POLICE — Minneapolis will spend $6.4 million to hire dozens of police officers, even as some City Council members and activist groups are advocating to replace the police department following George Floyd's death. The council voted unanimously on Friday to approve the additional funding, which was requested by police. SENT: 360 words, photos.
WHITEY-BULGER-FBI-AGENT — The imprisoned former FBI agent serving a 40-year prison sentence for alerting former Boston mobster Whitey Bulger that he could implicated in a mob murder wants to be released from prison on medical grounds. John Connolly will ask the Florida Commission on Offender Review Wednesday to release him. SENT: 300 words, photo.
ATTORNEY-GENERAL-FATAL-ACCIDENT — Two cousins of a man whom the South Dakota Attorney General struck and killed with his car say they're frustrated that they're still waiting to hear whether the state's top law enforcement officer will face criminal charges in the crash. The attorney general has said he is confident he did not commit a crime. But investigators say the attorney general was distracted, and they have turned their findings over to prosecutors. SENT: 480 words, photos.
ARIZONA COPPER MINE — A federal judge has rejected a request from a group of Apaches to keep the U.S. Forest Service from transferring a parcel of land to a copper mining company. SENT: 560 words, photos.
———————
BUSINESS
———————
TECH-COMPANIES-GOVERNMENTS-NEVADA — A cryptocurrency company that owns a swath of land in rural Nevada wants the state to grant technology businesses the power to form local governments. Jeffrey Berns is CEO of Blockchains LLC and wants to build a "smart city" that runs on blockchain, which is a digital ledger known mostly for recording cryptocurrency transactions. SENT: 960 words.
MERCEDES-BENZ-RECALL — Mercedes-Benz is recalling more than 1.3 million vehicles because the software in their emergency-call systems could send responders to the wrong location after a crash. SENT: 150 words.
—————————
ENTERTAINMENT
—————————-
TV-BATTLING SUICIDE — A new MTV documentary about young people and suicide lets survivors tell the story. Instead of experts and statistics, the film titled "Each and Every Day" focuses on nine people who attempted or considered suicide. With quiet honesty, they talk about how long they've faced mental health issues and what it took for them to realize they couldn't survive alone. SENT: 725 words, photos.
——————-
SPORTS
———————
ENGLAND-SOCIAL MEDIA ABUSE — Death threats. Racist abuse. Sexist slurs. And social media accounts allowed to stay active even after spreading bile. English football has reached breaking point with players, coaches, referees and officials aghast at the ongoing proliferation of hate aimed at them on Instagram and Twitter. SENT: 1,000 words, photo.
FBN—JAGUARS-HIRING CRITCIZED — The Jacksonville Jaguars and embattled strength coach Chris Doyle parted ways a few hours after a diversity group blasted the team and called the recent hiring "simply unacceptable." Coach Urban Meyer said Doyle resigned and he accepted. SENT: 650 words, photo.
_______________________
HOW TO REACH US _______________________
At the Nerve Center, Rob Jagodzinski can be reached at 800-845-8450 (ext. 1600). For photos, (ext. 1900). For graphics and interactives, (ext. 7636). Expanded AP content can be obtained from http://newsroom.ap.org. For access to AP Newsroom and other technical issues, contact apcustomersupport(at)ap.org or call 877-836-9477.