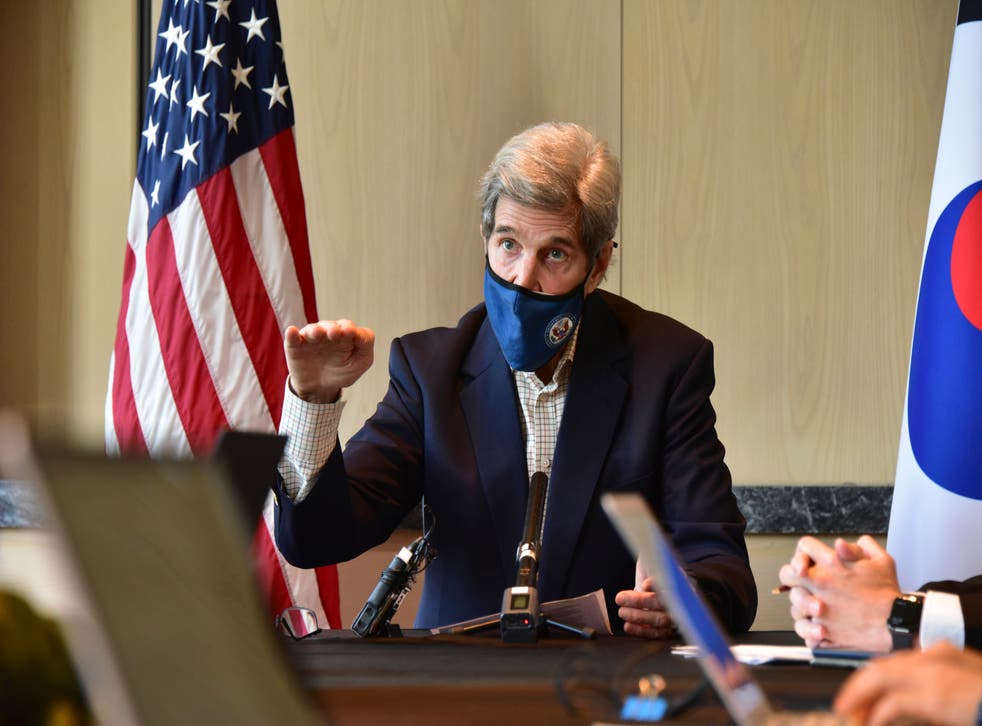 Here are the AP's latest coverage plans, top stories and promotable content. All times EDT. For up-to-the minute information on AP's coverage, visit Coverage Plan at https://newsroom.ap.org.
_____________
TOP STORIES
_____________
KERRY CLIMATE CHANGE — The United States and China, the world's two biggest carbon polluters, have agreed to cooperate with other countries to curb climate change, just days before President Joe Biden hosts a virtual summit of world leaders to discuss the issue. The agreement was reached by U.S. special envoy for climate John Kerry and his Chinese counterpart Xie Zhenhua during two days of talks in Shanghai last week, the State Department said in a statement. By Hyung-Jin Kim. SENT: 600 words, photos.
VIRUS OUTBREAK-3 MILLION DEATHS — The global death toll from the coronavirus topped a staggering 3 million people amid repeated setbacks in the worldwide vaccination campaign and a deepening crisis in places such as Brazil, India and France. The number of lives lost, as compiled by Johns Hopkins University, is about equal to the population of Kyiv, Ukraine; Caracas, Venezuela; or metropolitan Lisbon, Portugal. It is bigger than Chicago and equivalent to Philadelphia and Dallas combined. By David Biller, Maria Cheng and Joshua Goodman. SENT: 1,140 words, photos. With VIRUS OUTBREAK-3 MILLION-PHOTO GALLERY — To mark the milestone of 3 million COVID-19 deaths worldwide, The Associated Press asked 15 photographers in 13 countries to pick the single image they shot that had the greatest impact, and explain why. By Nicole Winfield. SENT: 1,040 words, photos.
BIDEN-REFUGEES — President Joe Biden plans to lift his predecessor's historically low cap on refugees by next month. The change in direction comes after Biden initially moved only to expand the eligibility criteria for resettlements, which drew swift criticism from the president's allies. The previous president, Donald Trump had set a limit of 15,000 refugees for the year. By Zeke Miller, Aamer Madhani and Julie Watson. SENT: 1,010 words, photos.
MYANMAR — Myanmar's junta on Saturday released more than 23,000 prisoners to mark the traditional new year holiday, including at least three political detainees, and the military leader behind the February coup confirmed he would attend a regional summit later this month. SENT: 700 words, photos.
RACIAL INJUSTICE-TRAUMA — Many Black Americans are facing a collective sense of grief and trauma that has grown more profound with the loss of each life at the hands of police in America. Some see themselves and their children reflected in the victims of police violence, heightening their grief. Their collective mourning is a great concern to experts and medical professionals who consider the intersectionality of racism and various forms of trauma impacting communities of color a serious public health crisis facing America. By Kat Stafford. SENT: 1,250 words, photos.
EXPLAINING GEORGE FLOYD-OFFICER TRIAL-REASONABLE FORCE — Attorneys and witnesses have frequently used the words "reasonable" or "unreasonable" during the trial of the former Minneapolis police officer charged with murder and manslaughter in George Floyd's death. It's no coincidence. The concept of reasonableness has been crucial at trials of officers ever since the landmark Graham v. Connor ruling by the U.S. Supreme Court 32 years ago. By Michael Tarm. SENT: 890 words, photos.
_______________________________
WHAT WE'RE TALKING ABOUT
_______________________________
OVERTURNED-BOAT-RESCUE — The Coast Guard says divers returned to the murky, roiling waters of the Gulf of Mexico in search of lost crew members aboard a capsized lift boat off Louisiana. SENT: 415 words, photos.
PELOTON-SAFETY WARNING — Safety regulators are warning people with kids and pets to immediately stop using a treadmill made by Peloton after receiving reports of nearly 40 incidents, including one in which a child died. SENT: 350 words, photo.
WYETH-GIFT — Twenty-seven paintings by three generations of Wyeths have been donated to Maine's Farnsworth Art Museum thanks to the late Betsy Wyeth. SENT: 200 words.
__________________________________
MORE ON THE VIRUS OUTBREAK
_________________________________
VIRUS OUTBREAK-OREGON-MASK RULE — States around the country are lifting COVID-19 restrictions. But Oregon is poised to go the opposite direction, and many residents are fuming about it. A top health official is considering indefinitely extending rules requiring masks and social distancing in all workplaces in the state. By Sara Cline. SENT: 850 words, photos. This story is the Sunday Spotlight.
VIRUS OUTBREAK-JAPAN — Japanese Prime Minister Yoshihide Suga has asked the U.S. drug maker Pfizer for additional supplies of the COVID-19 vaccine to speed up the inoculations that lag behind many other countries. SENT: 335 words, photos.
VIRUS OUTBREAK-CLAMDIGGERS — More New Englanders have dug in the tidal mudflats during the last year, but they're finding fewer clams. The coronavirus pandemic has more people in the Northeast interested in the solitary pursuit of digging for the soft-shell clams, often called "steamers." SENT: 630 words, photos.
VIRUS OUTBREAK-CANADA — Ontario's premier has retracted restrictions that banned playgrounds and allowed police to require anyone not at home to explain why they're out and provide their address after a backlash from police forces, health officials and the public. SENT: 830 words, photos.
VIRUS OUTBREAK-ZIMBABWE-PRISONS-AMNESTY — Zimbabwe has begun releasing about 3,000 prisoners under a presidential amnesty aimed at easing congestion to reduce the threat of COVID-19 in the country's overcrowded jails. SENT: 360 words, photos.
________________________
WASHINGTON/POLITICS
________________________
BIDEN FOREIGN-POLICY — President Joe Biden this past week found himself in search of a foreign policy sweet spot: somewhere between pulling a screeching U-turn on four years of Trumpism and cautiously approaching the world as it is. He's finding that when it comes to the painstaking process of statecraft, the drag of pragmatism can slow the sprint toward big-picture aspirations. By Aamer Madhani. SENT: 980 words, photos.
CYBERSECURITY-FEDERAL-HACK-MICROSOFT — The hacking campaign deemed a grave threat to U.S. national security came to be known as SolarWinds, for the company whose software update was seeded by Russian intelligence agents with malware to penetrate sensitive government and private networks. Yet it was Microsoft whose code the cyber spies abused in the campaign's second stage, and now the world's third-most valuable company is in the hot seat, especially with Congress. By Technology Writer Frank Bajak. SENT: 1,250 words, photos.
BIDEN-MILITARY-VOTE — While voters who served in the military have long leaned Republican, there are signs Joe Biden may have cut into that advantage. His decision to withdraw all U.S. troops from Afghanistan by Sept. 11 is seen as a plus to some, but can Democrats sustain the momentum? SENT: 1,010 words, photos.
REPUBLICANS-GEORGIA — Republican leaders in Georgia say party unity is the only thing that can overcome an ascendant Democratic movement in next year's elections in the swing state, yet officials seem unable to get past 2020, bickering over blame for losses in the presidential and Senate races. SENT: 840 words, photos.
____________
NATIONAL
____________
FEDEX SHOOTING-INDIANAPOLIS — Members of Indianapolis' tight-knit Sikh community are calling for gun reforms as they mourn the deaths of four Sikhs who were among the eight people fatally shot at a FedEx warehouse. More than 200 people attended a vigil at an Indianapolis park Saturday evening where Sikh leaders and city officials demanded action that would prevent such attacks from happening again. SENT: 1,075 words, photos.
MALL GUNFIRE-NEBRASKA — A shooting at a Nebraska mall left one person dead and another wounded as terrified shoppers ran for cover. SENT: 230 words, photos.
DAUNTE WRIGHT-PROTESTS — As the nightly protests over Daunte Wright's death intensify outside a police station in a Minneapolis suburb, some in the crowd are trying to prevent protests from escalating into violence. The Minnesota Freedom Fighters, a group of Black men, are at the scene to protest but are also determined to keep things peaceful. SENT: 900 words, photos. WITH: DAUNTE-WRIGHT-PROTESTS-MEDIA — Some journalists covering protests of a police shooting in suburban Minneapolis say police have harassed them despite a federal order to leave them alone. SENT: 380 words, photos.
ROCHESTER-DANIEL-PRUDE — Newly released grand jury transcripts shed more light on why police officers who restrained Daniel Prude avoided criminal charges in his death. But the city of Rochester and the officers could still be held accountable. SENT: 840 words, photos.
OBIT ADOBE CO-FOUNDER — Charles "Chuck" Geschke — the co-founder of the major software company Adobe Inc. who helped develop Portable Document Format technology, or PDFs — died at age 81. SENT: 350 words, photo.
RACIAL-INJUSTICE-BLACK-SOLDIERS-POLICE — Videos of a Black and Latino Army lieutenant who was pepper-sprayed and handcuffed during a traffic stop in rural Virginia are a grim reminder to many Black Americans that even being in military uniform doesn't necessarily protect them from mistreatment by police. SENT: 905 words, photos.
RWANDA-GENOCIDE-CITIZENSHIP — A woman who served a 10-year sentence in U.S. prison for lying about her role in the 1994 Rwandan genocide to obtain American citizenship, and then lost her bid for a new trial, has been deported to the East African nation and is likely to face prosecution there. SENT: 620 words, photos.
TRANSGENDER-YOUTH-MEDICAL-BAN — Arkansas' law banning gender confirming treatments for transgender minors hasn't taken effect yet, but it's already causing pain and uncertainty for hundreds of youths who are currently receiving the care. Families are weighing their options over the first-in-the-nation law. Some may move out of state. SENT: 1,185 words, photos.
CHICAGO POLICE SHOOTING — A veteran prosecutor has been placed on leave days after he implied in court that 13-year-old Adam Toledo was holding a handgun the instant he was fatally shot last month by a Chicago police officer. SENT: 500 words, photos.
COLORADO-RIVER-WATER-SHORTAGE — U.S. water officials are projecting that the man-made lakes that store water used throughout the West will fall to historically low levels and trigger an official shortage declaration for the first time. SENT: 815 words, photos.
HOUSE PARTY-FLOOR COLLAPSE — At least 25 people were hurt when a floor collapsed during a massive party at a two-story house near the University of Georgia. SENT: 250 words, photos.
_________________
INTERNATIONAL
_________________
BRITAIN-PRINCE PHILIP-FUNERAL — As military bands played and a procession of royals escorted his coffin to the church, Prince Philip was laid to rest in a funeral ceremony that honored his lifetime of service to the U.K., the crown and his wife of 73 years, Queen Elizabeth II. The widowed British monarch, setting an example amid the coronavirus pandemic, sat alone at the ceremony, dressed in black and with her head bowed in prayer. By Danica Kirka and Jill Lawless. SENT: 1,035 words, photos. With BRITAIN-PRINCE PHILIP-HARRY AND WILLIAM — A year after they last saw one another, Prince William and his brother Prince Harry put their fraught relationship aside at their grandfather's funeral. SENT: 630 words, photos; EUROPE-PRINCE PHILIP-ROYAL RELATIVES — Prince Philip's life spanned a century of European history. His family ties were just as broad. SENT: 650 words, photos; BRITAIN-PRINCE PHILIP-FUNERAL-THE LATEST; BRITAIN-PRINCE PHILIP-FUNERAL-ATTENDEES, BRITAIN-PRINCE-PHILIP-FUNERAL-PHOTO-GALLERY (all sent).
For full coverage of Prince Philip's funeral, go to: https://newsroom.ap.org/page/PrincePhilip
IRAN-NUCLEAR — Iran named a suspect in the attack on its Natanz nuclear facility that damaged centrifuges there, saying he had fled the country before the sabotage happened. SENT: 475 words, photos. WITH: IRAN-NUCLEAR-TALKS — A senior Iranian official offered an upbeat assessment of progress in talks aimed at bringing the United States back into world powers' 2015 deal with Tehran on its nuclear program. SENT: 430 words, photos.
CHINA-US-JAPAN — China has hit back at the U.S.-Japan show of alliance during talks between President Joe Biden and Japan Prime Minister Yoshihide Suga, calling it an ironic attempt of stoking division. SENT: 370 words, photos.
ITALY-MIGRANTS — A judge in Sicily has ordered former Interior Minister Matteo Salvini to stand trial for having refused to let a Spanish migrant rescue ship dock in an Italian port. SENT: 430 words, photos.
RUSSIA-NAVALNY — A doctor for imprisoned Russian opposition leader Alexei Navalny, who is in the third week of a hunger strike, says his health is deteriorating rapidly and the 44-year-old Kremlin critic could be on the verge of death. SENT: 310 words, photos.
RUSSIA-UKRAINE-DIPLOMAT — Russia has ordered a Ukrainian diplomat to leave the country after allegedly receiving classified information from a database of the country's main security agency and Ukraine responded by expelling a Russian diplomat. SENT: 150 words.
CZECH-REPUBLIC-RUSSIA — The Czech Republic has announced that it was expelling 18 Russian diplomats who it has identified as spies in a case related to a huge ammunition depot explosion in 2014. SENT: 470 words, photos.
HONDURAS-IMMIGRATION — The U.S. Customs and Border Protection last month reported more than 41,000 encounters with Hondurans at the U.S. southern border. That was some 12,000 more than during March 2019. The reasons Hondurans continue to flee their country have been well documented: pervasive violence, deep-seated corruption, lack of jobs and widespread destruction from two major hurricanes that struck the region last November. SENT: 850 words, photos.
___________________
HEALTH & SCIENCE
___________________
RUSSIA-SPACE — An American astronaut and two Russians have returned to Earth after six months aboard the International Space Station. SENT: 140 words, photos.
__________________
ENTERTAINMENT
__________________
MUSIC-ACM AWARDS — Sunday's Academy of Country Music Awards will feature some of the genre's biggest stars, though chart-toppers like Morgan Wallen and Luke Bryan won't be in the building. Wallen was declared ineligible by the ACMs after he was caught on camera using a racial slur earlier this year, and Bryan backed out of the event because he recently tested positive for the coronavirus. SENT: 470 words, photos.
SCOTT-RUDIN-RESPONSE — Amid mounting anger over allegations of bullying, Broadway and Hollywood producer Scott Rudin broke his silence, saying he is "profoundly sorry" and will step back from his theater work. SENT: 495 words, photos.
________
SPORTS
________
CAR--INDYCAR-BARBER PREVIEW — Jimmie Johnson makes his IndyCar debut with a slow but steady first practice session. The seven-time NASCAR champion is last in the 24-driver field but calls the experience "amazing." Johnson will be a 45-year-old rookie in Sunday's season opener. SENT: 700 words, photos.
___________________
HOW TO REACH US
___________________
The Nerve Center can be reached at 800-845-8450 (ext. 1600). For photos, (ext. 1900). For graphics and interactives, ext. 7636. Expanded AP content can be obtained from http://newsroom.ap.org. For access to AP Newsroom and other technical issues, contact apcustomersupport(at)ap.org or call 877-836-9477.