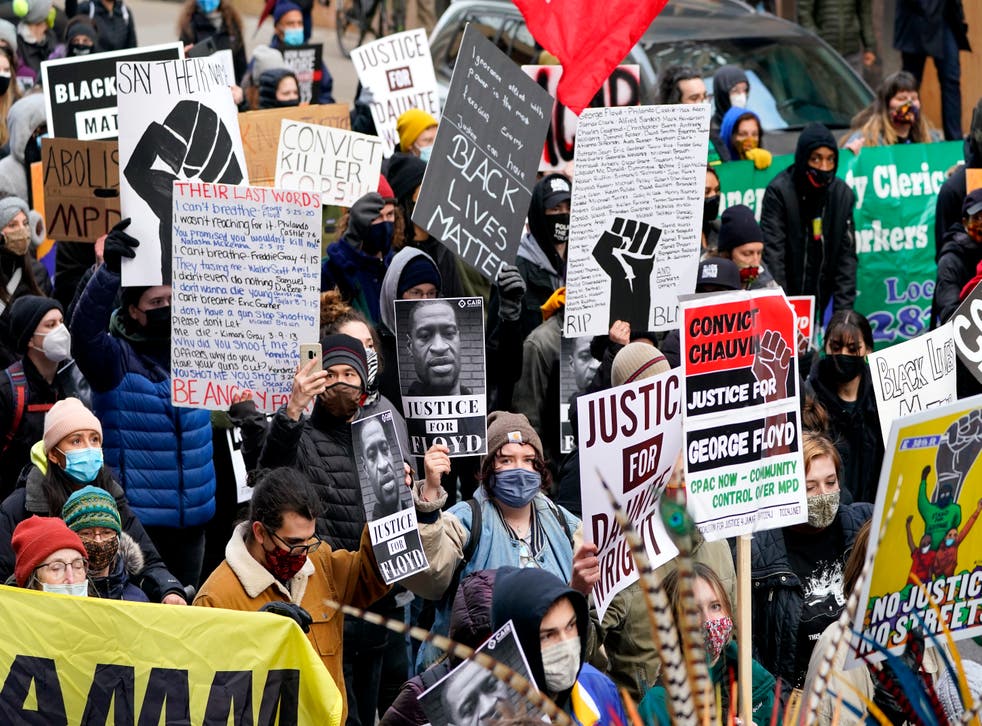 Here are the AP's latest coverage plans, top stories and promotable content. All times EDT. For up-to-the minute information on AP's coverage, visit Coverage Plan at https://newsroom.ap.org.
_____________
TOP STORIES
_____________
GEORGE FLOYD-OFFICER TRIAL — The jurors who sat quietly off-camera through three weeks of draining testimony in Derek Chauvin's murder trial in George Floyd's death moved into the spotlight, still out of sight but now in control of verdicts awaited by a skittish city. The jury of six white people and six people who are Black or multiracial was set for its first full of deliberations. By Amy Forliti, Stephen Groves and Tammy Webber. SENT: 1,160 words, photos, videos. UPCOMING: Deliberations resume at 10 a.m. Also see MORE ON THE CHAUVIN TRIAL below.
OBIT-WALTER MONDALE — Walter Mondale, a liberal icon who served as a senator from Minnesota and as Jimmy Carter's vice president before losing a lopsided presidential election, has died at 93. By Doug Glass. SENT: 1,300 words, photos. With WALTER MONDALE-A LIFE — Long after the loss, Mondale's liberal legacy still relevant; OBIT-WALTER MONDALE-REACTION — Politicians and Minnesotans pay tribute.
VIRUS-OUTBREAK-GERMANY-COVID-19-REHAB — A clinic on the Baltic coast has become a major rehabilitation center for COVID-19 patients from across Germany, treating 600 people over the past year. The clinic's medical director says helping patients learn how to breathe properly again is often a key part of the treatment, along with occupational and cognitive therapy, and psychological support. By Frank Jordans and Kerstin Sopke. SENT: 1,000 words, photos.
CHICAGO POLICE SHOOTING-SPLIT SECOND — The graphic video of an officer shooting a 13-year-old Chicago boy puts a microscope on split-second decisions with far-reaching consequences. Adam Toledo was shot less than a second after he appeared to drop a handgun, turn toward the officer and begin raising his hands. By Lindsay Whitehurst. SENT: 920 words, photo. With CHICAGO POLICE-SHOOTING — Latino groups want DOJ probe of shooting by Chicago police.
BIDEN-CLIMATE-VIRTUAL DIPLOMACY — President Joe Biden is being forced to go virtual for many of his leader-to-leader talks during the pandemic, and the Zoom meetings just aren't a natural fit for the back-slapping politician. Biden's big climate summit this week with dozens of world leaders is a moment for him to play cheerleader in the fight against global warming. By Jonathan Lemire, Seth Borenstein and Aamer Madhani. SENT: 930 words, photo.
VIRUS OUTBREAK-ASIAN AMERICAN STUDENTS — Asian American families are wrestling with whether to send their children back to classrooms as high schools, middle schools and elementary schools across the country widely reopen amid rising anti-Asian harassment. By Philip Marcelo. SENT: 1,060 words, photos, video. With KOREAN-AMERICAN-FEAR-PHOTO-ESSAY — Older Korean-Americans in L.A. fearful amid anti-Asian attacks.
_______________________________
WHAT WE'RE TALKING ABOUT
_______________________________
TAYLOR SWIFT-STALKING — Police: Stalker arrested at Taylor Swift's New York building. SENT: 250 words, photo.
BOOKS-AMY-CONEY-BARRETT — Supreme Court Justice Amy Coney Barrett has book deal with conservative imprint. SENT: 150 words, photo.
OBIT-BLACK ROB — Rapper Black Rob, known for hit "Whoa!" dead at 52. SENT: 270 words, photos.
BEAR-MAULING — Grizzly mauling near Yellowstone kills backcountry guide. SENT: 570 words, photo.
POLICE SHOOTING-TEXAS — Dallas police shoot, kill man brandishing replica handgun. SENT: 150 words.
AUSTRALIA-REALITY-TV — Byron Bay locals protest planned Netflix reality series. SENT: 530 words, photos.
NFL-IHEARTMEDIA-PODCAST-DEAL — NFL, iHeartMedia teaming up to launch podcast network. SENT: 260 words.
——————————
MORE ON THE CHAUVIN TRIAL
——————————
GEORGE-FLOYD-OFFICER-TRIAL-FORTIFIED-CITY — In Minneapolis, a city that has come to epitomize America's debate over police killings, there are places where it can feel almost like a police state. SENT: 970 words, photos, videos.
GEORGE FLOYD-OFFICER TRIAL-BIDEN ADMINISTRATION — The Biden administration is privately weighing how to handle the upcoming verdict in Chauvin's trial, including considering whether Biden should address the nation. SENT: 710 words, photos. With NATIONAL GUARD-UNREST — Repeated Guard missions in D.C. trigger frustration, denials.
__________________________________
MORE ON THE VIRUS OUTBREAK
_________________________________
JAPAN-MEN'S MAKEUP — The coronavirus pandemic has been pushing many businesses in Japan to the edge, but some in the men's makeup industry have seen an unexpected expansion in their customer base. SENT: 540 words, photos.
VIRUS-OUTBREAK-HUNGARY-ROMA-EDUCATION — Many students from Hungary's Roma minority do not have access to computers or the internet and are struggling to keep up with online education during the pandemic. SENT: 660 words, photos. With VIRUS-OUTBREAK-THE-LATEST.
—————————————————
WASHINGTON/POLITICS
—————————————————
HOUSE-GAETZ-GREENE — Florida Rep. Matt Gaetz and Georgia Rep. Marjorie Taylor Greene are presenting top House Republicans with a test of how to handle a new breed of Trump-era, social media-savvy firebrands. SENT: 970 words, photos.
_________________
INTERNATIONAL
_________________
CHINA-XI — Chinese President Xi Jinping calls for more equitable management of global affairs and, in an implicit rejection of U.S. dominance, says governments shouldn't impose rules on others. SENT: 390 words, photo.
AFGHANISTAN-ABDUCTED AMERICAN — There are growing concerns about one American who risks being left behind as the U.S. moves to withdraw its military from Afghanistan. SENT: 780 words, photo.
BRITAIN-THE QUEEN — Now that the Royal Family has said farewell to Prince Philip, attention will turn to Queen Elizabeth II's 95th birthday and, in coming months, the celebrations marking her 70 years on the throne. SENT: 1,140 words, photos.
———————-
NATIONAL
———————-
OVERTURNED-BOAT — The search for survivors from a capsized lift boat in the Gulf of Mexico has ended and attention now turns to comforting the loved ones of the five known dead and eight missing, a grim hunt for bodies and a painstaking investigation that could take up to two years. SENT: 860 words, photos, video.
REGULATING-POT-POTENCY — As marijuana legalization spreads across U.S. states, so does a debate over whether to set pot policy by potency. SENT: 850 words, photo.
PORTLAND-SHOOTING — Some people in a small crowd calling for the abolition of police broke windows as they marched in Portland, hours after authorities say that a man who was fatally shot by an officer in a city park last week had an orange-tipped replica gun. SENT: 420 words.
MISSING-STUDENT-COLD-CASE — Lawyers for a father and son charged in the 1996 disappearance of California college student Kristin Smart criticized the evidence used to make arrests, with one saying it was "so minimal as to shock the conscience." SENT: 840 words, photos.
———————————————
BUSINESS/TECH
———————————————
APPLE-EVENT — Apple is planning new product announcements at what seems likely to be an iPhone-less online event. By Technology Writer Barbara Ortutay. SENT: 310 words, photo.
FINANCIAL-MARKETS — Asian stock markets were mixed after Wall Street was pulled lower by tech stock declines. By Business Writer Joe McDonald. SENT: 370 words, photos.
________
SPORTS
________
WRITE ON SPORTS — Write on Sports, now in its 16th year, helps middle school students from underserved communities develop writing skills and build self-confidence through the lens of sports and the tools of journalism. By Sports Writer Barry Wilner. SENT: 750 words, photos.
__________________
HOW TO REACH US
___________________
At the Nerve Center, Jerome Minerva can be reached at 800-845-8450 (ext. 1600). For photos, Wally Santana (ext. 1900). For graphics and interactives, ext. 7636. Expanded AP content can be obtained from http://newsroom.ap.org. For access to AP Newsroom and other technical issues, contact apcustomersupport(at)ap.org or call 877-836-9477.
Register for free to continue reading
Registration is a free and easy way to support our truly independent journalism
By registering, you will also enjoy limited access to Premium articles, exclusive newsletters, commenting, and virtual events with our leading journalists
Already have an account? sign in
Register for free to continue reading
Registration is a free and easy way to support our truly independent journalism
By registering, you will also enjoy limited access to Premium articles, exclusive newsletters, commenting, and virtual events with our leading journalists
Already have an account? sign in