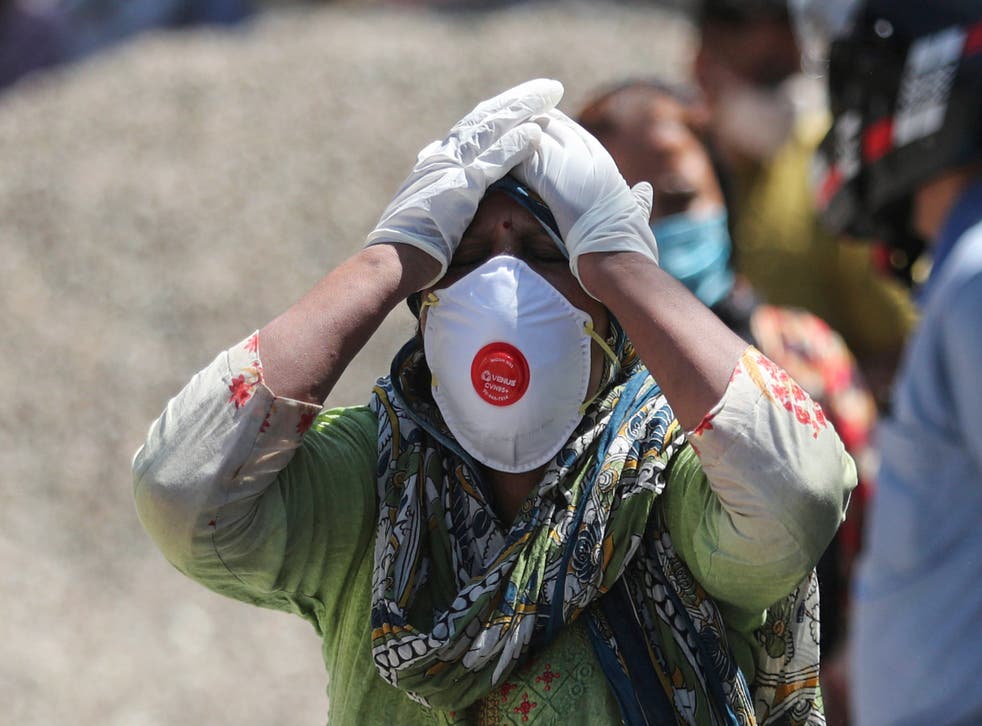 Here are the AP's latest coverage plans, top stories and promotable content. All times EDT. For up-to-the minute information on AP's coverage, visit Coverage Plan at https://newsroom.ap.org.
_____________
TOP STORIES
_____________
BIDEN-100 DAYS-VIRUS — President Joe Biden spent his first 100 days encouraging Americans to mask up and stay home to slow the spread of COVID-19. His task for the next 100 will be to encourage the opposite behavior and manage the nation's transition back to normalcy. By Zeke Miller. SENT: 900 words, photos. UPCOMING: 990 words after 1:15 p.m. speech.
VIRUS-OUTBREAK-ASIA — India recorded more than 320,000 new cases of coronavirus infection as a grim surge of illness and death weighed on the country and its sinking health system started getting much-needed support from foreign nations. SENT: 960 words, photos. With VIRUS-OUTBREAK-THE-LATEST.
VIRUS OUTBREAK-AFRICA-VACCINE ROLLOUT — Some Africans are hesitating to get COVID-19 vaccines amid concerns about their safety, alarming public health officials as some countries start to destroy thousands of doses that expired before use. Malawi and South Sudan in recent days have said they will destroy some of their doses, a concerning development on a continent where health officials have been outspoken about the need for vaccine equity as the world's rich nations hold the bulk of shots. By Rodney Muhumuza. SENT: 990 words, photos.
2020 CENSUS-TAKEAWAYS — The first batch of once-every-decade Census data shows a United States where the population is growing less quickly and shifting more to the South and West. By Nicholas Riccardi. SENT: 1,080 words, photos. With 2020 CENSUS — U.S. marks slowest population growth since the Depression; 2020 CENSUS-GLANCE.
BIDEN-100 DAYS-CONGRESS-DECORUM — On Capitol Hill, trust between the parties, and between Congress members themselves, has cratered as Biden prepares to address the House and the Senate for the first time in his presidency. By Mary Clare Jalonick and Josh Boak. SENT: 1,030 words, photos. With BIDEN-100 DAYS-CONGRESS-SECURITY — Biden's first address to Congress is invite-only. Also see BIDEN-CONGRESS below.
AFGHANISTAN-ISLAMIC STATE — America is winding up its longest war, calculating that the terror threat out of Afghanistan can't reach to its shores and that threats to the West by militants can be defused from a distance. But analysts who chronicle the Islamic State terror group say that in recent months they have re-emerged with a campaign of targeted killings. By Kathy Gannon. SENT: 1,050 words, photos.
_______________________________
WHAT WE'RE TALKING ABOUT
_______________________________
ANTISEMITISM AUDIT-ZOOM BOMBING — Report: Pandemic gives rise to antisemitic "Zoom bombing." SENT: 960 words, photos.
IDAHO-LAWMAKER-RAPE-COMPLAINT — Idaho lawmaker accused of rape was warned about his behavior. SENT: 840 words.
__________________________________
MORE ON THE VIRUS OUTBREAK
_________________________________
VIRUS-OUTBREAK-HUNGARY-CIRCUS — Human and four-legged performers alike are preparing to bring Hungary's largest traveling circus back on the road after the COVID-19 pandemic halted its shows for more than a year. SENT: 450 words, photos.
VIRUS-OUTBREAK-CALIFORNIA-VACCINE — A San Francisco Bay Area man in his 30s is recuperating after developing a rare blood clot in his leg within two weeks of receiving the Johnson & Johnson vaccine, University of California, San Francisco officials say. SENT: 360 words, photo.
________________________
WASHINGTON/POLITICS
________________________
BIDEN-CONGRESS — Ahead of Biden's address to Congress, lawmakers are intensifying the push to make sure key priorities, including child care, health care and education, are included in next phase of his massive infrastructure reinvestment program. SENT: 910 words, photos.
—————-
NATIONAL
—————-
DALLAS-OFFICER-MISTAKEN-APARTMENT-APPEAL — A Texas court is scheduled to hear arguments on overturning the conviction of a former Dallas police officer who was sentenced to prison for fatally shooting her neighbor in his home. SENT: 300 words, photo.
TORNADO OUTBREAK-REMEMBRANCES — With lowered flags and somber ceremonies, Alabama will pause to mark the 10th anniversary of a horrific tornado outbreak that killed more than 250 people statewide, caused billions in damage and reshaped entire communities. SENT: 410 words, photos.
DC-POLICE-CYBER-EXTORTION — The Washington, D.C., police department says that its computer network was breached, and a Russian-speaking ransomware syndicate claimed to have stolen sensitive data, including on informants, that it threatened to share with local criminal gangs unless police paid an unspecified ransom. SENT: 400 words, photo.
_________________
INTERNATIONAL
_________________
ISRAEL-APARTHEID DEBATE — One of the world's best-known human rights groups says that Israel is guilty of the international crimes of apartheid and persecution because of discriminatory policies toward Palestinians within its own borders and in the occupied territories. SENT: 1,020 words, photos.
CHINA-COMMUNIST-TOURISM-CENTENARY — On the 100th anniversary of the Chinese Communist Party, tourists are flocking to historic sites and making pilgrimages to party landmarks. SENT: 710 words, photos.
MYANMAR — Ethnic Karen guerrillas say they captured a Myanmar army base in what represents a morale-boosting action for those opposing the military's takeover of the country's civilian government in February. SENT: 430 words, photos.
PALESTINIANS-ELECTIONS — Egyptian officials say the Palestinian Authority plans to call off its first elections in 15 years, citing Israel's refusal to allow voting in east Jerusalem. SENT: 440 words, photo.
PERSIAN-GULF-TENSIONS — American and Iranian warships had a tense encounter in the Persian Gulf earlier this month, the first such incident in about a year amid wider turmoil in the region over Tehran's tattered nuclear deal, the U.S. Navy says. SENT: 370 words, photos.
——————
BUSINESS/ECONOMY
——————
JAPAN-TOYOTA-LYFT — Toyota Motor Corp. has acquired the self-driving division of American ride-hailing company Lyft for $500 million, in a move that underlines the Japanese automaker's ambitions in that technology. By Business Writer Yuri Kageyama. SENT: 440 words, photos.
FINANCIAL-MARKETS — Asian stock markets fell after Wall Street posted a record-high as investors looked ahead to this week's Federal Reserve meeting for assurance U.S. interest rates will be kept ultra-low. By Business Writer Joe McDonald. SENT: 450 words, photos.
————————
HEALTH/SCIENCE
———————-
SPACEX-ASTRONAUTS RETURN — The astronauts flying SpaceX back to Earth this weekend urged boaters to stay safe by staying away from their capsule's splashdown in the Gulf of Mexico. By Aerospace Writer Marcia Dunn. SENT: 300 words, photos.
—————
SPORTS
—————
KENTUCKY DERBY-GRAY HORSES — Essential Quality is expected to be the first gray horse favored to win the Kentucky Derby in 25 years. By Sports Writer Stephen Whyno. SENT: 800 words, photos.
__________________
HOW TO REACH US
___________________
At the Nerve Center, Jerome Minerva can be reached at 800-845-8450 (ext. 1600). For photos, Wally Santana (ext. 1900). For graphics and interactives, ext. 7636. Expanded AP content can be obtained from http://newsroom.ap.org. For access to AP Newsroom and other technical issues, contact apcustomersupport(at)ap.org or call 877-836-9477.
Register for free to continue reading
Registration is a free and easy way to support our truly independent journalism
By registering, you will also enjoy limited access to Premium articles, exclusive newsletters, commenting, and virtual events with our leading journalists
Already have an account? sign in
Register for free to continue reading
Registration is a free and easy way to support our truly independent journalism
By registering, you will also enjoy limited access to Premium articles, exclusive newsletters, commenting, and virtual events with our leading journalists
Already have an account? sign in