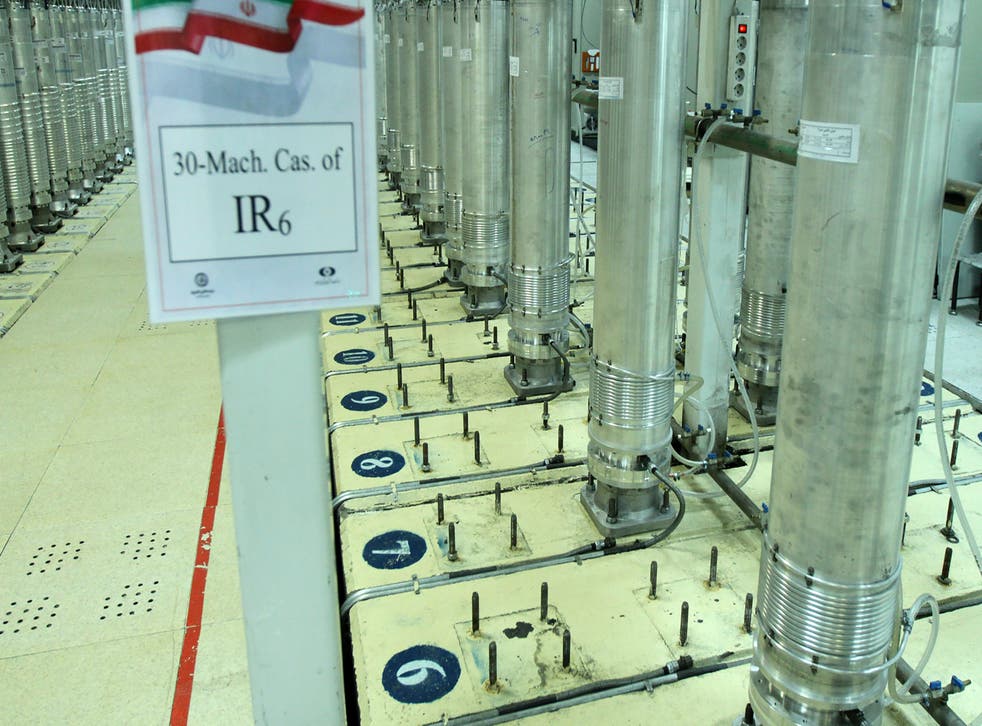 Here are the AP's latest coverage plans, top stories and promotable content. All times EDT. For up-to-the minute information on AP's coverage, visit Coverage Plan at https://newsroom.ap.org.
_____________
TOP STORIES
_____________
IRAN-NUCLEAR — Iran on Monday blamed Israel for a sabotage attack on its underground Natanz nuclear facility that damaged the centrifuges it uses to enrich uranium there, warning that it would avenge the assault. The comments by Foreign Ministry spokesman Saeed Khatibzadeh represent the first official accusation leveled against Israel for the assault Sunday that cut power across the facility. Israel has not directly claimed responsibility for the attack. However, suspicion fell immediately on it as Israeli media widely reported that a devastating cyberattack orchestrated by Israel caused the blackout .By Jon Gambrell SENT: 780 words, photos. WITH: IRAN-NUCLEAR EXPLAINER — Iran's nuclear program has been targeted by diplomatic efforts and sabotage attacks over the last decade, with the latest incident striking its underground Natanz facility. The attack Sunday at Natanz comes as world powers try to negotiate a return by Iran and the U.S. to Tehran's atomic accord. The sabotage threatens to upend those negotiations and further heighten regional tensions across the Mideast. SENT:980 words, photo.
GEORGE FLOYD-OFFICER TRIAL — The trial of a former Minneapolis police officer charged in George Floyd's death enters its third week Monday. Derek Chauvin is charged with murder and manslaughter in Floyd's May 25 death. Prosecutors say Chauvin pinned Floyd to the pavement outside a corner market for 9 minutes, 29 seconds. The state is near the end of a case that kicked off with searing witness accounts of Floyd's arrest, followed by police supervisors and training officers testifying that Chauvin wasn't following proper procedure by using the neck restraint on Floyd. By Amy Forliti, Steve Karnowski and Tammy Webber. SENT: 690 words, photos.
VIRUS OUTBREAK-ASIA — India reported another record daily surge in coronavirus infections to overtake Brazil as the second-worst hit country. The 168,912 cases added in the last 24 hours pushed India's total to 13.5 million. SENT: 770 words, photos. WITH: VIRUS OUTBREAK-INDIA-HINDU FESTIVAL — Tens of thousands of Hindu devotees gathered by the Ganges River for special prayers, many of them flouting social distancing practices as the coronavirus spreads in India with record speed. The Kumbh Mela, or pitcher festival, is one of the most sacred pilgrimages in Hinduism. SENT: 500 words, photos.
VIRUS OUTBREAK-RAMADAN — Muslims are observing their second Ramadan in the shadow of the coronavirus pandemic. The holy month, when the devout fast from dawn to dusk, comes as much of the world is being hit by an intense new coronavirus wave. By Mariam Fam, Kathy Gannon and Bassem Mroue. SENT: 1,270 words, photos. WITH: DUBAI RAMADAN — Dubai is parting this Ramadan with a longstanding requirement that restaurants must be covered by curtains during sunlight hours. SENT: 280 words, photos.
VIRUS OUTBREAK-COLLEGE VACCINES — U.S. colleges hoping for a return to normalcy next fall are weighing how far they should go in urging students to get the COVID-19 vaccine, including whether they should — or legally can — require it. By Colin Binkley. SENT: 1,080 words, photos. This is the Tuesday Spotlight
BIDEN-INFRASTRUCTURE -- The Biden White House is amplifying the push for its $2.3 trillion infrastructure package with state-by-state breakdowns that show the dire shape of roads, bridges, the power grid and housing affordability. By Josh Boak. SENT: 630 words, photos. The state-by-state reports will be available via White House link. Biden's meeting with lawmakers scheduled for 1:45 p.m. EDT.
______________________________
WHAT WE'RE TALKING ABOUT
_______________________________
NE0 NAZI-SENTENCING — Federal prosecutors in Virginia are seeking a five-year prison sentence for a former neo-Nazi group leader who pleaded guilty to conspiring with other far-right extremists to threaten dozens of targets. SENT: 640 words, photos.
ST. VINCENT-VOLCANO — More people have fled their homes on the eastern Caribbean island of St. Vincent as La Soufrière volcano rumbles loudly for a third day and the heavy weight of its ashfall is damaging some buildings. SENT: 430 words, photos.
CALIFORNIA-DEAD CHILDREN — Court documents show the woman arrested on suspicion of killing her three young children at her Los Angeles apartment had been involved in a custody dispute with their father. SENT: 330 words, photos.
PAKISTAN-RIGHTS DEFENDER-OBITUARY — An iconic Pakistani human rights defender and former editor has died in the eastern city of Lahore after a brief illness. SENT: 320 words, photos.
_________________________________
MORE ON THE VIRUS OUTBREAK
_________________________________
VIRUS OUTBREAK-BRITIAN — British Prime Minister Boris Johnson urged people to "behave responsibly" as shops, gyms, hairdressers, restaurant patios and beer gardens reopened after months of lockdown. Monday brought the easing of restrictions have been in place in England since early January to suppress a surge in coronavirus infections linked to a more transmissible new variant first identified in the southeast of the country. SENT: 380 words, photos.
VIRUS OUTBREAK-CHINA-VACCINES — In a rare admission of the weakness of Chinese coronavirus vaccines, the country's top disease control official says their effectiveness is low and the government is considering mixing them to get a boost. SENT: 610 words, photo.
VIRUS OUTBREAK-JAPAN — Tokyo adopted tougher measures against the coronavirus as it struggles to curb the rapid spread of a more contagious variant ahead of the Olympics in a country where less than 1% of people have been vaccinated. SENT: 550 words, photos.
VIRUS OUTBREAK-BHUTAN-VACCINATIONS — Bhutan's COVID-19 vaccination drive was fast from the start. As other countries rolled out their vaccination campaigns over months, Bhutan is nearly done just 16 days after it started. The tiny Himalayan kingdom has vaccinated nearly 93% of its adults. SENT: 370 words, photos.
VIRUS OUTBREAK-THAILAND — Thailand has reported 985 new coronavirus cases, its highest daily increase since the start of the pandemic. Health officials say they are worried the number of new infections could be far higher after this week's traditional Thai New Year holiday. SENT: 520 words, photos.
GREECE-VIRUS OUTBREAK-HOME TESTING — High schools have reopened in Greece to students in the final three grades, with the mandatory use of test kits for COVID-19 being rolled out across the country to help with mass screening for infections with an eye to further reopening the economy and tourism. SENT: 260 words, photos.
VIRUS OUTBREAK-DENMARK — Denmark is vaccinating 100,000 people in one day as they test their system ahead of a June rollout where four times as many people will be vaccinated per day. The inoculations will be carried out Monday in 68 vaccine centers across the country of nearly 6 million. SENT: 240 words, photos.
________________________
WASHINGTON/POLITICS
________________________
BIDEN REPUBLICANS -- Some longtime Republican voters are validating Joe Biden's early approach to the presidency even as elected GOP leaders oppose him. But whether there are enough "Biden Republicans" remains a question. By Will Weissert. SENT: 940 words, photos.
SUPREME COURT-FORFEITURE -- A Kentucky man whose pickup truck was confiscated by federal border agents in Texas and held for two years wants the Supreme Court to require a prompt court hearing as a matter of constitutional fairness whenever federal officials take someone's property under civil forfeiture law. By Mark Sherman. SENT: 710 words, photos.
_________________
INTERNATIONAL
_________________
RUSSIA GAGARIN — Soviet cosmonaut Yuri Gagarin became the first human in space 60 years ago. Gagarin's steely self-control was a key factor behind the success of his pioneering 108-minute spaceflight. His April 12, 1961, mission encountered glitches and emergencies, from the capsule's entry hatch failing to shut properly just before blastoff to a parachute misfire in the final moments before touchdown. SENT: 1,190 words, photos. WITH: RUSSIA GAGARIN-STATUES-PHOTO GALLERY (sent)
GERMANY ELECTION — The new leader of Chancellor Angela Merkel's party says he's confident of securing his party's support to become the center-right candidate for Germany's next leader, after he and a rival declared their ambitions. SENT: 490 words, photos.
ELECTIONS-ECUADOR-PERU — Voters in Ecuador appear to have turned to a conservative businessman in their presidential runoff election, rebuffing a leftist movement that has held the presidency for over a decade while ushering in an economic boom and then a yearslong recession. SENT: 1,090 words, photos.
SKOREA-BATTERY SETTLEMENT — South Korean President Moon Jae-in on Monday welcomed the decision by two South Korean electric vehicle battery makers to settle a long-running intellectual property dispute. The standoff had threatened thousands of American jobs and President Joe Biden's environmental policies. SENT: 490 words, photos.
__________
NATIONAL
__________
POLICE SHOOTING-MINNESOTA — The family of a 20-year-old Minnesota man told a crowd that he was shot by police Sunday before getting back into his car and driving away, then crashing the vehicle several blocks away. The family of Daunte Wright said he was later pronounced dead. SENT: 550 words, photos.
ARMY OFFICER-TRAFFIC STOP-LAWSUIT — A Virginia town has announced that one of two police officers accused of pepper-spraying and pointing their guns at a Black Army officer during a traffic stop has since been fired. The announcement from the town of Windsor on Sunday night came hours after the governor called for an independent investigation into the December 2020 encounter. SENT: 430 words, photos.
FORMER POLICE OFFICER-CHILD ASSAULT — A former Boston police officer and union chief, charged last August with molesting multiple children, faced child abuse allegations in the mid-1990s. The Boston Globe reports that the Boston Police Department in 1995 filed a criminal complaint against Patrick Rose Sr. for sexual assault on a 12-year-old child. SENT: 470 words.
SOUTH CAROLINA-SHOOTING — Bubbles drifted through the air and mourners linked arms in song at the vigil for four South Carolina family members who authorities say former NFL player Phillip Adams shot to death before killing himself last week. SENT: 930 words, photos.
________________
ENTERTAINMENT
________________
PRINCE PHILLIP AND THE CROWN — Britain's Prince Philip stood loyally behind Queen Elizabeth II, as his character does on Netflix's "The Crown." But how closely does the TV character match the real prince, who died Friday at 99? By AP Television Writer Lynn Elber. SENT: 1,080 words, photos.
________________
HEALTH/SCIENCE
________________
BRAIN TUMORS-VIRUS TREATMENT — Scientists are reporting progress against a deadly type of childhood cancer with an unusual treatment. It involves putting viruses directly into the brain to spur an immune system attack. SENT: 670 words, photos.
_______________
BUSINESS
_______________
POWELL — The chairman of the Federal Reserve says the U.S. economy is poised for an extended period of strong growth and hiring even though the coronavirus still poses some risk. Chair Jerome Powell also tells CBS' "60 Minutes" that he doesn't expect this year to raise the Fed's benchmark interest rate, currently pegged at nearly zero. SENT: 810 words, photo.
________
SPORTS
________
GLF--MASTERS — Hideki Matsuyama is the first Japanese player in a green jacket. The 29-year-old won the Masters despite a few nervous moments. He led by as many as six on the back nine. He was only two ahead going to the 16th hole. And then Xander Schauffele made it easy for him by hitting into the water and the gallery and making a triple bogey on the 16th hole. Matsuyama takes his place among the elite in golf. By AP Golf Writer Doug Ferguson. SENT: 1,200 words, photos. With GLF--MASTERS-RUNNER-UP, GLF--MASTERS-THE LATEST, GLF--MASTERS-NOTBOOK, GLF--MASTERS-GLANCE, MASTERS-JAPAN CELEBRATES (sent)
___________________
HOW TO REACH US
___________________
The Nerve Center's Dave Clark can be reached at 800-845-8450 (ext. 1600). For photos, ext. 1900. For graphics and interactives, ext. 7636. Expanded AP content can be obtained from http://newsroom.ap.org. For access to AP Newsroom and other technical issues, contact apcustomersupport(at)ap.org or call 877-836-9477.