Armed Russian security officers storm Greenpeace ship and hold 30 activists at gunpoint, environmental group says
Activists have issued a plea to Vladimir Putin to order the Coast Guard - a branch of Russia's Federal Security Service - to 'holster their guns'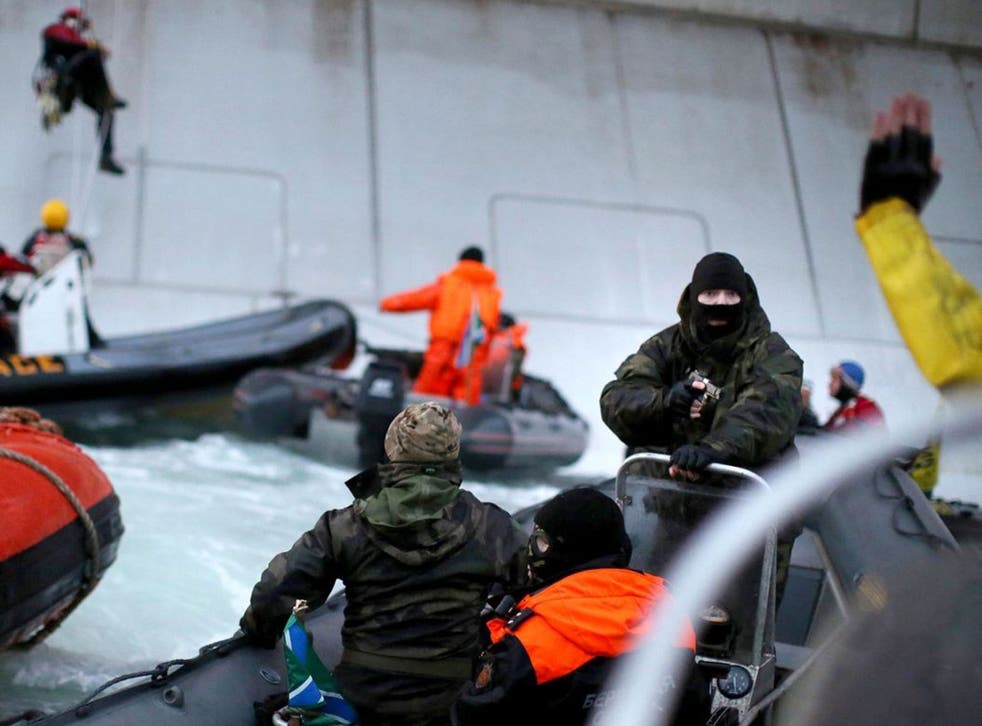 Armed Russian security forces have illegally boarded a Greenpeace ship in the Arctic sea and are detaining at gunpoint 30 activists, six of whom are British, the environmental group said.
Greenpeace had been using the Dutch icebreaker ship Arctic Sunrise as a base from which to protest oil drilling at the Russian Prirazlomnaya platform, and on Wednesday two activists were arrested by the Coast Guard as they attempted to scale the outside of the offshore drilling rig.
Yesterday it seems the Coast Guard came back for the rest. According to the group, armed officers from the Russian Federal Security Service – of which the coastal unit is a branch – slid down ropes from a helicopter to access the ship, with around 15 of them containing 29 activists in the galley and separately detaining the captain on the bridge.
"They used violence against some of us, they were hitting people, kicking people down, pushing people," Greenpeace's Faiza Oulahsen said in a phone call from the ship.
The environmental group has now set up a campaign page on its website entitled "Free our activists". There, they claim that the Arctic Sunrise had been engaged in "a peaceful protest against energy giant Gazprom which is poised to drill for the first oil to come out of the icy waters of the Arctic".
The group urged readers to get in contact with the Russian Ambassador in London to demand the release of the activists, and added: "The Arctic Sunrise was circling Gazprom's Prirazlomnaya platform inside international waters and outside the jurisdiction of Russian authorities, making the boarding of the ship unlawful."
After the earlier arrests of the pair trying to climb the rig itself, the Russian foreign ministry dismissed Greenpeace's efforts as "aggressive and provocative". It issued a statement saying the protest had "threatened people's lives and could lead to environmental catastrophe in the Arctic with unpredictable consequences".
Following the reported seizing of the ship, Greenpeace International executive director Kumi Naidoo said: "We ask President Putin to restrain the Coast Guard and order them to holster their guns and withdraw. We are a peaceful organisation and our protest has done nothing to warrant this level of aggression."
A spokesman for the Federal Security Service in Moscow has refused to comment.
Join our new commenting forum
Join thought-provoking conversations, follow other Independent readers and see their replies