As the waters rise in York, the canals of Venice run dry
Gondolas and water taxis have been unable navigate some of the city's smaller canals
Michael Day
Monday 28 December 2015 18:30 Comments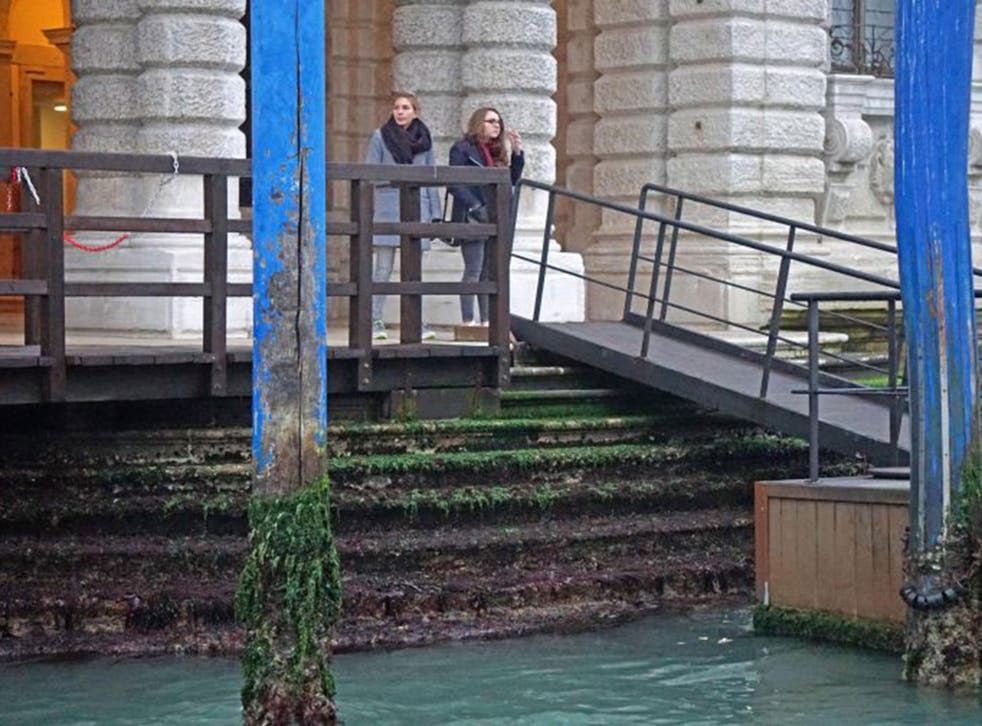 Even as the north of England struggles with disastrous flooding, the famous waterways of Venice are experiencing their lowest water levels since records began, with some canals now 70cm below the seasonal average.
The northern Italian city has frequently been evoked in recent days alongside the names of flooded towns in northern England. Such remarks now appear ironic as well as ill-judged, with news that retreating water levels in Venice have meant gondolas and water taxis have been unable navigate some of the city's smaller canals.
Venice is better known for regular flooding, or acqua alta, brought by high tides surging into the lagoon, with seven instances this year of water levels rising by more than a metre.
But a combination of weather, tidal and environmental factors has meant smaller waterways have sunk to reveal sludge and decaying masonry, blocking even emergency vehicles according to local press reports.
A period of high pressure and exceptionally low rain fall combined with the full phase of the moon and the astronomical tide that tends to be low in mid-winter, have led to the falling water levels.
In Pictures: Floods hit the UK

Show all 17
"In winter, low tides are common but at the moment it has dropped much further," said a spokesman at Venice's town hall. "It's a record."
With high pressure due to last until the new year, reduced water levels are also set to continue for the rest of the week, La Nuova Venezia newspaper reported.
But another factor is adding to problems in the waterways, say local experts: a lack of maintenance. With Venetians more concerned about the ever-present risk of floods, local and state funds have been poured into the €5bn Moses flood-barrier project. As a result less money has been available for the essential removal of mud and sediment from the canals.
Meanwhile in Italy's two biggest cities, Rome and Milan, environmental concerns are uppermost in the minds of citizens. Both are choking in smog after a two-month spell of little or no rain sent levels of air pollutants soaring dangerously.
In Milan today, the streets were strangely quiet as 200 police patrols made sure all private vehicles stayed off the roads. Italy's financial centre has been over the legal smog limit for 85 days this year, according to the Legambiente environmental watchdog, and further vehicle bans are due later this week. In the capital, Francesco Paolo Tronca, Rome's commissioner while the city is without a mayor, banned traffic in the city for six hours yesterday and today in a bid to reduce levels of particulates that are above the legal limit.
Register for free to continue reading
Registration is a free and easy way to support our truly independent journalism
By registering, you will also enjoy limited access to Premium articles, exclusive newsletters, commenting, and virtual events with our leading journalists
Already have an account? sign in
Join our new commenting forum
Join thought-provoking conversations, follow other Independent readers and see their replies