At least 19 civilians killed by shelling in Ukraine as government and rebels blame each other
A shell hit a community centre in Donetsk as people queued for aid
Lizzie Dearden
Friday 30 January 2015 17:34 Comments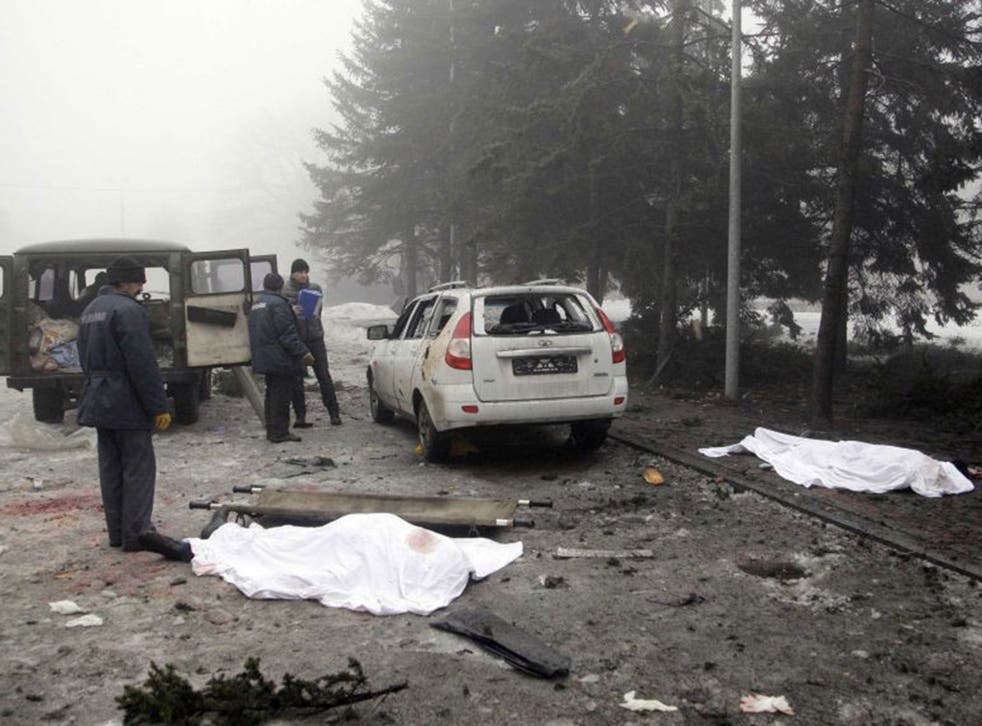 At least 19 civilians have been killed by shelling in eastern Ukraine today as another attempt at peace talks between separatists and the government was aborted.
One shell hit a community centre in the rebel stronghold of Donetsk where people were queuing for food and humanitarian aid, killing five.
Another two people died in the same part of the city when a mortar landed near a bus stop.
Donetsk echoed to the sound of heavy artillery fire, including salvoes from multiple rocket launchers and heavier thuds from artillery coming from the direction of the airport, a constant battlefield.
Five more civilians were killed during sporadic artillery fire in the west of the city.
The head of Ukraine's regional police said in a Facebook post that seven other civilians had been killed and ten injured as a result of fighting in an around the government-held towns of Debaltseve and Vuhlehirsk, focus of the rebel advance that Kiev says amounts to a full repudiation of the truce.
Water and electricity have been cut off in the towns, where government garrisons are all but surrounded and civilians trapped by rebel fighters aiming to control railways providing crucial links between the separatists in Donetsk and in Luhansk.
Fighting between Ukrainian forces and rebels has intensified in recent weeks, five months after a peace treaty was signed in Minsk, Belarus.
The self-titled Donetsk People's Republic, which has administered the city since April, blamed the government for killing civilians with indiscriminate shelling, while Kiev officials accused the separatists of firing on their own stronghold to ruin the chance of peace talks.
Both sides have made similar allegations throughout the conflict, which are impossible to verify.
Ukraine crisis: Civilians targeted in Donetsk

Show all 11
"We are already used to this artillery and there's nothing we can do about it. Our boys [the rebels] are defending us," said Alla, a shopkeeper in downtown Donetsk.
The city has suffered badly in the ongoing conflict, with 13 people killed when missiles hit a bus terminal in Kurpina Street earlier this month and 500 miners being trapped underground on Monday when a shell hit the power station supplying its electricity.
Denis Pushilin, the self-declared chairman of the Donetsk People's Republic, insisted his fighters' continuing offensive is necessary to protect civilians from Ukrainian artillery fire and will not stop until the government stops its alleged shelling of residential areas.
"The situation has worsened and it is forcing us to go on offensive," he told reporters in Minsk. "New victims are inevitable, I'm afraid."
"If shelling resumes, then we reserve for ourselves the right to continue the offensive and go to the very borders of Donetsk and Luhansk regions," he added, referring to the two provinces where separatists have declared "people's republics".
Mr Pushilin said rebels would be ready to resume the ceasefire that was brokered in September and withdraw heavy weaponry, as long as the demarcation line takes into account the rebels' recent advance.
He and another separatist representative travelled to Minsk for peace talks today but left hours later without a meeting. It was unclear whether the Ukrainian representative had turned up.
Kiev's military said five of its servicemen had been killed and 23 wounded in fighting in the past 24 hours, describing the situation in the conflict zone as "hard".
"They are repeatedly using Grad (missiles), artillery, mortars, tanks and rocket launchers," spokesman Andriy Lysenko said.
"The fiercest fighting continues around the town of Vuhlehirsk. After mass artillery attacks, the terrorists repeatedly stormed Ukrainian army checkpoints."
Ukraine's Foreign Ministry said it was ready to participate in talks but was waiting for an agreement on draft documents about implementing last September's Minsk agreements, including on withdrawing heavy military equipment.
Nato and Kiev accuse Russia of sending thousands of troops to support the rebel advance with heavy weapons and tanks. Moscow denies it is directly involved in fighting over territory that the Kremlin refers to as Novorossiya (New Russia).
European Union foreign ministers agreed to extend economic sanctions against Russia that had been due to expire for another six months at an emergency meeting on Thursday. The US has promised to tighten its own sanctions, which have helped feed an economic crisis in Russia.
Ukraine is trying to prevent a rebel assault on the strategic port city of Mariupol, where 30 people died in shelling on Saturday.
Human Rights Watch accuses both government and rebel forces of killing civilians by launching unguided Grad rockets against targets in densely populated areas of the separatist-held Donetsk and Luhansk regions.
In its annual World Report, the organisation said both parties also fired artillery from residential areas without taking "feasible precautions" to protect civilians and endangering them by inviting return fire.
All sides appeared to have also used cluster munitions, it said, which have indiscriminate, wide-ranging effects. Russia and Ukraine are not party to the 2008 Convention on Cluster Munitions banning such weapons.
Human Rights Watch said that as well as the violence, Luhansk and Donetsk had seen a "complete collapse of law and order" under rebel control, with separatists attacking, beating and threatening suspected political enemies including journalists, local officials and activists.
There are several alleged instances of summary executions as well as unlawful imprisonment, kidnapping for ransom, torture and forced labour.
Ukrainian security services and pro-Kiev volunteer battalions have also been accused of ill-treating prisoners, illegal detainment, forced disappearances and torture.
"Civilians in Ukraine have borne the brunt of this conflict, with thousands of casualties and hundreds of thousands displaced in a matter of months," said Yulia Gorbunova, Europe and Central Asia researcher at Human Rights Watch. "All sides of the conflict should be doing their utmost to protect civilians.
"All sides of the conflict have committed grave violations of human rights."
Additional reporting by agencies
Register for free to continue reading
Registration is a free and easy way to support our truly independent journalism
By registering, you will also enjoy limited access to Premium articles, exclusive newsletters, commenting, and virtual events with our leading journalists
Already have an account? sign in
Join our new commenting forum
Join thought-provoking conversations, follow other Independent readers and see their replies