Austria burqa ban: Government warns Muslim women to show faces in public or be fined
Breach of new integration law will be punished with €150 fine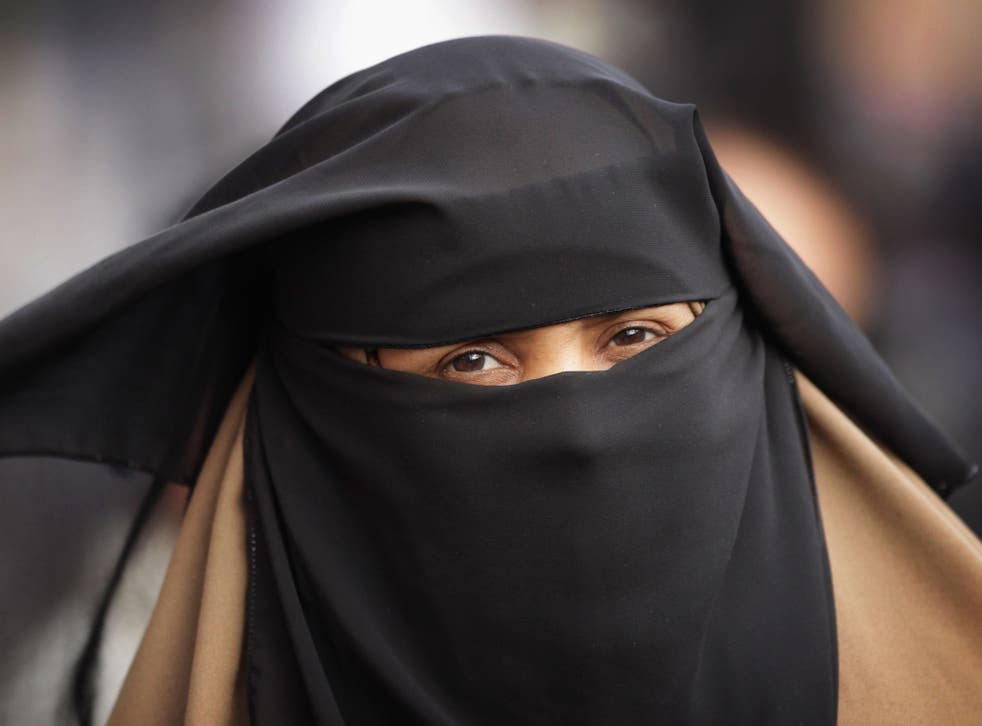 The Austrian government has issued posters and leaflets threatening Muslim women with fines for wearing face veils ahead of the introduction of a controversial ban.
The authorities launched the publicity drive to raise awareness of the legislation outlawing niqabs and burqas, which will come into force on 1 October.
Under the new "integration" policy, anyone wearing clothes that obscure their face in public can be fined €150 (£132) and must remove the offending garment "on the spot" if ordered by police. Those who refuse can be taken to a police station.
Austria's parliament approved the ban in May despite protests from Muslim groups and opposition from lawyers and the country's own president. The Anti-Face-Veiling Act will prohibit face coverings in all public places and buildings, including courts, schools, and transport.
Police will issue on-the-spot fines to residents and visitors to the country whose faces are "hidden or concealed by clothes or other objects in such a way that they are no longer recognisable", authorities warned. "Please be aware that in any case you must uncover your face on the spot when asked to," said flyers distributed by the Austrian interior ministry.
"If ultimately you continue engaging in the offence by refusing to uncover the face, attempt to repeat it in spite of being admonished, or your identity is impossible to determine, you might have to accompany the police agent to the police station."
The ban will technically apply to all face-concealing headwear, including surgical masks, fancy dress and balaclavas worn in certain circumstances. But the intention of the legislation is to ban Islamic headdresses, prompting accusations of discrimination against Muslim women.
The ban is part of a raft of "integration" policies, that require migrants deemed to have a good chance of gaining asylum to attend courses on the German language, job applications and Austrian values, or have their benefits cut.
Critics have characterised the legislation as a knee-jerk reaction to stem rising support for the populist Freedom Party of Austria.
Thousands of protesters took to the streets of Vienna to demonstrate against the proposals earlier this year, with organisers declaring: "Every woman must be able to move freely in public without harassment and discrimination - no matter what she does or does not wear."
Legal body the Austrian Bar Board said the burqa ban ran counter to the country's constitutional democracy and "the fundamental rights of the freedom of conscience and the freedom of private life".
Austrian president Alexander Van der Bellen has publicly opposed the policy, telling school pupils: "It is every woman's right to always dress how she wants."
The countries with anti-women laws

Show all 5
A French businessman has pledged to pay all fines imposed on women wearing a full-face veil in Austria. Rachid Nekkaz, who already pays fines for women who wear Muslim niqabs and burqas despite bans in France and Belgium, provoked criticism from Austria's Foreign Minister Sebastian Kurz.
"I am reaching out to all women in Europe and especially to women in Austria who voluntarily wear the burqa, I will always be there and pay the fines," Mr Nekkaz was quoted as saying in a Servus TV interview aired on Thursday evening. The property investor, who has Algerian heritage, said accepting freedom of religion meant accepting the religion's visibility. He said he has already spent around €300,000 (£221,220) covering fines in France and Belgium.
Mr Kurz, who is the conservative front-runner for next month's national election with his People's Party, said: "Whoever wears niqab or burqa in Austria has to deal with the consequence."
He threatened to fine Mr Nekkaz if he followed through with his plans.
Register for free to continue reading
Registration is a free and easy way to support our truly independent journalism
By registering, you will also enjoy limited access to Premium articles, exclusive newsletters, commenting, and virtual events with our leading journalists
Already have an account? sign in
Register for free to continue reading
Registration is a free and easy way to support our truly independent journalism
By registering, you will also enjoy limited access to Premium articles, exclusive newsletters, commenting, and virtual events with our leading journalists
Already have an account? sign in
Join our new commenting forum
Join thought-provoking conversations, follow other Independent readers and see their replies