Austrian lesbian politician tells Pope Francis: 'It would be great if you spoke up in favour of same-sex marriage'
Ulrike Lunacek gave the leader of the Catholic Church a rainbow scarf
Antonia Molloy
Thursday 27 November 2014 11:55 Comments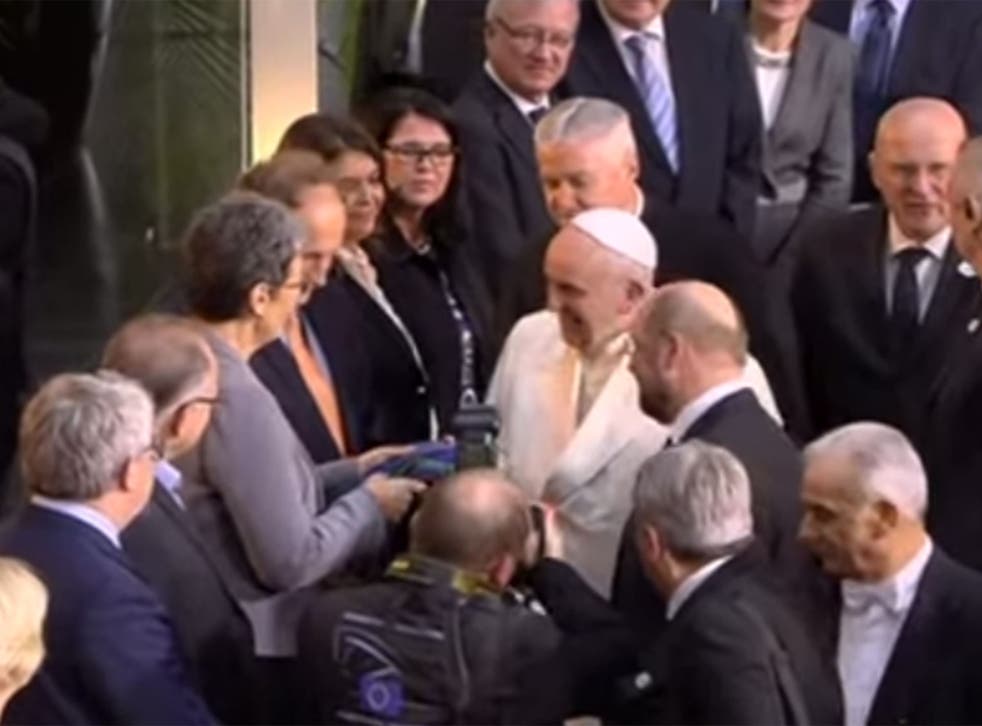 An Austrian politician has gifted Pope Francis with a rainbow scarf – and called on him to speak up for women's rights and same-sex marriage.
Ulrike Lunacek, who is head of delegation of the Austrian Greens in the European Parliament and openly lesbian, addressed the head of the Catholic Church in Strasbourg on Tuesday, after he had given a speech in front of Europe's leaders.
Lunacek, who is also co-president of the European Parliament's Intergroup on LGBT Rights, handed the symbolic garment to the Pope in front of a crowd of people.
She said: "I have to admit that I was a bit disappointed about the fact that you didn't address any of the other urgent things inside the church and outside.
"Women's issues, women's rights inside the church. Today is the International Day [for the Elimination of] Violence Against Women. I think you should have mentioned something like that."
Lunacek went on: "It would be great if you had spoken up in favour of same-sex marriage or also for the use of contraceptives, for example, especially in times of HIV and other situations.
"But I didn't hear that and that was a bit disappointing."
Seen as more progressive than his predecessors, Pope Francis has previously touched upon the subjects raised by Lunacek, but he has largely remained in line with Church tradition.
While he has said that more should be done to extend the role of women in the Church, Pope Francis has maintained that "with regards to the ordination of women, the Church has spoken and says no... That door is closed".
The Pope has also adopted a more liberal view on homosexuality than previous Church leaders – but has stopped short of approving same-sex marriage.
He has said: "If a person is gay and seeks God and has good will, who am I to judge him?" But the Pope has asserted that "matrimony is between a man and a woman".
Last month Hungarian Cardinal Peter Erdo read out an interim report at the Synod's General Congregation, which declared homosexuals had "gifts and qualities to offer" and even raised the prospect of the Catholic Church recognising the positive aspects of same-sex relationships.
However, conservative bishops distanced themselves from the statement and the Church has since said it is simply a "working document" and was not intended to be an official statement of church teaching on family life.
In pictures: 'The many popes of Pope Francis'

Show all 12
Pope Francis instead used his platform in front of EU legislators to urge Europe to do more to help migrants arriving on its shores.
He said the continent was becoming "somewhat elderly and haggard" and that the Mediterranean was in danger of tuning into a "vast cemetery" if moves were not taken to tackle the immigration crisis, which every year sees thousands of poor and desperate migrants drowning as they attempt to reach Europe.
Register for free to continue reading
Registration is a free and easy way to support our truly independent journalism
By registering, you will also enjoy limited access to Premium articles, exclusive newsletters, commenting, and virtual events with our leading journalists
Already have an account? sign in
Join our new commenting forum
Join thought-provoking conversations, follow other Independent readers and see their replies