Awaiting a verdict from afar: Retrial of Amanda Knox and Raffaele Sollecito set to reach decision over the murder of Meredith Kercher
Neither of the former lovers are expected to be in the court in Florence, but if found guilty again, another appeal is bound to follow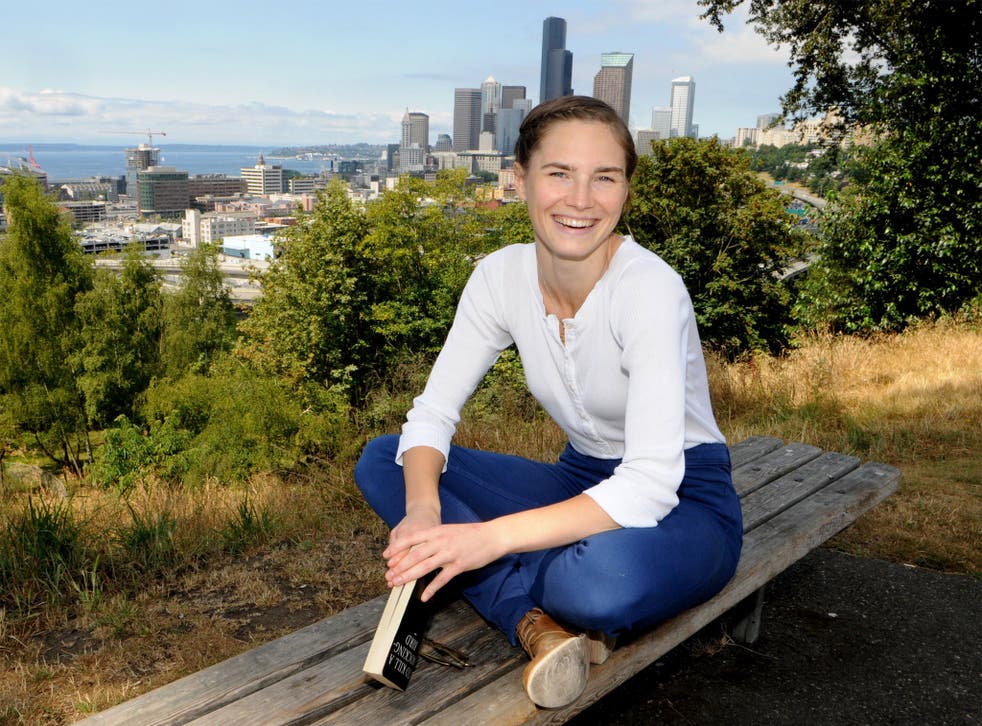 Another watershed in the endless saga of the Meredith Kercher murder case arrives when the retrial of Amanda Knox and Raffaele Sollecito reaches a verdict. Neither of the pair is expected to be in the court in Florence when the verdict is handed down. Ms Knox has remained in the US, citing her fear of wrongful conviction.
The third person convicted, Rudy Guede, is serving a 30-year sentence, reduced to 16 on appeal. His conviction was upheld by Italy's highest court, which in a separate judgement threw out Ms Knox and Mr Sollecito's acquittals in 2011 because of what it said were failures to prove their case by defence lawyers and errors on the part of independent forensic examiners. If the former lovers are found guilty, their fresh appeal could still be pending by the time Guede is out on parole.
When Meredith Kercher, a student from Coulsdon, Surrey who was taking a one-year course at Perugia's University for Foreigners, came home to the cottage near the centre of Perugia that she shared with Ms Knox and two Italian women on the evening of 1 November 2007, she was viciously attacked in her room by one or more assailants who stabbed her 40 times, inflicting mortal wounds to her neck, then fled with her two mobile phones, her credit cards, keys and €300 in cash.
Ms Knox and Mr Sollecito, who had become lovers a short time before, claimed that they spent the night between 1 and 2 November at his flat, but in the morning Ms Knox went back to her own flat to take a shower. Noticing with alarm, as she later testified, that the flat's front door was ajar, that one Italian flatmate's room was in chaos, and that there were blood traces in the bathroom and unflushed feces in the toilet, she fetched Mr Sollecito, who called the police.
That was the bloody beginning of a legal ordeal which saw Ms Knox, Mr Sollecito and Ms Knox's employer, a nightclub owner called Patrick Lumumba, accused of committing the murder together in what prosecutors told the press was a satanic rite or erotic game gone wrong.
A few days after the murder, during an all-night interrogation, Ms Knox told police that she had been in the house during the murder though did not take part in it. Soon afterwards she withdrew the statement and later claimed that it had been obtained under duress. But it was enough to put her, her boyfriend and Mr Lumumba, whom she named, in the frame for the murder.
That sensational theory was apparently exploded when abundant forensic traces at the crime scene, including DNA and bloody shoeprints, led investigators to Guede, a disturbed youth from the Ivory Coast who had fled the country after the murder and was arrested and brought back from Gemany. Mr Lumumba was later ruled out as a suspect altogether.
Prosecuted in a separate, fast-track trial, he admitted being on the scene when the murder was committed but denied killing Meredith. He gave conflicting versions of what happened on the night of the murder but when, on appeal, he testified that Ms Knox and Mr Sollecito were involved, his sentence was reduced from 30 to 16 years.
In its judgement the Supreme Court ruled that the defence at the 2011 appeal had failed to prove that Ms Knox and Mr Sollecito were not involved, nor that Guede had acted alone, and was unimpressed by the fact that there were no forensic traces of Ms Knox at the scene at all. The former good record of the pair, and the lack of motive for the attack, also failed to move Italy's highest bench. The prosecutor in the latest trial, Alessandro Crini, argued that the violence was provoked by arguments about cleanliness.
Ms Knox's American lawyer, Theodore Simon, commented: "We wait for the verdict, and we remain hopeful. But history being our guide, we know Amanda can be convicted… The logical position is that there is no evidence."
If the two are again found guilty, another appeal will follow, but efforts to extradite Ms Knox would probably begin only if her conviction were upheld by the Supreme Court.
Join our new commenting forum
Join thought-provoking conversations, follow other Independent readers and see their replies