Banksy's Dismaland moves to Calais to provide shelter for refugees
The so-called Bemusement Park will be repurposed, its creator says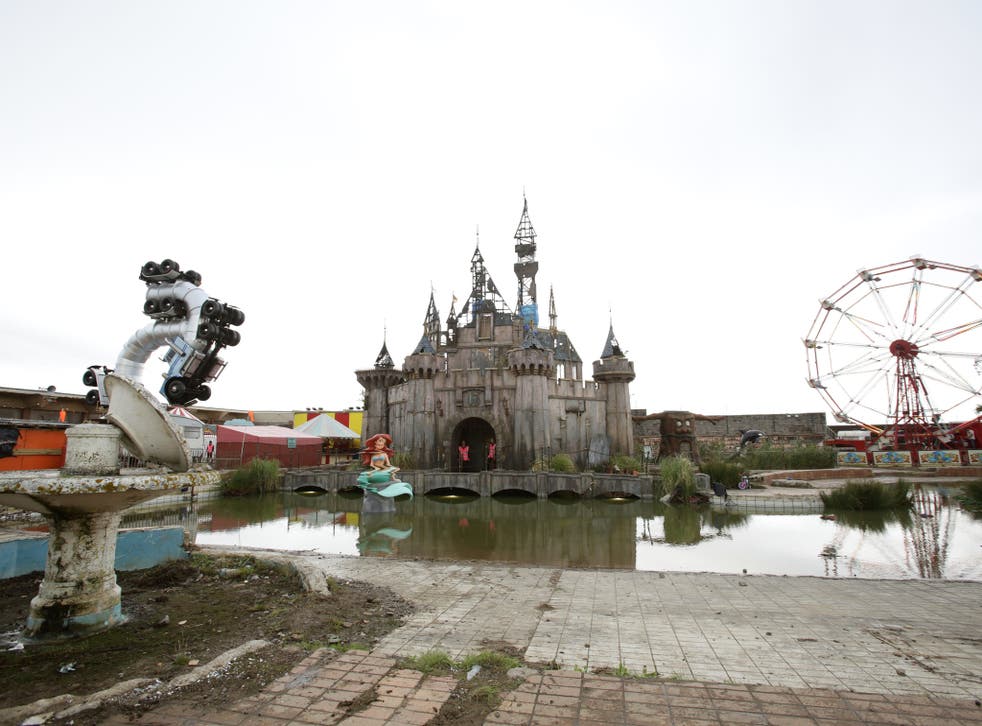 Banksy's Dismaland tourist attraction in Weston-super-Mare is to be dismantled and relocated to Calais to provide shelter for refugees, its creator has revealed.
The art installation/theme park closes its gates for the last time on Sunday, after a hugely successful - if miserable - five-week run.
Local officials estimate that the attraction brought £20 million of business to the seaside town, and art critic David Lee told the BBC: "With figures like that he could do whatever he likes wherever he chooses."
Banksy's Dismaland trailer
In a post on the Dismaland website on Sunday, an announcement read: "Coming soon… Dismaland Calais. All the timber and fixtures from Dismaland are being sent to the 'jungle' refugee camp near Calais to build shelters."
It included a picture of the Calais camp superimposed with Dismaland's fire-ravaged fairtytale Cinderella Castle, and added: "No online tickets will be available."
There are an estimated 5,000 refugees camped in and around the French port of Calais, including people displaced from Syria, Libya and Eritrea.
Refugees were a theme within the Dismaland park itself, which included ponds with motor boats filled with desperate asylum-seekers.
When Dismaland opened, Banksy described it as "a festival of art, amusements and entry-level anarchism", adding: "This is an art show for the 99 per cent who'd rather be at Alton Towers."
The Bristol-based artist later told The Sunday Times: "This is not a street art show. It's modelled on those failed Christmas parks that pop up every December - where they stick some antlers on an Alsatian dog and spray fake snow on a skip.
"It's ambitious, but it's also crap. I think there's something very poetic and British about all that."
The process to decommission Dismaland is expected to take three weeks.
Additional reporting by agencies
Join our new commenting forum
Join thought-provoking conversations, follow other Independent readers and see their replies