Battle of the Boyne: How William of Orange defeated James II to change the course of Irish history
Protestant victory over the last of the Stuarts still celebrated with Orange Order marches
Protestants participate in Orangemen's Day march
The Battle of the Boyne was fought on 1 July 1690 between the armies of the Catholic King James II of England, Scotland and Ireland and the Protestant Dutchman William of Orange.
William had deposed James, his uncle and father-in-law, from the throne in the Glorious Revolution of 1688 but James had escaped to France, then Europe's premier military superpower, who had rearmed the fallen monarch and fellow Catholic in the interests of seeing William, an enemy of Louis XIV, brought down.
Revitalised, James had begun his campaign to regain the English crown in Ireland in 1689.
William was wary of the threat still posed by James and had lost confidence in the aged Duke of Schomberg's inert stewardship of Ireland, eventually electing to take charge of matters himself.
He arrived in Carrickfergus on 14 June 1690 with 1,000 horses and the support of the Grand Alliance of Dutch, Danish, German and French Protestants, his 36,000-strong army the largest invading force the country had ever seen.
With James seeking to capture Dublin, the opposing forces met near Drogheda at a key strategic ford on the River Boyne in County Meath, some 30 miles north of the Irish capital.
Remembering The Troubles in pictures

Show all 15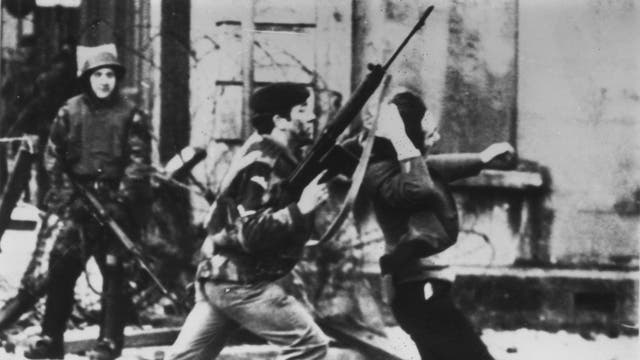 The Jacobite Irish Catholics who fought under Richard Talbot at James's side did so seeking Irish sovereignty, greater tolerance to practice their religion, and an opportunity to reclaim the land and freedoms lost to them under Oliver Cromwell.
The Williamites feared the consequences of a Catholic resurgence and took up arms to protect the new status quo. Interestingly, their cause even had the backing of the Pope, who was opposed to King Louis's imperialistic warmongering.
The ensuing battle itself was less bloody than other skirmishes of its type, with only 2,250 soldiers killed out of the 60,000 who fought that day in a clash lasting approximately four hours.
William was wounded in the shoulder by musket fire early on while surveying the field, but he fought on, crossing the river and forcing the Jacobite retreat.
With the day won, William marched on to Dublin where he would sign the 1691 Treaty of Limerick as James was forced to abandon his ambitions for good, returning to France in exile, never to set foot in the British Isles again.
William's victory hailed the Protestant Ascendancy, an age still honoured by Orange Order marches in Northern Ireland on 12 July (the anniversary of the Boyne under the Gregorian calendar). These commemorative processions have been held since 1791 and often been blighted by violence, although the peace has largely prevailed since the turn of the 21st century.
The date of the Battle of the Boyne can never be forgotten as, oddly, it remains an immovable fixture in the calendar of Apple iPhones.
Support free-thinking journalism and attend Independent events
Join our new commenting forum
Join thought-provoking conversations, follow other Independent readers and see their replies