Belgian Prime Minister covered with chips and mayonnaise in press conference ambush
Protesters said they chose 'frites sauce' as a symbol of Belgium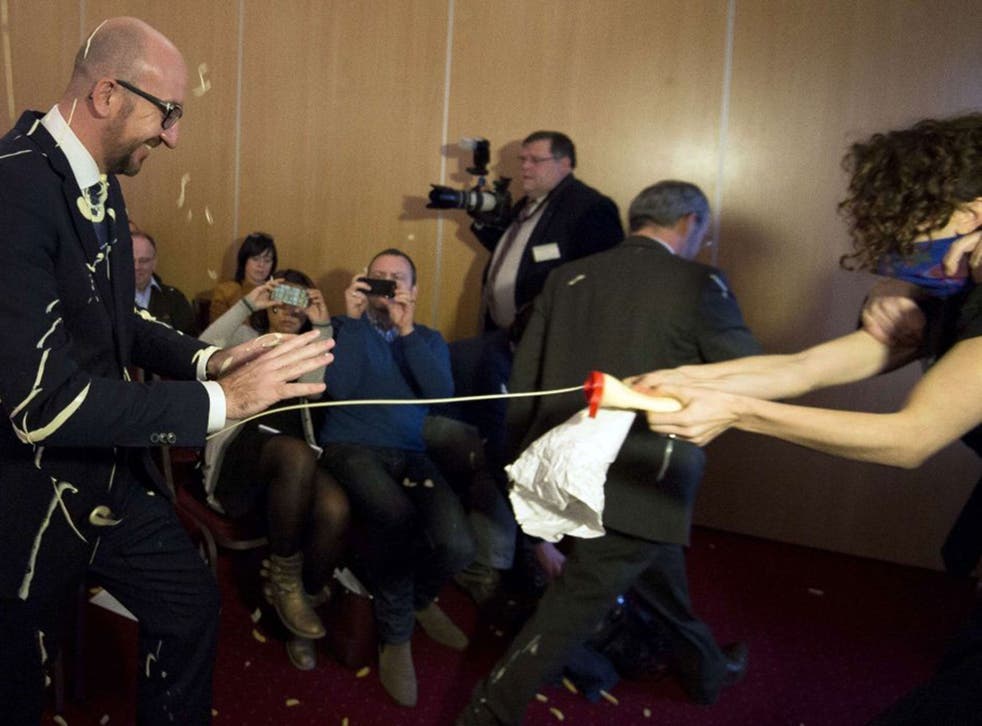 The Belgian Prime Minister has been covered in chips and mayonnaise by former Femen protesters angry at government austerity.
Charles Michel was showered with soggy fries and squirted with sauce as he spoke at a conference in the city of Namur on Monday.
Startled security guards struggled with the three female protesters, chasing them around the room before escorting them out of the Cercle de Wallonie, Le Soir reported.
Mr Michel took the stunt in surprising good humour, appearing to laugh in pictures and later resuming his speech to business leaders - without his mayonnaise-covered tie and jacket.
The demonstration was organised by "revolutionary feminist" group LilthS, the rebranded Belgian branch of Femen, who said they were making a stand against budget cuts and the "criminalisation of the poor".
"The Belgian people can't be left with 'chips and sauce' austerity," said a statement on the group's Facebook page. "That is why we threw a symbol of the Belgium they are dismantling in their face.
"Belgium was better without a government. Michel out!"
Calling for more protests, it added: " We are many. We will appear in public spaces in your spheres of power whenever it is needed."
Mr Michel, who at 39 is the youngest Belgian Prime Minister in history, is understood not to have made a complaint to the police.
The former leader of the liberal Reformist Movement party, he assumed his office in October to head Belgium's new centre-right coalition government.
In Britain, the foodstuff of political protest is usually an egg. David Cameron, Ed Miliband, Nigel Farage and John Prescott are among the politicians to be egged by angry members of the public.
Join our new commenting forum
Join thought-provoking conversations, follow other Independent readers and see their replies