Belgium bus crash: One person killed on bus carrying 34 British children that crashed on Belgian motorway
One driver has been killed and the other seriously injured, while one child is reportedly in intensive care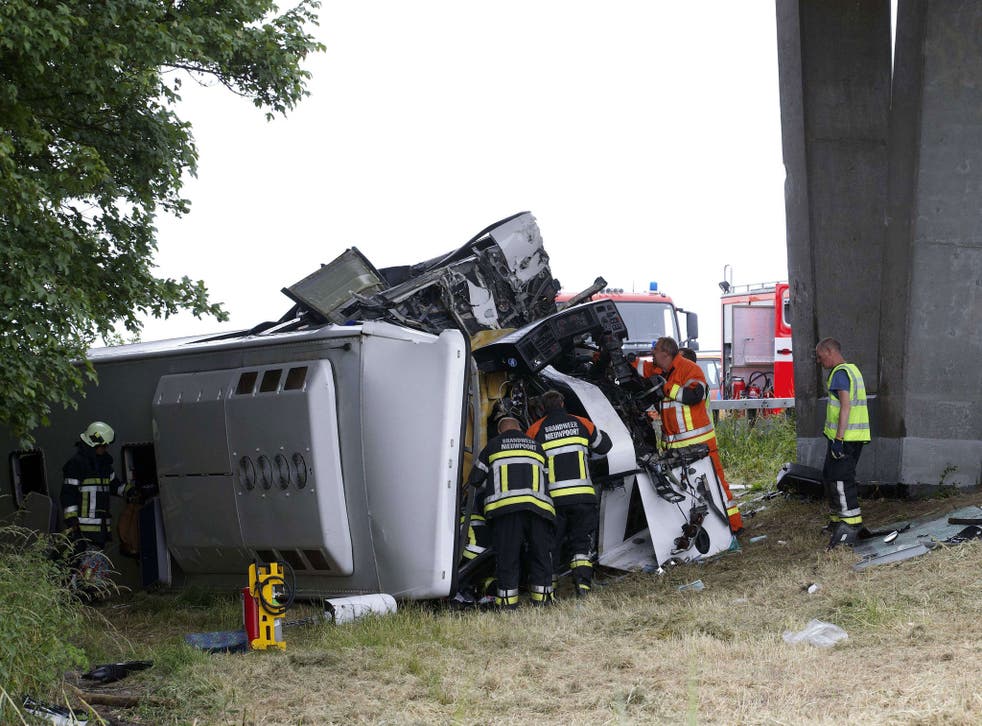 A bus carrying 34 British children has overturned and crashed on a motorway in Belgium leaving one adult dead and a child in intensive care.
Six adults and two drivers were with the children on the bus, which was seen lying on its side under a bridge.
The coach driver was killed and his assistant seriously injured after the coach carrying pupils, aged between 11 and 13, and staff from Brentwood School in Essex crashed.
The school said in a statement that one child is in intensive care after suffering a head injury.
The bus crashed on the E40 motorway near Middelkerke, close to West Flanders on Sunday morning, after the driver lost control of the vehicle, which then struck a pillar of a bridge before shooting off the road.
Local reports suggested several people were still inside the vehicle as emergency services reached the crash site.
"One driver has been killed, the other is seriously injured in the accident. Some of the children with light injuries have been taken to local medical centre," Janna Rommel-Opstaele, the mayor of the nearby coastal town of Middelkerke, told Reuters earlier today, but it later emerged one child had been seriously injured.
Both drivers are believed to be from Northern Ireland.
Oli Adams, a spokesman for Brentwood school, said all the children had walked off the bus and appeared to have suffered only minor injuries.
However it then became clear that one pupil, who is in first or second year, had been seriously hurt.
"It seems as though they [the pupil] had a bleed on the brain and they are in intensive care being observed 24 hours," Mr Adams said.
"Several other pupils were taken to hospital with other superficial injuries. One teacher had a broken arm and one a broken collar bone."
There were conflicting reports about who had been killed. But Mr Adams said the school's understanding was that the driver had been killed and his assistant had been seriously injured.
The school briefed parents at 12pm on Sunday. Some parents were already on their way to Belgium on the same afternoon, including the parents of the seriously injured child.
"According to the headmaster, the parents have been fantastic and very supportive, although they are obviously clearly very worried," Mr Adams said. "Our thoughts are with them all."
The children were on their way to Cologne for a trip to learn about German language and culture.
The school has sent several staff, including a modern language teacher, to Belgium to help co-ordinate with the local authorities and assist parents there.
A spokesperson for British bus company Richmond Coaches said: "I can confirm it is one of our vehicles. We are working with all the authorities and our thoughts are with anybody who was involved," he added.
A spokeswoman for the Foreign and Commonwealth Office said: "We are aware of reports of a bus crash in Belgium involving British nationals. We are working with the Belgian authorities to establish details of the incident."
Register for free to continue reading
Registration is a free and easy way to support our truly independent journalism
By registering, you will also enjoy limited access to Premium articles, exclusive newsletters, commenting, and virtual events with our leading journalists
Already have an account? sign in