Berlin attack: Polish lorry driver was hijacked and murdered, boss claims
Boss says there is no chance his driver, who was his cousin, would have willingly been involved in the attack which killed at least 12 people
Caroline Mortimer
Tuesday 20 December 2016 11:09 Comments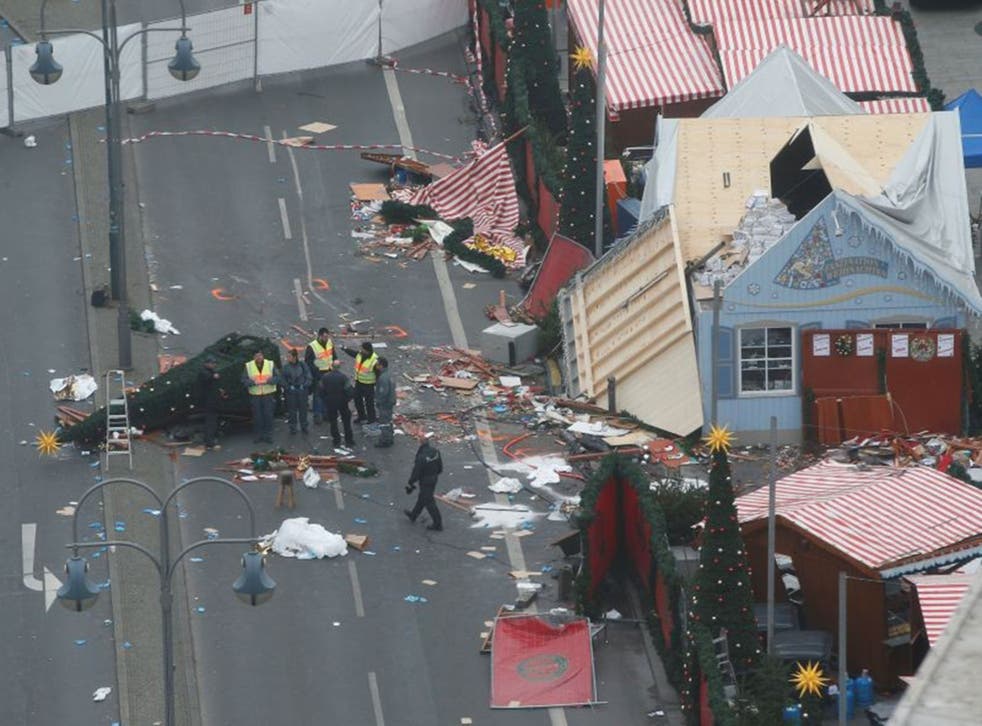 The driver of a lorry which ploughed into the crowd at a Berlin Christmas market was stabbed and shot to death in its cabin becoming the first victim of the attack, the owner of his Polish trucking company has claimed.
Ariel Zurawski said German authorities asked him to identify the victim, Lukasz Urban, 37, from photos.
"His face was swollen and bloodied. It was really clear that he was fighting for his life," Mr Zurawski told the broadcaster TVN.
Lukasz Wasik, the company's manager described Mr Urban as a "good, quiet and honest person" devoted to his work.
I believe he would not give up the vehicle and would defend it to the end if were attacked," Mr Wasik said in comments carried by Poland's state broadcaster. TVP.
The truck crashed into people gathered around wooden huts serving mulled wine and sausages outside the ruins of the Kaiser Wilhelm memorial church in West Berlin, killing at least 12 people and injuring 48 others.
Mr Zurawski said his wife had been trying to contact him hours before the attack took place on Monday evening but no one had been able to reach him since midday.
He added there was no way his cousin would have been a willing participant in the attack.
"This is my cousin. I've known him since I was born," He told Polish TV channel TVN24. "My scenario is that they did something to the driver – they hijacked this vehicle because it was practically in the centre of Berlin and they had a good vehicle with which they could do what they did."
He said the lorry had been travelling from Italy to Berlin laden with heavy steel.
German police said they are treating the act as a deliberate terror attack and have arrested a 23-year-old Pakistani asylum seeker called Naved B. However, police sources told local media that they were uncertain if he was linked to the atrocity.
The attack has been likened to a similar lorry attack on a Bastille Day crowd in Nice in July.
The suspect reportedly ripped off his mask after he was arrested by German police and is now in police custody under armed guard.
Berlin Christmas market lorry attack

Show all 18
Berlin's public radio station RBB-Inforadio cited security sources saying the man entered Germany on 31 December 2015.
News agency dpa, also citing unnamed security sources, said he came to Germany as a refugee in February 2016. Berlin's Tagesspiegel newspaper reported that the man was known to police for minor crimes.
Police urged people to stay in their homes on Twitter and encouraged them to use the Facebook safety check feature to tell loved ones they are safe.
One eyewitness described "blood and bodies everywhere" after the truck ripped through the crowd.
Australian student Trisha O'Neil said "All of a sudden there was a big boom and the people in front me jumped on top of me.
"All the lights went out and everything was destroyed.
"I could hear screaming and then we all froze. Then suddenly people started to move and lift all the wreckage off people, trying to help whoever was there."
Additional reporting by AP
Register for free to continue reading
Registration is a free and easy way to support our truly independent journalism
By registering, you will also enjoy limited access to Premium articles, exclusive newsletters, commenting, and virtual events with our leading journalists
Already have an account? sign in
Join our new commenting forum
Join thought-provoking conversations, follow other Independent readers and see their replies