Boris Nemtsov shot dead: Outspoken Putin critic who had expressed fears for his life is killed near the Kremlin
He was shot by four times near the Kremlin while walking with a woman, news websites claimed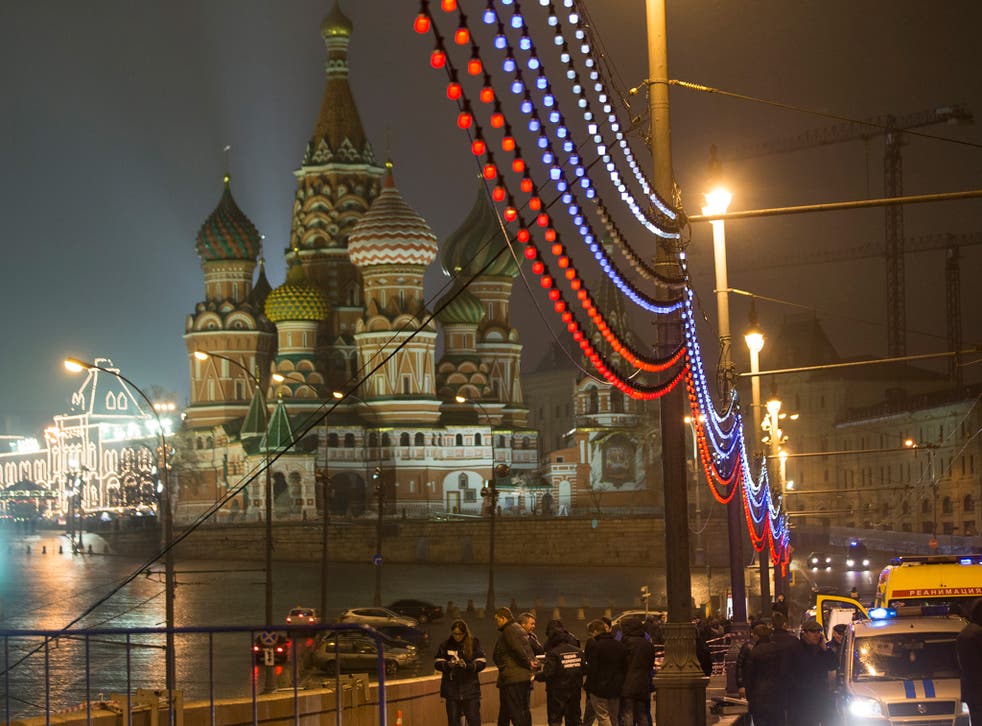 Boris Nemtsov, one of Vladimir Putin's most vocal critics, has been shot dead on a street in Moscow, according to Russian media.
He was shot four times near the Kremlin while walking with a woman, news websites claimed, after several people got out of a car and confronted him.
Nemtsov was, briefly, the Russian deputy Prime Minister under Boris Yeltsin, but recently has been a strong critic of Putin.
Among the criticisms he has made recently are about how Putin is running the economy. Nemtsov, a liberal politician, took the view the economy was on the decline because of the Russian president rather than because of an American conspiracy.

Speaking a few days ago in the town of Yaroslavl, north east of Moscow, he surprised residents by blaming Putin for rising inflation and stagnant wages. "They believed that the embargo on imported foods is America's fault, and they were surprised when I told them no, that was not Obama, it was Putin," he says. "This is what we need to make people aware of: the crisis, that's Putin."
His criticisms made him a hate figure among Putin loyalists. At a recent pro-Putin rally there were posters vilifying him.
In 2011 he was jailed for 15 days after taking part in a demonstration against Putin's government.
Tensions between Russia and the Western world

Show all 8
Ilya Yashin, a colleague in the RPR-Parnassus party, was quoted by the lenta.ru news website as confirming the murder of Nemtsov: "Unfortunately I can see the corpse of Boris Nemtsov in front of me now. At the Bolshoy Zamoskvoretsky Bridge. I see the body and lots of police around it."
Nemtsov was co-chairman of RPR-Parnassus, winning a seat in the Russian Parliament in 2013, and also founded the liberal social movement Solidarity.
While governor of Nizhny Novgorod, Russia's fourth biggest city and formerly known as Gorky, he earned a reputation as an economic reformer. He was appointed governor as a reward for supporting Yeltsin during the unsuccessful 1991 coup by communist hardliners.
Nemtsov was by career a scientist but moved into politics when he successfully opposed the construction of a new nuclear plant soon after the Chenobyl disaster.
The Kremlin said last night that President Putin will personally oversee the investigation into the murder.
Putin condemned the killing and, through his spokesman Dmitry Peskov, suggested the shooting could be a "provocation", coming just a day before the planned anti-government Spring March protest that Nemtsov helped organise.
Peskov said: "Putin noted that this cruel killing has all the signs of a hit, and is a pure provocation."
Just a few days ago, however, Nemtsov had given an interview in which he expressed fears that Putin would have him killed for accusing him of fomenting the pro-Russian rebellions in Ukraine.
Speaking to Russia's Sobesednik news website he said: "I'm afraid Putin will kill me. I believe that he was the one who unleashed the war in the Ukraine. I couldn't dislike him more."
Nemtsov was, according to colleague and activist Ilya Yashin, preparing a catalogue of evidence he believed proved Russia's direct involvement in the separatist rebellion.
Yashin, speaking to Ekho Moskvu radio, said he was convinced the murder was politically motivated: "Boris Nemtsov was a stark opposition leader who criticized the most important state officials in our country, including President Vladimir Putin. As we have seen, such criticism in Russia is dangerous for one's life."
Nemtsov has been a vocal critic of the Putin government for more than a decade and has helped organise protests and to expose official corruption.
His last tweet said: "If you support stopping Russia's war with Ukraine, if you support stopping Putin's aggression, come to the Spring March in Maryino on 1 March."
Interior Ministry spokeswoman Yelena Alexeyeva said Mr Nemtsov was walking with a female acquaintance, a Ukrainian citizen, when a vehicle drove up and one or more of the occupants opened fire. The woman was unhurt.
Join our new commenting forum
Join thought-provoking conversations, follow other Independent readers and see their replies