Bosnia is back on the brink of ethnic conflict, warns Hague
Shadow Foreign Secretary fears 'Europe's black hole' is slowly falling apart again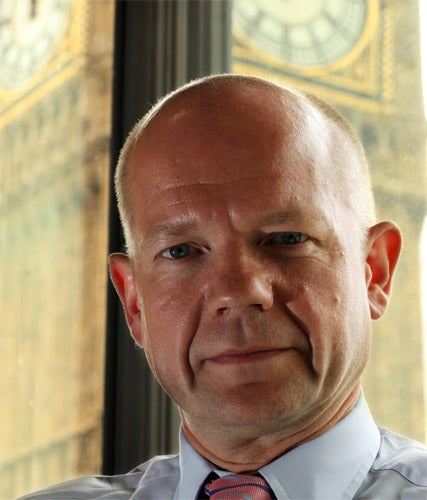 Bosnia is on the brink of collapsing back into chaos and violence as its ethnic tensions escalate, the shadow Foreign Secretary William Hague warned yesterday.
Fourteen years after the end of the war that tore apart the former Yugoslav republic, Mr Hague called for urgent action to prevent a new crisis gripping the Balkans. He warned that the situation risked turning Bosnia-Herzegovina into "Europe's black hole".
David Cameron's unofficial deputy said that he was determined to cast a fresh spotlight on Bosnia, which is governed by a complex federation of Muslims, Serbs and Croats. He stressed that he was not forecasting a return to all-out war but said that violence was "not far below the surface" as the situation became "grimmer".
In an interview with The Independent, he said he had been alarmed after a two-day visit last month to Srebrenica, where 8,000 Bosnian Muslims were massacred in 1995. Meetings with community leaders had demonstrated to him that the country was being "pulled apart".
He said: "You would think you were going to a place where the people have moved on and communities have got together 14 years later. But actually the atmosphere is grim and it is very difficult for the refugees who lost all their menfolk to move back there – it's a rather unwelcoming atmosphere. Politically, around them, their country is sliding backwards and further apart."
Mr Hague, who also had extensive meetings with political leaders in a visit to Bosnia last autumn, said he feared the tensions could deteriorate into something worse. He said: "In some form [Bosnia] could break down – this is a country being slowly pulled apart."
He was alarmed that Bosnia's Serbian leadership was pressing for greater autonomy and eventual secession from the fledgling state, with Russian cash fuelling the renewed nationalism. It was also pressing for the closure of the Office of the High Representative in Bosnia, which oversees the peace agreement between its ethnic groupings.
Mr Hague attacked the "weak and confused" EU response to the "pressure to fragment the country" and said: "It is moving slowly in the wrong direction and – despite all the efforts and all the bloodshed and all the sacrifices there – it's moving in the wrong direction without alarm bells sounding in most European capitals."
He added: "The evidence is they [only] get together in Bosnia when there is some strong outside pressure on them." The shadow Foreign Secretary denounced suggestions that EU peacekeepers could be pulled out of Bosnia, insisting: "There should be no talk of withdrawing European forces. A strong signal should be sent that Europe will not ignore this situation."
And the prospect of a crisis in Bosnia hampered efforts to expand EU membership to Croatia, Serbia and Turkey. "If that doesn't work, there will be a hole in the heart of Europe of discontent, of people trafficking," he said. "People think the Balkans are what we debated in the 1990s and now we can forget about it. In fact, it's a crucial area in foreign policy in the next five to 10 years and will get a lot of emphasis in the next Conservative administration."
In a wide-ranging interview, Mr Hague set out his foreign policy priorities if the Tories win the election expected in May. He said his first action as Foreign Secretary would be to order a fresh approach to Afghanistan.
A new National Security Council – a Cabinet committee chaired by the Prime Minister – would become the "real centre of decision-making" on the war. It would press Nato partners for an "acceleration of the building up of the Afghan army and police" but he made it clear that a Tory government would be likely to deploy more troops if army chiefs thought it necessary.
Mr Hague conceded that the public was losing confidence in the war – as demonstrated by an opinion poll in The Independent this month – and promised to tackle that disillusionment by making the case for military action. MPs would also be given regular updates on its progress.
He accused the Government of being "complacent and slow" in examining accusations that Britain had turned a blind eye to the torture of terror suspects abroad. He promised a "more thorough investigation" of the allegations. Its form would be announced in the run-up to the election.
Mr Hague also said an incoming government "reserved the right" to change the terms of reference of the Iraq inquiry and order more of its sessions to be held in public.
He was unrepentant over the Tories' membership of the anti-federalist European Conservatives and Reformists Group in the European Parliament: "I would be very surprised if other parties did not join it."
Join our commenting forum
Join thought-provoking conversations, follow other Independent readers and see their replies