Germany's EU Commissioner 'wouldn't bet' on Brexit happening
'It is possible that public opinion will tip if the economic situation in the wake of the Brexit vote worsens,' says Günther Oettinger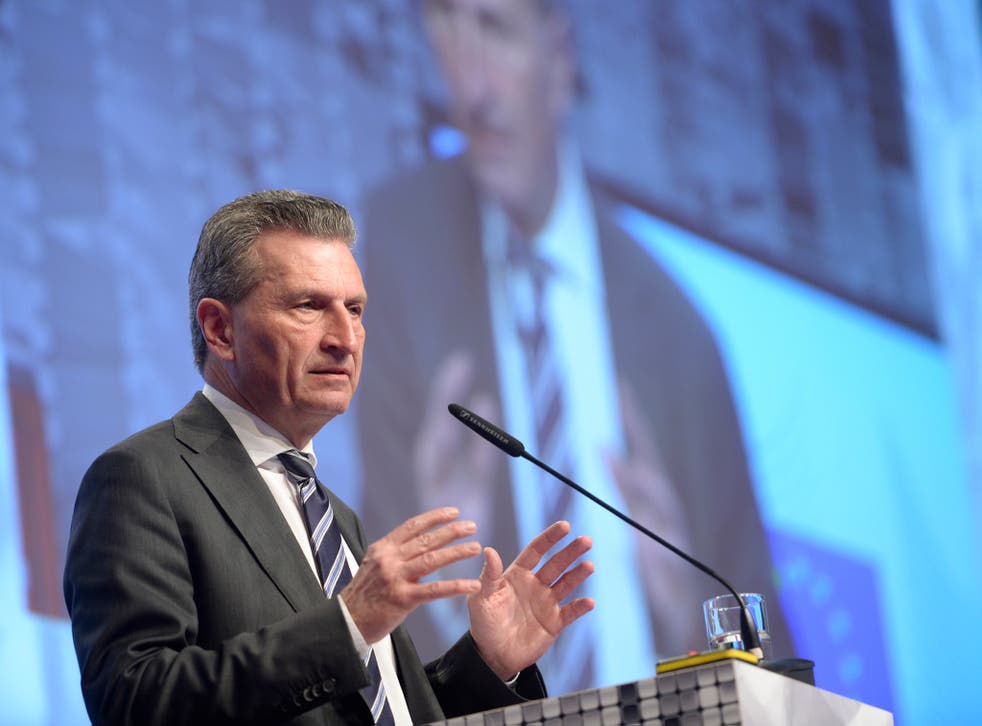 Germany's EU Commissioner has expressed doubts over whether the UK will actually leave the European Union, saying he would not "place any major bets on Brexit".
Günther Oettinger told German newspaper Bild, that the longer the British government waits to invoke Article 50 – the legal process of leaving the union – "the more insecure the situation will become".
Mr Oettinger accepted the Brexit referendum vote was "binding" but said: "It is possible that public opinion will tip if the economic situation in the wake of the Brexit vote worsens.
"In any case, I wouldn't place any major bets on Brexit."
When Article 50 is triggered, Britain will enter a two-year countdown to leaving the EU.
According to legal advice reportedly given to Theresa May, she is not legally be required to put the triggering of Article 50 to a vote in the Commons, but can do so herself using the powers of the Royal prerogative.
However this idea is currently being challenged in the courts by people who insist MPs must take the decision as the referendum vote was not actually legally binding.
And Professor Michael Dougan, a leading EU law professor, told the BBC it could take a lot longer than two years to leave the EU.
European leaders hold post-Brexit crisis talks
He said: "The overwhelming consensus is that these things do not take two years to negotiate, the rough guide that we are all talking about in the field is around 10 years.
"The treaty said that you have two years within which to make your divorce settlement.
"But the divorce settlement is completely separate from the framework agreement for your future relations with the EU."
Join our new commenting forum
Join thought-provoking conversations, follow other Independent readers and see their replies