Angela Merkel says Britain under 'illusion' it can keep EU benefits after Brexit
German Chancellor says UK 'cannot and will not' have same rights as EU members
Lizzie Dearden
Thursday 27 April 2017 12:29 Comments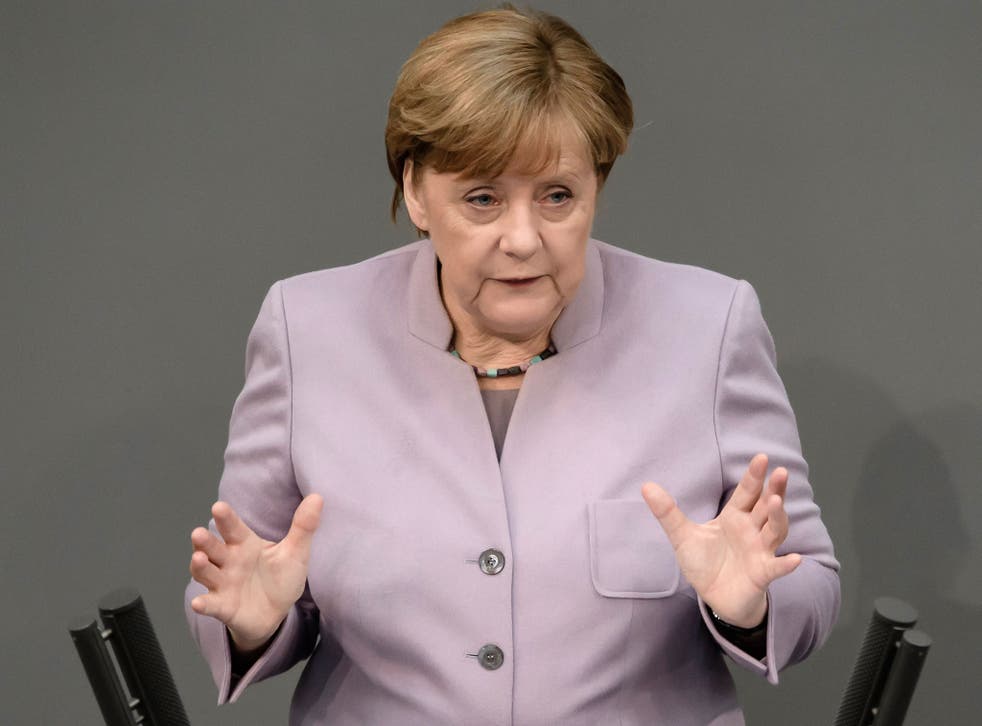 Angela Merkel has warned British politicians to rid themselves of "illusions" over the UK's status after Brexit, as she takes a hard line ahead of negotiations.
The German Chancellor told cheering Bundestag members Britain would become a "third-party state" after its departure and could not expect to enjoy the same rights as remaining nations.
"A third-party state, and that's what Britain will be, cannot and will not have at its disposal the same rights, or be in a better position than members of the European Union," Ms Merkel said, to loud applause.
"I have to say this clearly here because I get the feeling that some people in Britain continue to work under illusions, and that is a waste of time."
Future trade deals, the possibility of tariffs and questions over visas and free movements are among the key issues for both sides of the negotiating table.
Speaking ahead of a Brexit summit to be held over the weekend, Ms Merkel said that discussions of the UK's financial obligations to the EU must be addressed early.
Merkel derails May's plan for Brexit by rejecting parallel trade talks
As well as the huge cost of incorporating Brussels laws, Britain must also may a "divorce bill" expected to cost between €20bn and €60bn.
Saying negotiations would only properly start after June's unexpected general election, Ms Merkel said the 27 remaining EU members agreed that the financial settlement must be set as a priority.
"Without progress on the many open questions of the exit, including the financial questions, it makes no sense to have parallel negotiations over the future relationship," she added.
"We need to know how Britain sees its future relations with us."
Theresa May has called for talks on a future trade deal with the EU to take place at the same time as divorce negotiations on Brexit, but her plans have been dashed by European leaders.
The European Parliament has also poured cold water on the Government's claims the UK can remain in the single market and customs union.
In the letter that officially triggered Article 50, the Prime Minister said the UK wants to agree a "deep and special partnership" with remaining members of the EU to ensure economic and security cooperation.
In pictures: European parliament Brexit discussions

Show all 12
Ms Merkel is battling for a fourth term in Germany's federal elections in September, where she faces competition from nationalists and the left wing.
She has vowed to protect the interests of EU citizens living in Britain, including 100,000 Germans, but also to make "a fair offer" to British citizens in Germany.
Ms Merkel said that although negotiations would take an immense effort over the next two years, the EU was ready for the challenge.
"In terms of substance and organisation, we are very well prepared," she said.
The German Chancellor added that EU member states need to define their own "interests and goals" and will emerge from the Brussels summit with a "strong signal of unity."
Her speech came as discussions continued over draft guidelines for their Brexit negotiators, which are to be approved at Saturday's summit.
"We are ready," said chief EU negotiator Michel Barnier as he entered a meeting in Luxembourg on Thursday.
Additional reporting by agencies
Register for free to continue reading
Registration is a free and easy way to support our truly independent journalism
By registering, you will also enjoy limited access to Premium articles, exclusive newsletters, commenting, and virtual events with our leading journalists
Already have an account? sign in
Join our new commenting forum
Join thought-provoking conversations, follow other Independent readers and see their replies