Emmanuel Macron says 'integrity and unity of the EU will never be compromised'
French President-elect pledges to heal divisions and repair social and economic damage in France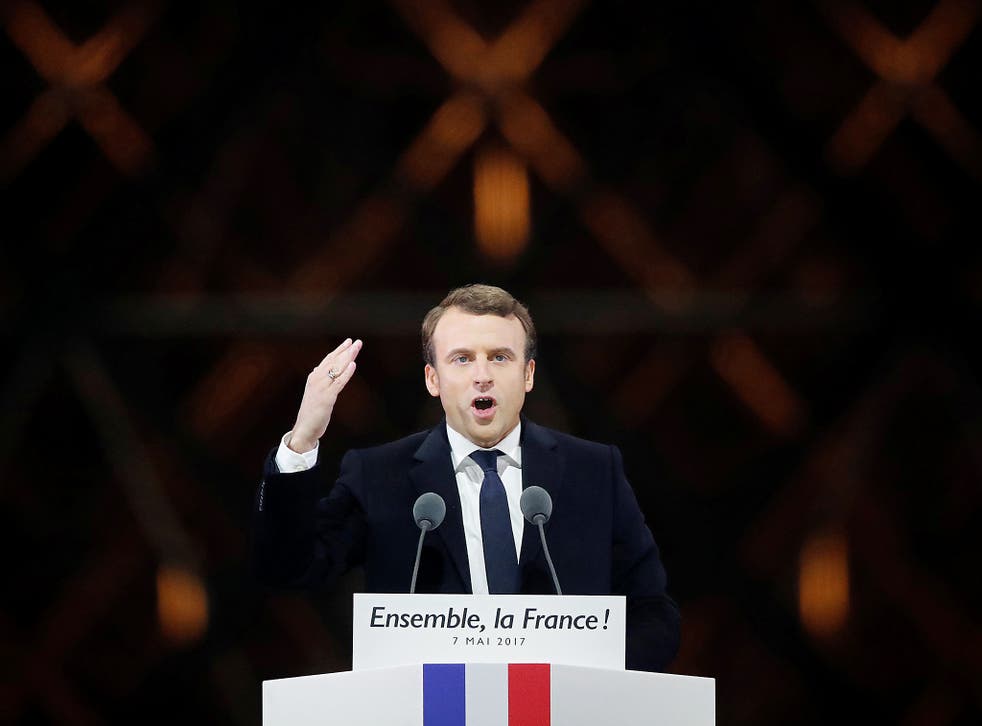 Emmanuel Macron began his first day as leader-in-waiting of France with pledges to heal divisions and repair the social and economic damage in his country.
And, in a move both significant and symbolic, he robustly stressed that the integrity and unity of the European Union will never be compromised on his watch.
The man who at 39 would be the youngest President in the history of the Republic made his first public appearance since his victory to commemorate Armistice Day in a ceremony at Arc de Triomphe, alongside the departing Francois Hollande.
But it was Mr Macron's appearance in front of ecstatic supporters twelve hours earlier in The Louvre with the European Union anthem, Beethoven's Ode to Joy playing instead of the La Marseilles, which would have been watched with interest by international allies and adversaries.
It is the UK which would be the country immediately affected by Mr Macron's stance on the European Union, and his associates and advisors lost no time in describing, publicly and privately, the tough line he wanted to be taken with Theresa May in the coming Brexit talks.
The message imparted was that Mr Macron will broadly stick to the spirit of what he had already stated about the negotiations - and it is not a line which will be a comfortable one for the British government, with his description of the referendum result as a "crime" for which Britain should face "total exit".
Presidential language is going to be moderated on the matter, but Mr Macron is said to hold that there will be no weakening of the position that there would be no access to the single market unless the UK respected the four freedoms, including free movement of labour.
He also argues there will be no financial passporting rights for the City of London unless there is financial contribution to the European Union and that the UK must remain subject to the European Court of Justice for any transition period after leaving the bloc.
Mr Macron's associates made the now standard Brussels assurance that there was no intention to "punish the UK", but it was also made very clear that it was the policy taken by London which would determine whether or not there was a "hard Brexit" for Britain.
Jean Pisani-Ferry, an economist and public policy specialist who is expected to be a senior member of the new administration, wanted to point out that Mr Macron firmly believes that "Europe is part of the solution to the problems we are facing.
"He is a very committed pro-European and he is not the kind of man who would implicitly agree with the dismantling of the EU.
"He is very keen on building more integration: he's very keen on strengthening the Eurozone."
Professor Pisani-Ferry, who is expected to be the French emissary to Brussels acknowledged that there was "a mutual interest in keeping prosperity", but also pointed out "we have divergent interest on some aspect of the negotiations, so there will be a tough negotiations, and yes, he [Mr Macron] will be tough".
A senior French official who is close to the new President commented: "Look, one of the reasons Emmanuel Macron won this election is because he has talked straight in the campaign and did not make random promises like Le Pen.
"He wants to stick to what he has said, be it on the economy, social issues, the EU, or bilateral negotiations with Britain."
The last topic brings in Mr Macron's insistence that the Le Touquet agreement which puts the UK's border and, with it, refugees, at Calais needs to be reviewed.
Mr Macron's associates were keen to point out that France's international vista stretched some way beyond Brexit. Congratulatory messages have come pouring came in from across the world.
The victory was greeted, as to be expected, by most Western European leaders and European Union officials with relief and relish. But there were also best wishes and words of reconciliation from Donald Trump and Vladimir Putin, who had both backed Ms Le Pen.
Mr Trump took to his tweet to say "Congratulations to Emmanuel Macron on his big win today as the next President of France. I look very much forward to working with him!" Russia had supported the Front National with money and, it is alleged, state backed hacking of the Macron campaign. President Putin, after congratulating Mr Macron, urged him to " overcome mutual distrust" and work together to tackle global problems.
There were also fulsome tributes from, among others, the leaders of China and India, Canada, Japan and Australia.
Britain's Brexiters, on the other hand, showed their grasp of geopolitics with screeching attacks on France and Mr Macron.
Leave.EU, the group set up by Nigel Farage for last year's referendum, tweeted that French People had " rolled over" as they had done in the Second World War only this time saving Germany "the bullets and the fuel". Mr Farage added his tweet: "a giant deceit has been voted for today. Macron will be [Jean-Claude] Juncker's puppet."
Mr Farage was convinced that Ms Le Pen was going to win and had said that she was "looking pretty fit" after having "lost weight". Simon Richards, of the "Freedom Association" also looked at the feminine angle, focusing on the age difference between Mr Macron and his wife: "he evidently likes older women, so he'll make an excellent lapdog for Angela Merkel".
Downing Street issued a statement " warmly congratulating" the President-elect, adding " France is one of our closest allies and we look forward to working with the new president on a wide range of shared priorities." Mr Macron and his team will remember that when he was being congratulated by Angela Merkel and other European leaders, after winning the first round against Ms Le Pen, No 10 insisted that it was remaining neutral between the two candidates.
Theresa May maintained that the Le Touquet agreement benefited France as well as Britain and that she will sit down with Mr Macron in the future to discuss the issue. Meanwhile, she asked the British electorate to give her as large a mandate in the UK general election as Mr Macron has received in France.
French Presidential Election

Show all 20
It is also domestic politics which will be of immediate concern to Mr Macron. His En Marche! movement is not a political party and he will have to start a power base from scratch in parliamentary elections taking place in June. As well as his supporters winning seats, the new President will have to do deals with other parties form a governing alliance.
Opinion polls published after yesterday's election indicated that Mr Macron and his allies would come out on top in the first round on 11 June with up to 26 per cent of the vote. The right wing Republicans and the Front National will get around 22 per cent, the far-left up to 15 per cent, and the socialists about nine per cent.
But Mr Macron, who started the presidential race four months ago polling a distant third, supposedly a certain loser, has momentum on his side and may well do better than expected. As for the Front National, it is starting an inquest into what went wrong with measures being considered including rethinking key strategies and even changing its name. There is, however, growing consensus on one point – that Ms Le Pen committed major blunder with her strident anti-EU and anti-Euro stance.
Join our new commenting forum
Join thought-provoking conversations, follow other Independent readers and see their replies