Brigitte Macron will not get official 'First Lady' job
More than 280,000 people signed a petition in protest against giving Emmanuel Macron's wife a formal job title
Adam Lusher
Tuesday 08 August 2017 20:09 Comments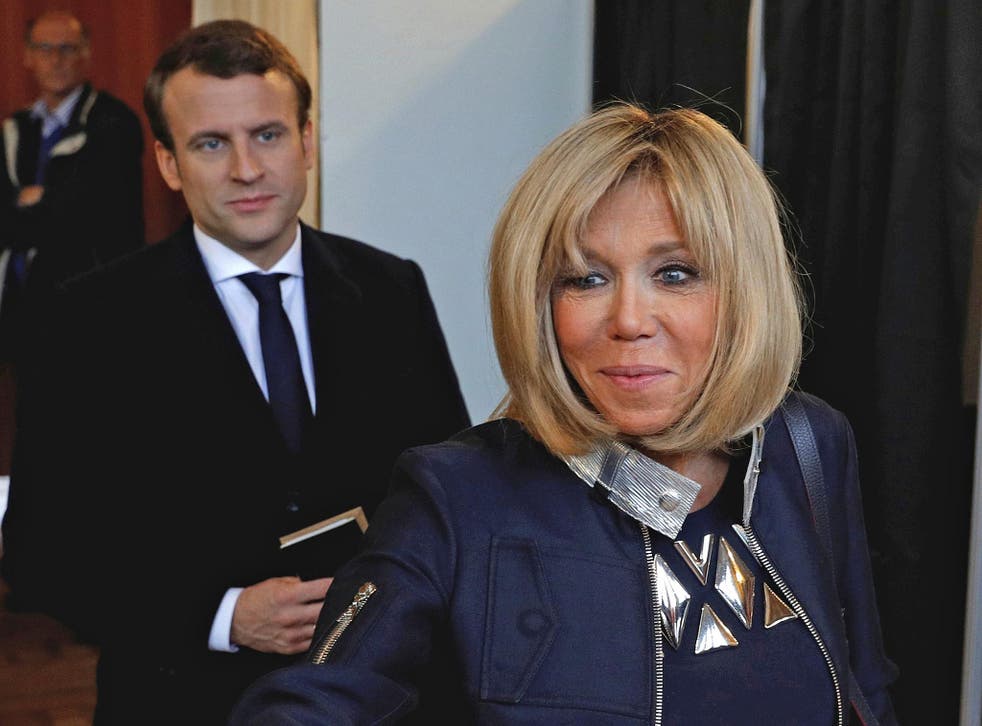 Brigitte Macron will not be given the official job of France's 'First Lady' or the salary to go with it, aides to her husband French president Emmanuel Macron have said.
The announcement comes after a petition against Ms Macron being given formal First Lady status attracted more than 284,000 signatures.
Presidential aides have now clarified that Ms Macron will have a public role, but she will not draw a salary from the French state, and there will be no change in the constitution – something that would have been required if the title "First Lady of France" was to be given formal legal standing.
What will happen, the aides said, is that in the next few days a "transparency charter" will be published, clarifying Ms Macron's exact role, how much she costs the French taxpayer in expenses, and how many staff she has working with her.
In a series of tweets, government spokesman Christophe Castaner said: "We're not talking about paid employment. The wife of the president does not and will not have any payment for what she does.
"No change to the constitution, no new funding, no salary for Brigitte Macron."
Promising to reveal more details of Ms Macron's role in the coming days, Mr Castaner added that Ms Macron received more than 200 letters a day and "keeps a link with the French public with the greatest discretion".
"Brigitte Macron has a role, and responsibilities," he said. "We want transparency and to define the extent to which she is funded.
"This is just an exercise in transparency. Today, nothing is being said. Tomorrow, everything will be said."
The statements from Mr Castaner and other aides seem to suggest the role of the French president's partner will remain as it has been for the last few decades: accompanying her husband and being called "First Lady" in countless news reports, without the title being officially recognised by the constitution; drawing no salary but having staff to help her and incurring expenses paid for by the French state.
Donald Trump tells Brigitte Macron she's "in such good shape"
In strict constitutional terms, the ambiguities are a bit similar to the position of Melania Trump as First Lady of the US (FLOTUS). That title, too, has never been codified in the US constitution and it does not come with a salary.
In France, however, there now appears to be far more controversy about what the role of the president's partner should be.
This is partly because France got a break from president's wives after Mr Macron's predecessor François Hollande split from his long-term partner Valérie Trierweiler in January 2014 over his affair with the actress Julie Gayet.
The French public has also been far more sceptical about whether a presidential spouse should get state funding when they are unelected and their status seems wholly based on who their partner is.
At the time of Mr Hollande's split from Ms Trierweiler, a series of polls suggested that more than 50 per cent of the French public did not wish to see any official role for presidential spouses.
Months earlier the French government had admitted Ms Trierweiler had five aides and cost the state €236,904 (£214,584) a year, while her predecessor Carla Bruni-Sarkozy, wife of Nicolas Sarkozy, had a team of eight staff and left taxpayers with an annual expenses bill of €437,376 (£396,141).
Since then, attitudes appear to have hardened further. In May a YouGov poll for the Huffington Post suggested 68 per cent of French voters opposed an official First Lady role, and last month Mr Macron suffered the biggest decline in popularity for a French president since Jacques Chirac in 1995, amid anger at proposed cuts to public services.
The controversy over Ms Macron also comes as her husband drives through his flagship "moralisation" policy which will prevent National Assembly representatives from employing members of their own family.
Highlighting the potential contradiction, the petition against official First Lady status declares: "There is no reason for the wife of the head of state to get a budget out of public funds."
The petition, started by the actor Thierry Paul Valette, adds: "Brigitte Macron currently has a team of two or three helpers, as well as two secretaries and two security agents – that is enough."
If Ms Macron was granted official constitutional First Lady status, the petition adds, she would "benefit from a budget, a significant role, numerous helpers, drivers, enhanced security and other advantages".
Despite the pressure generated by the petition, Mr Macron's aides insisted they had not been influenced by it. They said a working group had been looking at how to define Ms Macron's role for several weeks.
The announcement of a transparency charter also appears consistent with what Mr Macron said during his French presidential election campaign, when he revealed that he wanted to clarify what the president's partner did and told one interviewer: "Paid by the Republic [state], no. Having a role, a real status and the capacity to do things, yes."
Register for free to continue reading
Registration is a free and easy way to support our truly independent journalism
By registering, you will also enjoy limited access to Premium articles, exclusive newsletters, commenting, and virtual events with our leading journalists
Already have an account? sign in
Join our new commenting forum
Join thought-provoking conversations, follow other Independent readers and see their replies