Brussels airport attacks: Photographs show extent of devastation a week after bombings
Staff at Zaventem Airport have said that re-opening 'is not possible in the devastated infrastructure'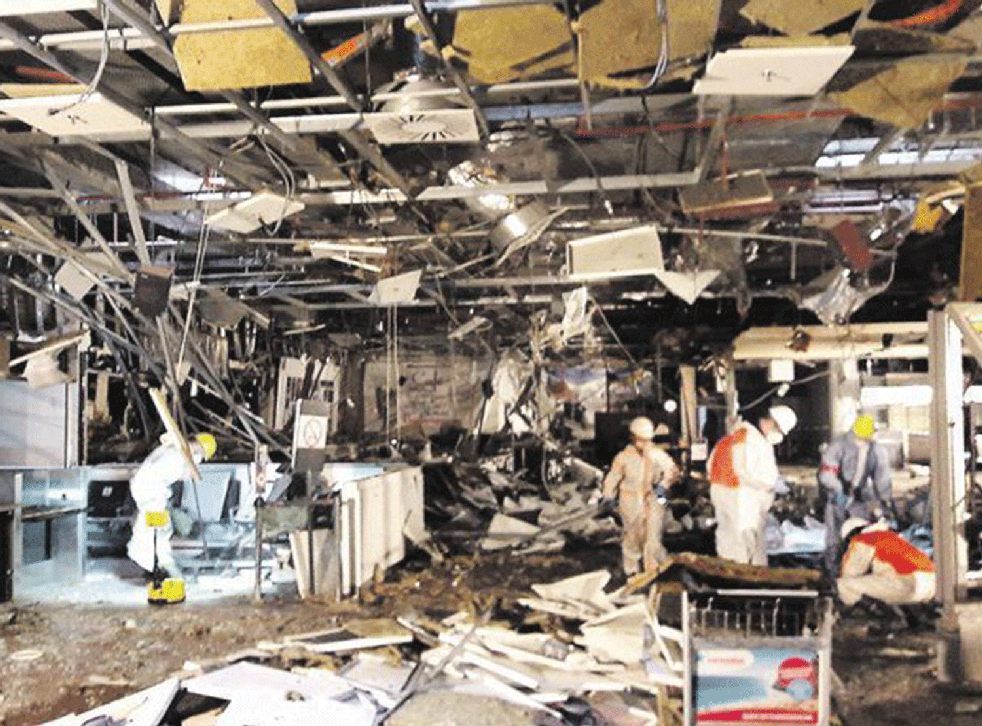 Photographs taken inside Brussels airport one week after bombings which left dozens dead have revealed the extent of the damage, as officials warned it may not reopen "for months".
More than 30 people were killed and about 300 were injured in blasts at both Zaventem Airport and Maelbeek Metro station in Belgium's capital.
Images of destroyed check-in areas, waiting rooms and elevators one week after the attacks have now been made available by Reuters to Belgian daily Het Nieuwsblad.
Two of the suicide bombers at the airport were named as Brahim el-Bakraoui and Najim Laachraoui. Their actions left at least 17 people dead, many more wounded and caused widespread devastation inside the building.
At least eight more suspects have been linked to the atrocity and are reportedly still 'on the loose'.
The attacks were claimed by Isis and experts are investigating the possibility of a terrorist network stretching across France and Belgium.
While airport bombers Najim Laachraoui and Brahim el-Bakraoui both died along with the latter's brother and metro bomber Khalid el-Bakraoui, a fourth man seen in airport CCTV footage called "Faycal C" was released following a lack of evidence.
Recent reports put the number of victims at 35, with several yet to be identified.
Zaventem Airport has remained closed until further notice, despite hopes that the terminals could reopen this week. Airport CEO Arnaud Feist told the BBC the building will have to be rebuilt "from the air conditioning to the check-in desks".
The police spent five days conducting forensic examinations in the departures hall where the airport blasts took place, before handing back the area on Sunday to allow a phased reintroduction of flights.
But the airport management has recently said: "The simple fact is that a restart in the short term is not possible in the devastated infrastructure."
Brussels attacks victims

Show all 11
The Belgian government declared three days of national mourning after the attacks on 22 March 2016.
Register for free to continue reading
Registration is a free and easy way to support our truly independent journalism
By registering, you will also enjoy limited access to Premium articles, exclusive newsletters, commenting, and virtual events with our leading journalists
Already have an account? sign in
Register for free to continue reading
Registration is a free and easy way to support our truly independent journalism
By registering, you will also enjoy limited access to Premium articles, exclusive newsletters, commenting, and virtual events with our leading journalists
Already have an account? sign in
Join our new commenting forum
Join thought-provoking conversations, follow other Independent readers and see their replies