'We are not burqa': German government sets out 10-point plan to define national identity
Interior minister claims defining German culture will help integration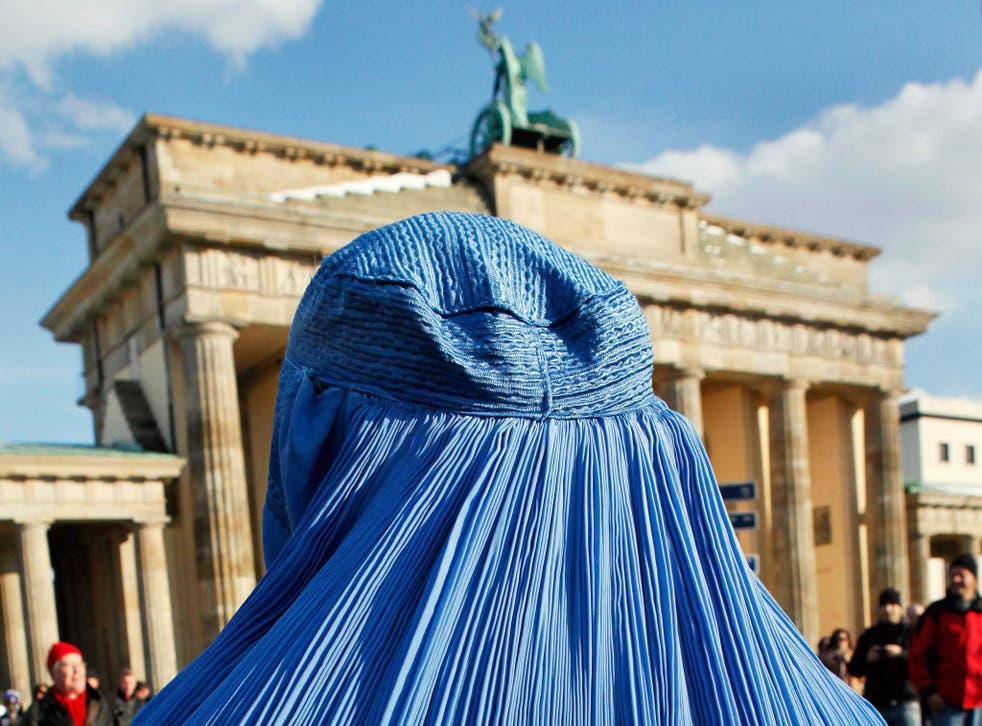 Germany's government has launched a 10-point plan to define the country's culture, starting with the statement: "Wir sind nicht Burka" ("We are not burqa").
The interior minister, Thomas de Maizière, argued Islamic veils that cover the face run contrary to "democratic coexistence", adding: "We are an open society – we show our face."
The slogan has generated a mixed reception in Germany, with commentators calling it an "unproductive" addition to a charged debate and one newspaper asking: "What does it mean?"
It was revealed days after Germany's parliament supported a partial burqa ban for women in the civil service, judiciary and military.
The moves are part of an intensifying national debate on identity and immigration ahead of national elections, amid a right-wing surge following the arrival of more than a million refugees.
Mr de Maizière claimed that consensus on core German cultural values – Leitkultur – would help integration and cohesion, saying that some standpoints were "non-negotiable".
"This includes mutual respect and the rule of law over religion," he added.
'Don't trust' Germany to stay democratic if economy takes a downturn, warns Nazi governor's son
"We remain part of the West, proud Europeans and enlightened patriots."
The interior minister defined the term as a person who "loves his country and does not hate others", saying the national flag and anthem were core parts of German identity.
Nationalism has been problematic since the Second World War in Germany, where the legacy of Nazism is still keenly felt, but Mr de Maiziere said problems were "are all over now, especially for the younger generation".
His 10-point plan included "social habits" like shaking hands that express national attitudes, education, sport and the arts, Bach and Goethe, as well as traditions including carnivals and folk festivals.
Mr de Maizière described Germans as the "heirs of our history, with all its ups and downs" and emphasised the importance of tolerance, adding: "We are disturbed by the fact that some things have slipped."
Refugees settle in Germany

Show all 12
Politically-motivated crime is at an all-time high in Germany, with left and right wing demonstrators repeatedly clashing and hundreds of refugee homes attacked, while far-right movements including Pegida have gathered strength.
The refugee crisis and a string of Isis-linked terror attacks has driven rising fears over Islamist extremism but Mr de Maizière emphasised that all religions were a "glue for society…in the Christian church, in the synagogue and in the mosque".
"Our country is shaped by Christianity," he added. "We live in religious peace.
"And the basis for this is the absolute supremacy of the law over all religious rules in the state and society."
Recent years have seen rising support for the anti-EU populist Alternative für Deutschland (AfD) party but Mr de Maizière's plan claimed that Germans are also Europeans.
"We are perhaps the most European country in Europe - no country has more neighbours than Germany," he added.
His manifesto was laid out as Angela Merkel's centre-right Christian Democrats (CDU/CSU) push for a fourth election victory in September's elections.
It generated controversy by critics who said the government was attempting to impose set rules on German culture and make it "dominant" over migrants.
Ralf Stegner, deputy leader of the Social Democrats (SPD), called it a "cheap attempt to get conservatives going and run along behind right-wing populists".
The AfD, whose poll showings have been declining, also derided the theses as electioneering.
The party is predicted to enter the Bundestag for the first time after unprecedented success in local elections, while the centre-left SPD is also enjoying strong support.
A poll for the Bild am Sonntag newspaper found Ms Merkel's party remains ahead with 36 per cent of support, ahead of the SPD on 29 per cent, The Left party and AfD on 9 per cent each, and the Greens on 7 per cent.
Join our new commenting forum
Join thought-provoking conversations, follow other Independent readers and see their replies