Almost one in three Calais child refugees missing since Jungle camp demolition
A third of 179 children being tracked by the Refugee Youth Service last month disappear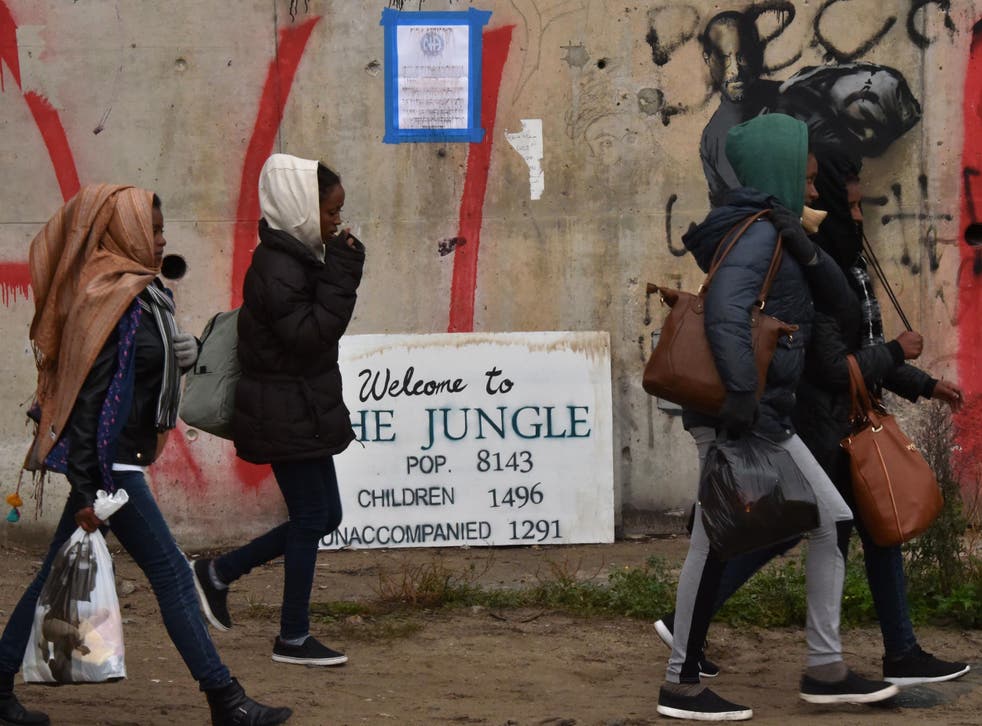 Almost one in three children who moved from the so-called Calais Jungle refugee camp after it was demolished have already gone missing, according to a report by a youth organisation.
The Refugee Youth Service (RYS) monitored 179 children displaced by last month's evictions, of which 56 per cent are now living in France's children's homes, 8 per cent moved legally to the UK and 2 per cent were sleeping rough. Yet another 30 per cent could no longer be found.
Bulldozers rolled into the makeshift settlement in mid-October, which had been home to around 9,000 people and became a symbol of Europe's inability to deal with an influx of refugees fleeing war and poverty.
Calais 'Jungle' exodus begins as hundreds queue in darkness
Almost 1,700 children were moved from the unofficial refugee camp to the care of the French state to live in accommodation centres on 2 November.
But in their report, the RYS warned that a lack of age and language-appropriate services was contributing towards the deteriorating mental health of many of the refugee children.
"This continued uncertainty and confusion escalates the children's negative feelings of hopelessness and self-worth," said child protection officer Karen Moynihan.
RYS co-founder Ben Teuten said: "We saw it in the southern evictions in March where 129 children are known to have disappeared and are witnessing it again now.
"A third of the 179 children RYS were tracking in the October evictions cannot currently be located."
"These are some of the most vulnerable children in the world, they have been let down time and time again.
"When they disappear we are extremely concerned that they will be preyed upon by traffickers and are unlikely to seek state support due to their treatment to date."
RYS has worked in the Calais camp since November 2015. Before the camp's demolition, the group kept track of the minors by meeting with them once a week, but since the camp eviction have had to resort to a phone distribution system.
They say this has hindered their ability to keep track of the vulnerable group.
RYS says it has been unable to establish a proposer relationship with missing children's services in France and complained that there is no clear process for reporting children missing in the country.
Citizens UK Leader, Rabbi Janet Darley, said: "Children's lives are in danger as they again, having lost faith in the system, take matters into their own hands.
Calais refugee camp evacuation

Show all 15
"Psychiatrists' reports have shown that every day refugee children spend in limbo causes harm; the children have now been waiting for nearly a month.
"This is why we are calling on the UK government to fulfill their commitment to the children of Calais and transfer 1,000 to the UK before Christmas."
Since the camp was razed, there have been reports that children living in the government's reception centres have been forced to work on fruit farms.
Josie Naughton, co-founder of the Help Refugees charity, said: "We are disheartened that once again children, the most vulnerable of refugees, have gone missing following the chaotic eviction in Calais.
"It is particularly worrying that alarm bells are not being raised. Both governments need to start to take responsibility for minors and provide them with adequate safeguarding to ensure they are properly protected and uphold their responsibilities according to the UN convention on the rights of a child."
Government efforts to resettle unaccompanied child migrants from Calais to Britain have been branded a "disgrace" as ministers were accused of introducing arbitrary age guidelines.
Register for free to continue reading
Registration is a free and easy way to support our truly independent journalism
By registering, you will also enjoy limited access to Premium articles, exclusive newsletters, commenting, and virtual events with our leading journalists
Already have an account? sign in
Register for free to continue reading
Registration is a free and easy way to support our truly independent journalism
By registering, you will also enjoy limited access to Premium articles, exclusive newsletters, commenting, and virtual events with our leading journalists
Already have an account? sign in
Join our new commenting forum
Join thought-provoking conversations, follow other Independent readers and see their replies